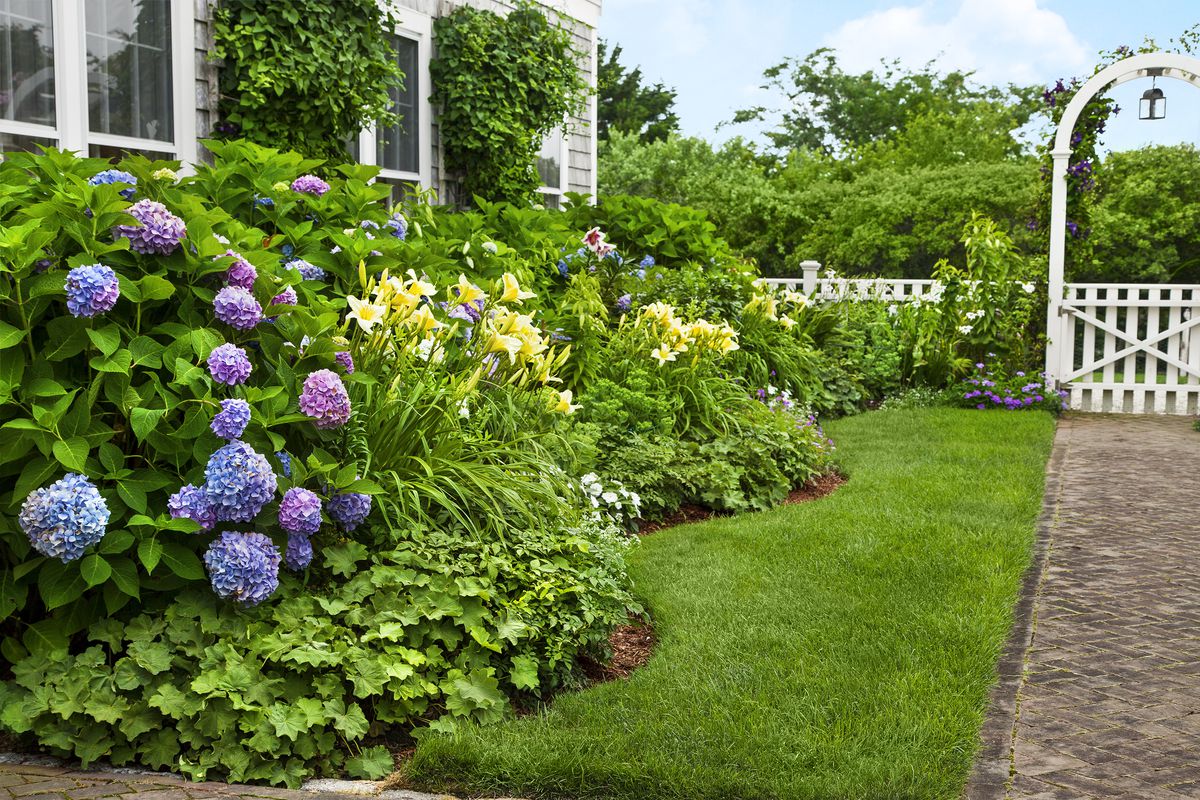 The New England island of Nantucket, which is 30 miles off the coast of Cape Cod, is among the top summer vacation destinations in Massachusetts. It is known for its rich whaling history, superbly preserved colonial buildings and infrastructure, endless beaches, and historic lighthouses. But also for its postcard-like cedar shake, gray weathered cottages, which are covered with crawling roses, and surrounded by some of the most beautiful blooming gardens in the country.
The flowers bloom in gorgeous colors from early spring to late fall and can be seen everywhere on the island. This includes planters on the cobblestone streets, in the charming window boxes, and by just about every home and building there.
Some of the most typical flowers you will see everywhere on the island are the hydrangeas. They can be seen there in stunning colors, including all arrays of pink, purple, blue, lavender, and periwinkle.
But there are other flowers – annual and perennial that are typical for Nantucket. Some of them are the crawling roses, Shasta daisies, sweet alyssum, snapdragons, and many more.
The island has a very active Nantucket Garden Club, which promotes this love for gardening and horticulture and organizes some of the leading events on the island. These include the Daffodil Festival and Flower Show in April, the Art and Blooms Gallery Walk in July, and the Community Green Thumb Flower Show. In November, the club organizes the Annual House and Garden Tour, which takes the visitors on a tour throughout the different neighborhoods of the island.
If you want to attend one or more of these annual events, make sure to book your rental residence and your ferry or plane tickets in advance.
But if you want to bring some of the Nantucket charms back home to your own garden, then here are some ideas for you:
Add some perennials
As mentioned earlier, the most typical flower, which you will see everywhere in Nantucket, is the hydrangea. Even though you may think it is a bit old-fashioned, this beloved and luscious shrub will add some of that Nantucket charm to your outdoor space. An interesting fact is that the color of the hydrangea can be changed by adjusting the acidity of the soil under it.
You can add other perennials, such as Shasta daisies, phlox, dahlias, salvias, clematis, South African foxglove, daylilies, geraniums, and, of course, roses in the garden.
For an even more Nantucket-like feel, plant some climbing roses like Blaze or New Dawn on trellises on the sides of your home, on a white picket fence, or on a gated arch, all of which are a common sight on this idyllic island.
Give your garden a more laid-back look
Since the design of the cottages, buildings, and gardens in Nantucket is largely inspired by the stunning natural landscape and is meant to blend in with it, you can do the same with your own garden space.
The way to let your garden blend in with nature is to let it grow more loosely without many very rigid lines or rectangular beds for the flowers and shrubs. Instead, allow the plants to form natural curves and to propagate more freely, but of course, without allowing them to get out of control.
Add a secluded relaxation corner
You don't have to have a vast outdoor space to dedicate a place for relaxation and seclusion in it. Pick a corner or a quieter area where you can place a lovely bench or table with chairs among the beautiful hydrangeas and other plants. You may want to create a secret path to your relaxation place covered with white seashells, which will no doubt remind you of the beautiful walking paths in Nantucket.
This will quickly become your favorite spot to enjoy some quiet time or time with your loved ones.
Don't be shy with the colors
If you want your garden to have that special Nantucket feel, don't be afraid to experiment with different colored flowers. You can mix up the purples, pinks, and blues of the hydrangeas with some bright yellow daylilies, pink and red peonies, and as many other colorful blooms as you want.
It is a good idea to plant some cut stems which you can take home and decorate your interior with as well.
Remember that the garden will evolve from year to year so that you can adjust the placing and colors of the flowers and plants annually.
Add some Nantucket-style window boxes
You can bring some of the Nantucket charms to your home, even if you don't have a garden. Instead, you can install some stunning window boxes with blooming flowers of your choice.
Window boxes can be seen on just about any window sill in Nantucket.
Make sure to select the colorful flowers for your window boxes according to the light conditions. Since there are no rules, you can experiment with any plant or flower for your window box. Best of all, you can show off your creativity to your neighbors and passersby.
Buy or, if you are a handy person, make some beautiful window boxes, but don't forget to drill holes on the bottom for proper drainage. Select the correct type of soil for the flowers you will be planting, and make sure to think about how each of the selected plants and flowers will look beside one another when in full bloom. It is a good idea to arrange them by height or choose accent plants and then plant the rest of the flowers around them. The higher flowers should be on the back, and the ones overflowing and spilling out of the flower box should be planted on the front.