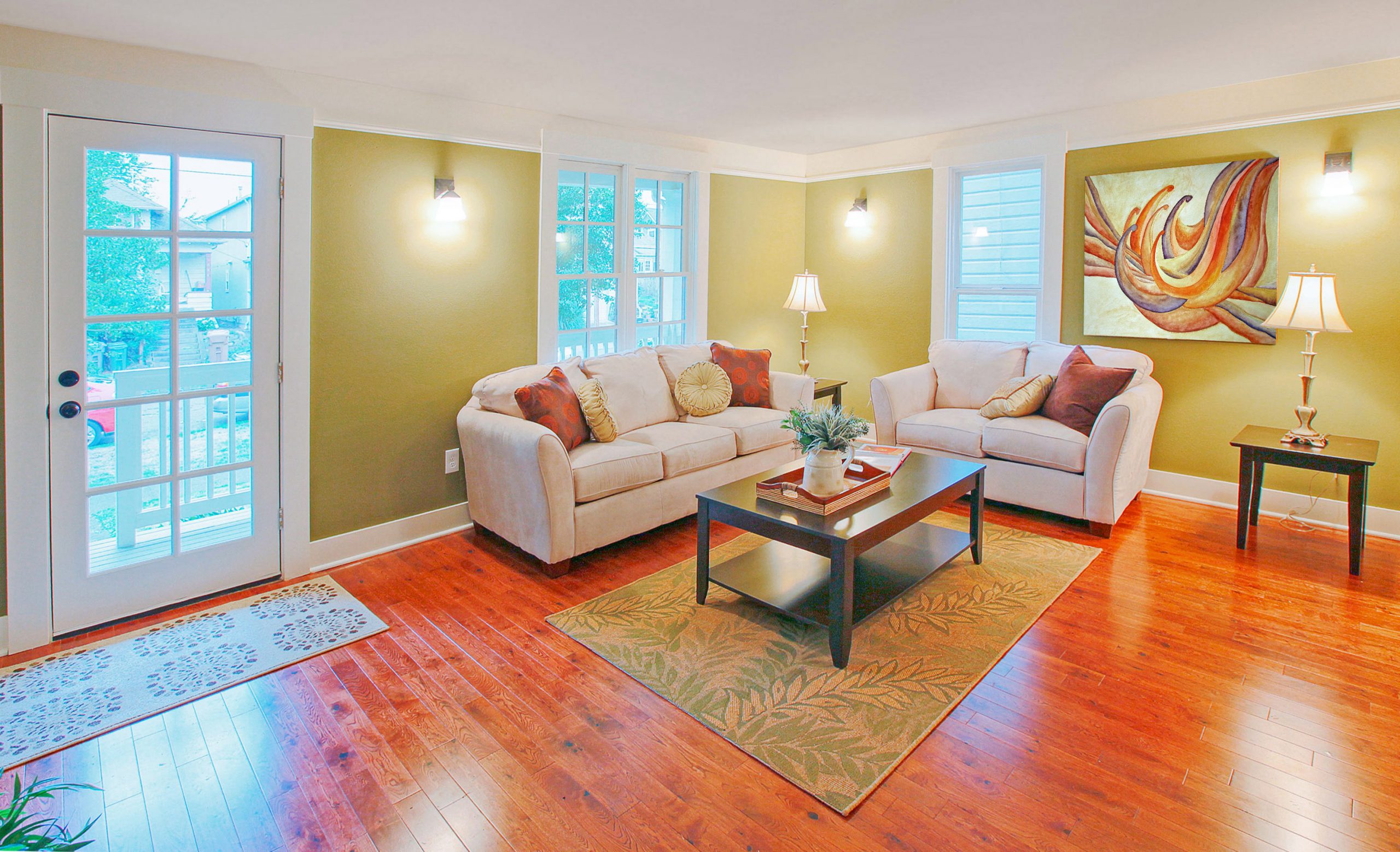 Your living room should be a comfortable place to hang out. It's where you sit around and have fun with your family, friends, and guests. This is where your family usually congregate and relax.
Sure, it should look great, but it should be functional and comfortable, too. That would be amazing, right? Your living room might look expensive and such, but if it looks like a museum and not really inviting at all, what good is it? It should be inviting enough to make you want to sprawl and put your feet up; a place you can chill and unwind after a tiring day at work.
Combining the three—great-looking, functional, and comfortable—would be challenging, but here are a few ideas to inspire you in transforming your living room space into something amazing.
Simple Can Be Elegant
Declutter! It won't make any difference how much you spend on your furniture or other pieces in your living room if it ends up looking messy and cause stress just by looking at it. Simplify the layout and keep the necessary furniture that adds something positive to the living room's ambiance. Moreover, removing the clutter will open up space and let your décor pop out.
Less can be more, so try not to over-accessorize. It could be difficult to put away the things you accumulated through the years, but you could try removing all and putting back a few of your favorites. Store or donate the rest. For a more inviting look, consider using bean bags. What could be more inviting than the sight of a well-placed beanbag?
Choose The Right Furniture
Your furniture will give your living room its character. Consider your living room's size and what you're aiming for as the room's overall ambiance before choosing which furniture has to go and which to stay.
If your living room is on the small side, you could go for an L-shaped sectional couch set. This type is excellent for maximizing the seating, especially in smaller living rooms. Vintage pieces are also great for adding a touch of some of that old-world charm. Those pieces can add texture and character to your living room, making it cozier.
Of course, you'd need to mount your TV on a wall because that's where all your furniture will be pointed at, as Joey Tribbiani once said.
A Rug Can Make A Difference
Rugs can be the anchor that holds your living room's design from becoming lost and purposeless. If your living hasn't had one before, try adding one now, and see it enhance your living room's look. A rug has a knack for adding verve and warmth to a living room. What's great is you'd have a wide variety of rugs to choose from.
Usually, the best place for a rug is in the center of your living room' sitting arrangement. The rug should also extend a little past your chairs and couch. Rugs also work very well on hardwood floors. A nice, thick rug in the center would make the room more inviting and would make a pleasant focal point.
Utilizing Creative Textile
Another great way to transform your living room is by using beautiful design patterns. But, don't do it in a boring, all-patterns-matching way. That would be too easy. It could also make your room look tired and boring. Be creative, and try to mix them up a little.
Try using various materials like fabric, wood, metal, and glass. Be more dynamic by using decorative throws and pillows. Take a crack at this and see if mixing things up won't make your living room look more appealing.
Add Some Artworks
Using artwork doesn't mean you have to invest in some serious pieces. You wouldn't want your living room to turn into an art gallery. But, a large artwork would be an effective conversation-starter. An oversized wall art propped up against a wall would be an eclectic approach to the living room decoration. This approach would certainly overshadow art hung on a wall.
But, an artwork with a personal connection to you or an emotional significance will lend personality to your room. If you're the creative type, you can hang your own work. Talk about personalizing your living room!
Tricky Curtains
High-ceilinged rooms look awesome, don't they? But, even if your house doesn't have them, you can achieve that high-ceilinged look by using curtains. What you do is to get long curtains, hang them, and make sure the curtain's bottom reaches the floor.
Short curtains give an impression of being cheap and tacky. As that's not the look you're going for, make sure your curtain has floor-to-ceiling length. That means you'd have to measure your window before hieing off to the store. In addition, be sure not to get one of those shiny curtain rods. Shiny curtain rods can be distracting.
Effective Use Of Light
Suffusing your living room with natural light is best when it comes to effective lighting. Natural light can make a living room look cheery and inviting. Add different light sources to bring more depth to the room. A great way to do this is to incorporate layered lighting for a well-lit living room, as well as for a balanced space.
Replace your ordinary lamps with hanging pendant lights. Dimmer switches would be great, as well as plug-in sconces near your furniture. These few light modifications could make a tremendous impact on your living room's atmosphere.
Include A Few Antiques
Invigorate your living room by bringing in a few antique pieces. Antique items have their own charm and can fit in almost all design schemes. These antique pieces can be mirrors, lamps, rocking chairs, small sculptures, or wall sconces. You can also try hanging old photos on a wall or putting them on a shelf.
Oriental ceramics or a Victorian tea set have a timeless feel; displayed on a modern piece, they can give off a certain wistful and enduring appeal. Watch out for items like these next time you're in a flea market or a local thrift shop. You might pick up unique items that can impart character to your living room.
Bring In Decorative Molding
Another way to make your living room more stylish is to add moldings. It's also one of the most cost-effective ways to make your living room look posh. What's great about this decorative piece is that anybody can do a DIY custom molding.
Even if your home is made from inexpensive materials, rich and decorative moldings can still be installed. Just make sure that your living room walls and the decorative moldings match seamlessly. Moldings also don't cost that much, so you can hire a professional if you're not up to going DIY on the whole thing.
Pick Matching Colors For Walls And Trims
Do you know what else can dramatically change your living room's whole vibe? Paint and shades. Judicious use of color palettes can give you all the leeway you need to highlight particular features around your living room.
Darker shades could look great on doors and trims. Colors used on walls and trims should match so that they blend in. Matching colors for these two features are also pleasant to the eyes, allowing you to emphasize any important designs or details.
Include A Touch Of Metal
Add a touch of class to your living room by incorporating a few metallics in the design scheme. But, don't overdo it; go for a restrained and understated effect. Maybe you can add a nice metallic mirror, a few lighting fixtures with metallic texture, vintage silver pieces here and there, or a metallic desk clock.
Materials like metal, which is a neutral decorative accent, can be used in a wide variety of design themes. Whether you favor using brass, copper, silver, chrome, or gold, or any combination, the result would always show refinement. A touch of glamor added to your living room couldn't hurt, could it?
Layout Make Over
Probably the cheapest and simplest method of transforming your room without spending a dime is to rearrange the furniture in your living room. Try moving your couch by the window. If you placed your couch set in an L-shape, rearrange it so that they're facing each other.
Get a few chairs from other rooms into your living room to have extra places to hold conversations or just to lounge around. A few adjustments here and there can sometimes make a huge difference.
Flowers Or Other Greeneries
Add a hint of nature into your living room and make things more energetic by having some fresh flowers. A beautiful bouquet as the centerpiece on your coffee table, plus some small jars on mantles, cabinets, or on top of shelves can add to your living room's comfortable and homey vibe.
Flowers too inconvenient? You can substitute some appropriately-sized leafy branches from outside and arrange them in a vase instead of flower bouquets. Tall greenery can give a stylish impact that people often overlook. It can have a soothing and calming effect, plus it can go with any design.
What's also exciting about this concept is that you can use your creativity and style them any way you want.
Conclusion
Transforming your living room into something amazing need not be expensive. Your living room's size, whether large or small, can be transformed into a place where you and your family would want to spend more time. What's more, it doesn't have to cost too much. Sometimes, all it takes is effort plus a little creativity to transform your living room into something amazing.