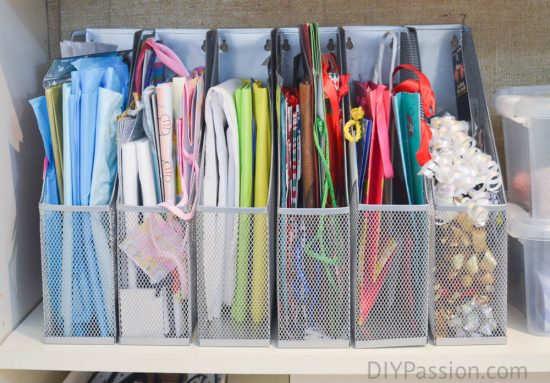 I love birthdays, more than that I love birthday parties. I wait for the entire year for my birthday party and the gifts. Unboxing presents something I always look forward to after my party. I do not look forward to sorting the mess, those wrapping papers and gift bags make after I am done unboxing. By the time I am done, I feel like I am ready to be gift-wrapped myself.
Every year, after my birthday, I call my mom, and I crib for an hour about the mess I must clean. I crib and crib and crib until my mom hangs up on me, without warning, of course, and I, somewhat reluctantly, go back to cleaning the party mess and googling tutorials on how to store wrapping paper, in Morgan Freeman's voice.
But this year, things turned out to be a lot different. It turns out after I had my party, it was my boyfriend's turn to have his. He loves organizing stuff and cleaning, and every other thing that makes me stressed and sleepy. So as his birthday gift to me, he started cleaning the apartment, except I didn't realize I had agreed to sort the gift wrappers and the gift bags a few days ago until tonight (as my birthday return gift to him).
The story is, he was looking for his old yearbook, and he opened this cupboard in the storeroom when an avalanche of wrapping paper and gift bags drowned him. He was exasperated. Even more so, when I said I did not know how to store wrapping paper, so, to avoid a fight, I promised I would sort this mess the next time we have a birthday party. And here I am. I was regretting not having that fight already.
Steps to Organizing your Wrapping Paper and Gift Bags: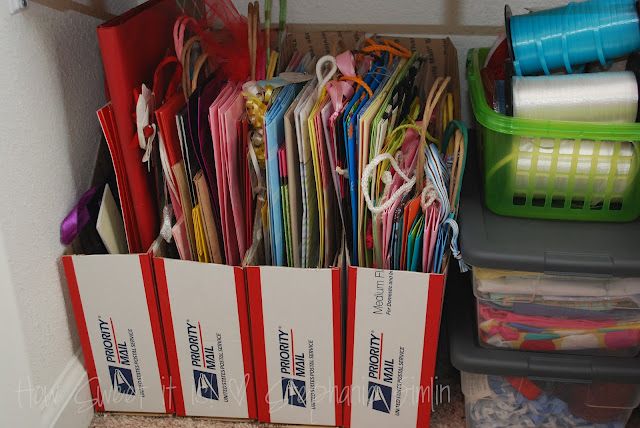 Step 1: Gathering Them All
Step one of storing wrapping paper and gift bags would be gathering them all in one area and then folding them and piling them together. This will save you lots of minutes in the long run when you will want to re-use the paper later and will have to run around the house like a headless chicken, looking for the supplies.
Here are the things you need to gather:        
Wrapping Paper (rolls and flat sheets)
Gift bags
Scissors
Bows
Ribbons
Tag 
Note: If you do not have separately dedicated scissors and tape only for wrapping papers, you can either use your kitchen scissors or get new ones dedicated solely to this purpose. These are not expensive, and having scissors, along with the rest of your gift-stuff, can prove to be handy in times of need.
Step 2: Decluttering and Getting Rid of Excess Material
The second step of storing wrapping paper and gift bags is to sort the quantity of material you already have and a need to declutter. If you have too many gift bags and wrapping paper and collect them for years now, I would suggest throwing the old ones away. Or are you prepared to spare more than one cupboard to gift bags?
Step 3: Gift Wrapping Storage Solutions 
Before deciding on creative ways to store wrapping paper, you need to decide where you want to store the supplies? Will it is under the bed, inside a closet, will you be dedicating an entire drawer to them, or you want to hang them behind a door.
After deciding this, it will be far more comfortable for you to develop a unique way to store the supplies in your desired location. The type of storage solution you choose will depend on how many supplies you have and where you want your wrapping station to be placed.
A great way to organize these supplies without spending much money on creating the center would, of course, be storing them neatly in a drawer or two in your storeroom. But this is only for people who do not have the time to be creative. If you have spare time and creativity up your sleeves, get going with creating a unique gift wrap station in your home!
Step 4: Deciding How to Organize Them Wrapping Paper
There are innumerous ways of how you can store wrapping paper in unique and stylish ways. Why stick to old wrapping paper drawers and store cupboards when you can be creative?
After sorting out which ones to keep and get rid of, you can start coming up with creative solutions for storing wrapping paper.
Top 15 Ways to How to Store Wrapping Paper and Other Gift-Wrapping Supplies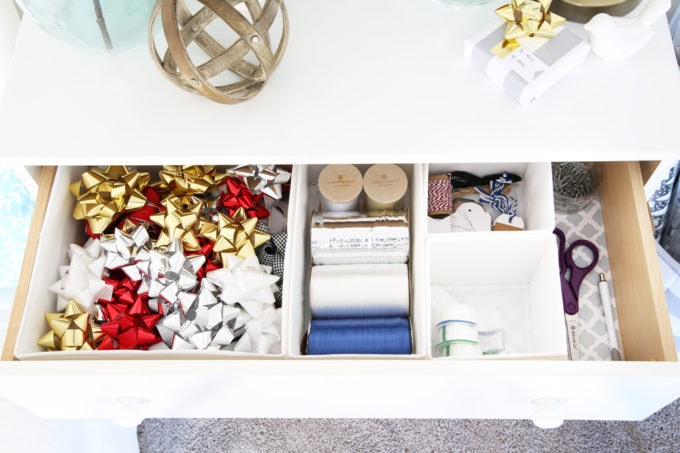 Towel Rack
A hand towel rack can display your rolls of ribbons in the most efficient way. You can also use an old bangle rack for this as well.
Tin Container
You can also take an old tin container or a tiffin box to store all your ribbons, fancy buttons, tags, and strings. If the container is a big one, you can hold your wrapping sheets into small squares and put them inside the box too.
Wastepaper Basket
A simple old wastepaper basket, a wired basket, or even a trash can will do if you want to have your wrapping sheets rolled rather than folded.
Disclaimer: Make sure you tie these rolled wrapping sheets with a string or a ribbon or put a cardboard roll around the sheet to avoid unrolling them. I would not suggest elastic because they tend to melt and leave a huge mark on the sheets that ruin them in the heat. But if you must, make sure you roll that part of the wrapping paper with tissue, an old newspaper, or a strip of used/ruined wrapping paper and then put the elastic band on it.
Labeled Boxes
The easiest and most creative way to store all your supplies together would be labeled boxes. All you need to do is take old shoe boxes, cover them with fancy paper, or you can always paper Mache them and then paint later. After you are done, label them according to the supplies you have inside.
Wire Shelves
Using Wire Shelves to organize and display all the materials and supplies you need to create beautiful presents will always be a classic!
Scissor Hooks
Hanging your scissors on hooks turns out to be so efficient; you will see once you try this. It is simple, and for all of us who always lose their scissors and can never find them when we need them, this hack is incredibly useful.
Old Writing Desks/Bookshelves
If you have an old desk, you no longer use and a wrapping paper junkie, this hack is for you. You fix rods on the desk for ribbons and wrapping rolls and shelves for boxes with all other supplies. (If you do not want to throw away any of your old supplies and want to keep buying new wrapping papers and ribbons and whatnots, this way of storage is your way to go. You can also have a dressing table or an old bookshelf for storing all these supplies.
A Chic Wrapping Sheet Station
You can convert a room into a gift-wrapping center. Complete with a storage desk, to make the storing of supplies furthermore convenient and some empty room on the floor to do your wrapping. If you do not have to gift wrap every day, I suggest you keep this room for dual purposes. Probably a study room or a guest room would be great alternatives.
Gift Bag Organizer
We do not always use gift wraps for wrapping presents. Gift bags are the new cool anyway. If I had a dollar every time I collected gift bags, I would own a gift-wrapping store right now!
You can keep the gift bags in the same place as the other supplies or the basket with your wrapping paper rolls as well. Or you can store the small bags inside a giant gift bag if you have one. You can also use one of those bags to store your bows, ribbons, tags, and other accessories.
Another idea is to use a hanging gift bag organizer. If you are going for DIY and utilizing the stuff you already have, you can choose a storage bag or a bag used to carry blazers for your materials. It will keep all the gift bags and other stuff in one area, without using any floor area or shelf space to hold it. You can hang it on your wall.
Shopping Baskets/ Baby Perambulators for Storage
If you have old shopping baskets or baby prams you want to utilize, here is your chance to do so. You can make compartments inside the baskets and pram by cutting out cardboard sheets into rectangles of their size and fitting them inside the pram. Or you can put the stuff inside, without the compartments as well.
The prams and baskets are a truly convenient way to store these supplies, especially if you want them to be easy to carry around and easy to move, and not be a permanent solution.
Behind the Door
With the help of rods and hangers and hooks, you can hang all your gift-wrapping supplies behind any door of your house.
Pegboard
If you want a wrapping station but do not have a desk or a separate room for it, you can frame a pegboard and create a gift-wrapping station on your wall by board pins and hooks.
Bike Rack Holder
Bike Racks can come in very handy for storing wrapping paper and gift bags.
Suitcase, Travel Bags and Luggage
If you have to hold luggage lying around, or you want to get rid of old suitcases, instead of that, you can convert these suitcases into a portable gift-wrapping center.
Hangers and Hooks for Gift Bags
It would help if you hooked these gift bags into hangers for the simplest storage solution for gift bags. In addition to taking up minimum space, they also can hold many pieces together on a single hanger and keep everything tidy and minus the creases.