You cannot use your silver items every day, so a common question that can come in your mind can be "How to keep silverware from tarnishing"? If you want to store your Silverware effectively, you have to protect it against air and moisture. Please read this article for tips to protect Silverware and store it properly.
How does Silverware Tarnish?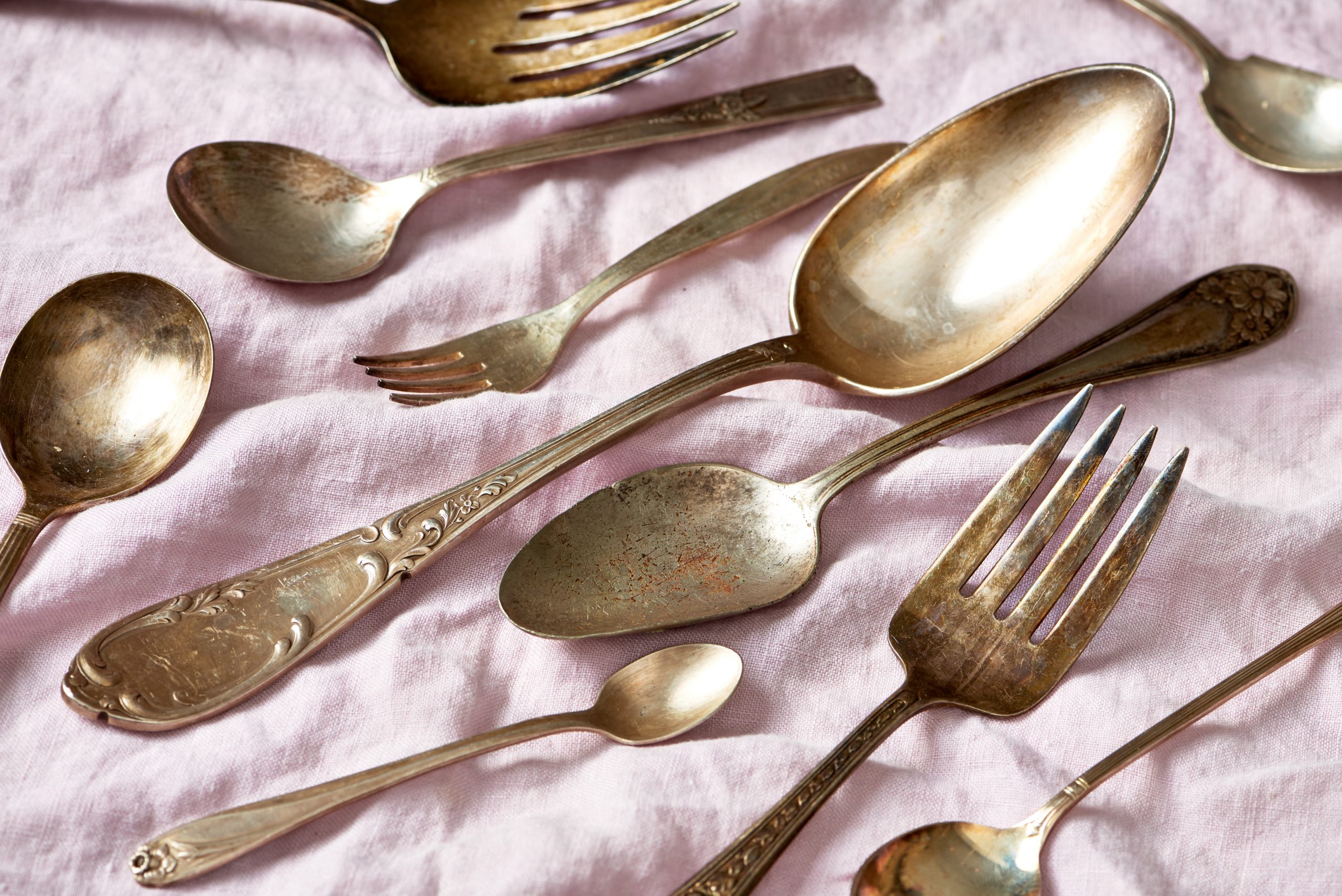 Tarnish refers to discoloration or black film that develops and covers silver over a period and makes it dull. You cannot wash this tarnish by using soap or water because it is a chemical reaction between silver and sulphur (or other items that may contain sulphur such as rubber, water, or air).
The only way you can remove this tarnish is by polishing it off. There are various good silver polishes available online. However, polishing silver wipes off a little of silver from the item too. That is the reason why people do not prefer to polish silver very often.
Silver tarnishing is a result of the presence of hydrogen sulphide in the air. The process is called oxidization. Do not confuse tarnish with rust. Tarnish affects only the top layer of the material and does not destroy the metal. Most of the silver/plated items have a thin layer of silver, so tarnishing affects them drastically.
How to Clean Silverware Naturally?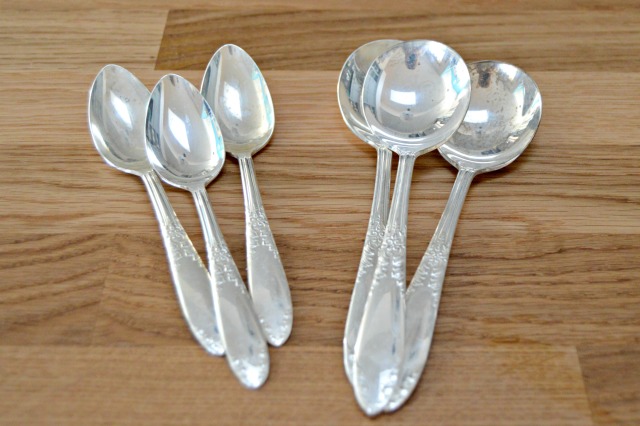 If you want to know how to keep Silverware from tarnishing, you need to understand the properties of silver. Silver is a soft material, so it scratches easily. Usually, to make it harder, another hard metal is combined with it (generally copper). Sterling silver is a type of silver that has 92.5% pure silver.
Silver items demand care as they get scratched or dented easily. Make sure you do not store your silver items with other items to not bang into each other.
You can clean your Silverware once or twice a year. Here are some methods:
Keep a sheet of aluminum foil on a large bowl (with its shiny side up). Place the Silverware on foil and pour boiling water over it. Sprinkle a few tablespoons of baking soda and leave it for a few minutes. Repeat the process if necessary. Once your Silverware is clean, wash it with warm water and dry with a soft cloth. It is not advised to use this method for silver jewelry with gemstones.
You can also use toothpaste to give it a minty fresh feel. Spread a small amount of toothpaste on the tarnished area. Rub it with a soft soap until cleaned and rinsed well. This method is straightforward and is proven to remove tough spots.
Another method to keep Silverware from tarnishing is to use alkaline to neutralize the reaction.  Use a sponge and soak it in hot water. Sprinkle a little baking soda on to the sponge. Rub it gently on the tarnished area. Repeat the process is needed. Clean it with a soft cloth. Remember, this method can be harsh on your silver.
Steps to Take During Silverware Storage 
You can also adopt certain precautions while storing your Silverware if you are worried about keeping Silverware from tarnishing. As soon as you buy any silver item, do not just store it right away. Use a mild soap and wash it with your hands. Dry it properly using a cloth and allow it to cool. You can also polish it with silver polish. This will ensure the longevity of your expensive Silverware.
NEVER, I repeat NEVER store silver in a plastic bag. This is a widespread practice, but a nightmare for your silver items. Plastic collects moisture and has sulphur, both of which accelerate tarnishing. Keeping a piece of chalk with the Silverware can keep it from tarnishing.
This is because chalk absorbs sulphur and moisture. Do you remember we get 'do not eat' sachets with shoes, bottles, bags, and practically everything? You can also use them with your silver to absorb moisture.
To prevent scratches, you can wrap or roll the item with a cloth. Do not roll your silver with a rough material like paper. A low-sulfur paper is available in the market that can be used to wrap silver as well. If you have a bubble wrap, it is the best idea to wrap the silver with. If you are willing to store your silver for an extended period, make sure, you remain informed with methods to ensure their safety.
Don'ts with Silver Ware 
Follow these guidelines if you want to know how to keep Silverware from tarnishing.
Avoid storing your silver forks with a rubber band around them. Make sure you do not wrap your Silverware with rubber or latex. Rubber can even eat away the silver. Similarly, wool can also harm the metal.
Avoid storing silver items with other metals (stainless steel or aluminum). Do not store acidic foods like lemon juice in your silver jars. The acid will not only tarnish, but it can also eat silver. Avoid foods that contain sulphur as well (eggs and onions).
Do not use dishwater detergents to wash any silver; it can corrode the metal. Do not leave silver unused for an extended period. If you use it regularly, it will remain tarnish-free. Store silver items in an area where heat does not fluctuate, and there is less humidity. An exemplary storage place can be a drawer or a cabinet. A wet basement or a hot attic is the worst place to store your Silverware.  
Do not use wax available in the market in your Silverware. You will have to remove it before you can use the item for eating. This is impractical and can also harm the silver. Make sure that you wash all your silver cutlery after use. Salt and acidic food can damage if allowed to stay on the top of Silverware for a long time. Never forget to dry them thoroughly with a soft cloth before placing them back.
Storing Silver Ware in Flannel Treated Bags
No products found.
If you are worried about how to keep Silverware from tarnishing, something can help you. There are artificial storage bags available online to store silver. They are treated with silver nitrate or other chemicals that help to prevent tarnishing.
To store Silverware, you can select a bag with many little slots to place the item separately so that they do not bang against each other and scratch. The bags are available in varied sizes from small to large to store larger silver items like bowls, trays, etc.
These bags are a one-time investment as you will never have to polish your silver ever again. If you do not want to buy these flannel bags for storing your silver bags, you do not have to worry about keeping Silverware from tarnishing.
You can also store it wrapped up in a tissue paper inside a box. The box, as well as the paper, should be acid-free. Do not use newspaper because the ink can damage and corrode your silver.
How to Polish Silver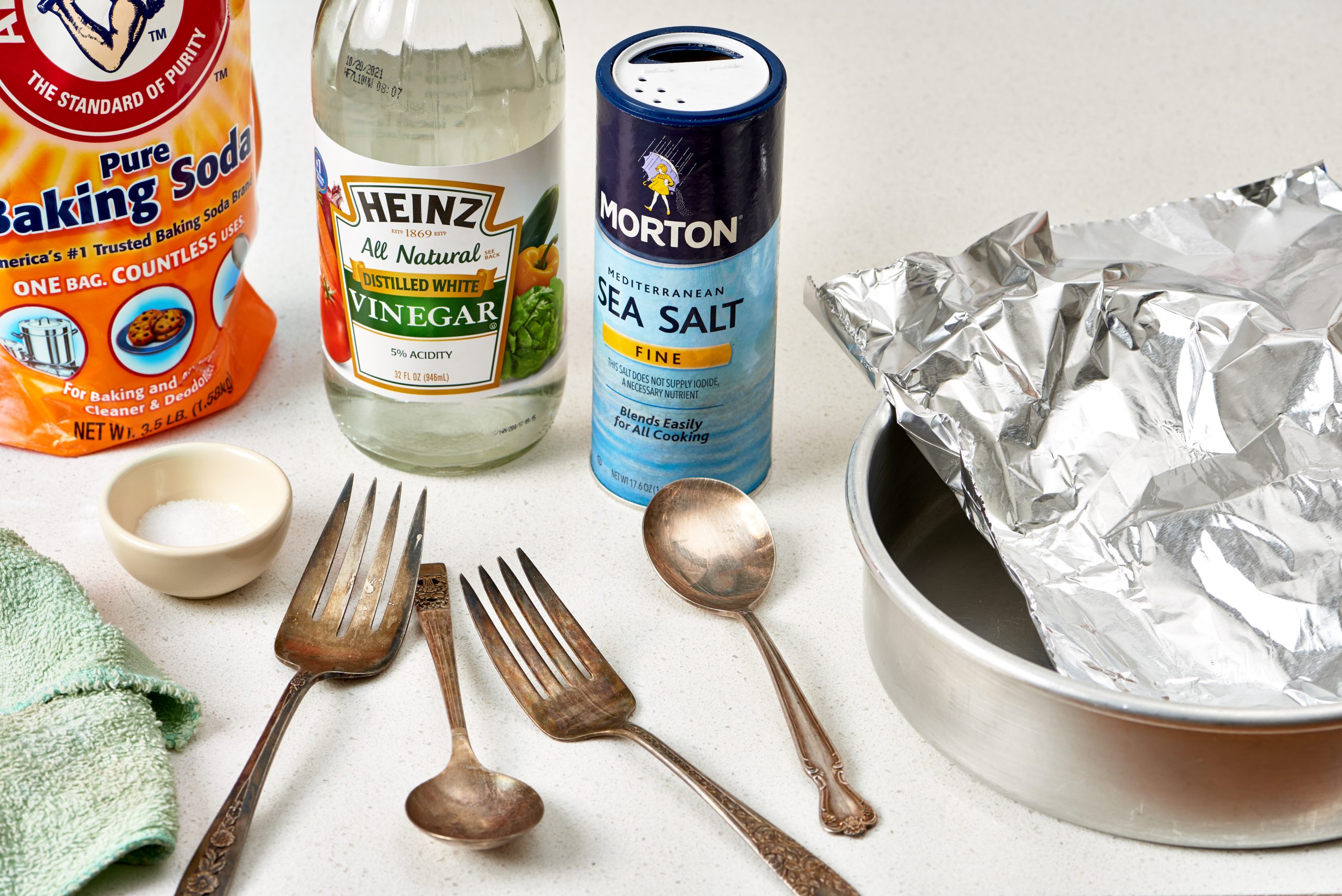 Knowing how to keep Silverware from tarnishing involves knowing how to polish silver. As mentioned earlier, silver is a very soft metal; it can easily get scratched if treated harshly. You have to be very careful while cleaning your Silverware. Do not use stiff brushes when polishing silver; never rub too hard on the surface as you can accidentally end up scratching it.
Keep in mind that you are wearing a thin layer of silver away from the item every time you polish it. Do not polish it too frequently, and once the tarnish is removed, stop immediately.
It would help if you were extra careful when polishing silver plated items. These items have a layer of silver on top with another metal as a base. If you polish these items too often, the thin layer of silver will vanish, and you will need to get it replated.
Steps to Polish your Silverware:
Buy a silver cream online or from a retail store nearby. Find some old towels, a polishing cloth, soft cotton cloth, and a soft old toothbrush.
Spread the old towels onto a plane surface such as a table, and keep all the silver items that we want to polish on it. The towels will not only cushion the surface but also prevent the silver items from accidentally banging onto the hard surface.
Wash each silver item in warm water to remove dust and other impurities. Then, dip a soft cloth into the polishing cream and apply the cream quickly over the entire silver piece.
Rub gently. Try to rub in a circular pattern and do not apply a lot of force.
Use a toothbrush for corners. Make sure you are very gentle, and the toothbrush you are using has soft bristles.
While polishing, the cloth can get dirty from all the tarnish being removed. Keep switching from a dirty area to a clean area of the cloth.
Finally, rinse your Silverware to remove all the extra polish from the surface. This is very important for any item you use to eat food every day because you do not want to engulf the polish.
After your Silverware is thoroughly washed, dry it with a soft cloth. A dry cotton cloth is preferable.