Organizing a backyard wedding can give you the freedom and flexibility to create a truly unique celebration that reflects you and your soon-to-be wife or husband. Planning a wedding in your backyard will also significantly reduce your overall wedding costs and allow you to allocate more of your wedding budget towards extras such as fine dining or luxury favors for your guests. If you are considering hosting your wedding at home, then here are some useful tips on how to plan the perfect backyard wedding: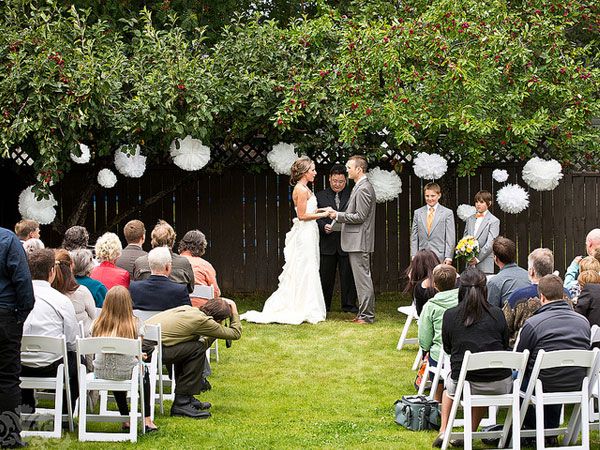 Keep your guest list intimate
Having your wedding at home gives you complete freedom over who you invite to your special day. That being said, you need to carefully consider how many guests you can comfortably and safely accommodate in your home and backyard. It is better to keep your guest list intimate and provide each guest with an enjoyable experience, rather than inviting everyone and ending up with an overcrowded and uncomfortable wedding celebration. Make sure that you send each guest a save the date so they can make arrangements to attend your wedding in advance.
Give your backyard a makeover
You should consider yard maintenance and set up as early as possible to ensure that your backyard is in top condition on your special day. Consider hiring a professional gardener and landscaping services to get your yard design looking tidy and beautiful. You may also need to clear space in your yard for guests and plant any flowers in advance that you want to bloom in your wedding backdrop. Make sure that your grass is cut a few days before your big day and be sure to check that the ground is level to accommodate tables, chairs, and a dance floor. It is also a good idea to rent a tent or some sort of canopy to provide your guests with shelter if you have bad weather or rain on your wedding day. You can find lots of useful tips on how to create a beautiful outdoor space.
Check permit and insurance requirements
Before you start planning your backyard wedding, you must contact your local city officials to check whether any permits are required to host a massive celebration at your home. The last thing you want is for your wedding to be shut down due to a breach of noise or fire control regulations. You also need to contact your home insurance provider to make them aware of your wedding and to verify what is covered under your policy.
Hire a wedding planner
A professional wedding planner can be extremely valuable in the wedding planning process and help ensure that your special day runs smoothly. In particular, a wedding planner will be able to manage the logistics of your backyard wedding by ensuring that you have an adequate power source and enough portable toilet facilities for all guests, for example. Try to find a wedding planner who has experience organizing backyard weddings and make sure that you choose a reputable professional with evidence of positive client feedback.