Most of us are always drowned in paper. Our wallets are overflown with receipts, our desk drawers are filled with wedding invitations and old greeting cards, and a corner of our kitchen counters are packed with piles of papers and bills. Paperwork occupies the dining room table, living room corner, and we end up having papers everywhere.
This site is daunting. Paper accumulates very fast, and it can be intimidating to even think of cleaning the mess. Moreover, we even forget what we want and rush out of the door, stressed because we could not find the required paper.
Do you want to declutter these piles of papers that are stressing you out? Here are some tips and tricks which will help you clear the mess. You are certainly not alone if you are confused about how to get rid of piles of papers and declutter the ever-growing paper mountain.
Why Should you Consider Decluttering Piles of Papers?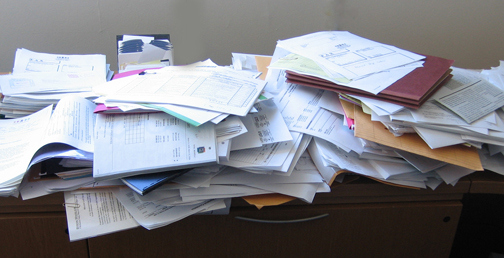 If the papers in your house are well organized, you will feel like everything is under control. You will save a lot of time and will be able to find stuff more easily. Your house would look neat and clean – imagine the wonderful sight!
Tips to Declutter Piles of Papers
Sort Paperwork as Soon as you Receive it
You will always have papers coming into the house; it just never stops. So, it is a good idea to sort them quickly as soon as they reach you. If you have school-going children at your house, it is a good idea to assign a specific place to them for their paperwork.
This way, everything will look organized, and you will not have to sort them out later. Some people keep a dustbin right next to the front door so that they can throw away letters or any other paperwork that is not required immediately.
Use a Notepad 
Buy a small notepad that can fit in your pocket or your bag and start using it for anything that pops up during the day where you need to make a note. The notepad will help you accumulate the loads of little bits of paper that would have been lying around. Use your phone for noting down phone numbers and your address book for addresses.
Minimize the paperwork you Receive
This one is a no brainer. If you manage to minimize the paperwork that you receive in the first place, the piles of papers will reduce to a great extent.
Go Digital
Use digital means of communication as much as you can. Use email as a form of communication when you want to receive a mailing from a company. These days, you do not even need to buy newspapers and magazines. You can go digital for these as well. There are some fantastic options like amazon kindle for magazines—many magazines like Forbes release digital editions.
Almost all newspapers offer online news services. If you are not willing to go digital for newspapers and magazines as you like reading from a physical paper, make sure you get rid of the magazines or the newspapers after reading them.
Sort the Piles of Papers Daily 
The best method to prevent all the mess is to sort through the inbox as often as possible. You can assign a particular day for it, like Sunday (once a week). You will need to do sorting, shredding, filing, etc., to keep everything under control.
Divide Them into Categories
The only way you can effectively tackle the mass amount of paperwork is by dividing them into categories. Collect papers from every corner of the house – from your desk, drawers, and cupboards. Check your mailbox and grab any piece of paper that you see around. Please take all of it and put them in a basket or a bag. A laundry basket will also work.
When you are free, sit down and sort. You can make categories according to you like home, work, school. You can also divide them based on the urgency that is needed to deal with them.
Buy a Scanner
Many printers include an inbuilt scanner that can even function wirelessly. You can also use your smartphone to click a photograph of the paperwork you would like to store for reference. Papers like receipts can be captured and saved, so you do not have to hold on to the paper. A scanner has a lot of benefits. You can save your kids' schoolwork and store important documents digitally. It takes zero physical storage space.  
Follow the Golden Rule: "Touch Once"
Vow that you will at least touch the pieces of paperwork once whenever possible. We usually put off dealing with important papers until a future date because we are just too lazy. After you sort the piles of papers, the next time you touch them, you will do whatever needs to be done. Whenever you come across any piece of paper, either act on it, file it or get rid of it. The only thing you do not have to do is tell yourself, "I will do it later."
Centralize your Paperwork  
Try not to scatter papers everywhere. If your papers are scattered, they will eventually get lost. Keep everything in one place; you can even get a special shelf only for your papers.
Know What to Save (and for How Long)
Like useless images on our phones, we also save many papers because we do not know when we may need them. Do not save unnecessary paperwork for too long. Save your paid utility bills, annual investment statements, and copies of cheques for non-tax-deductible items for one year. IRS tax records and bank statements should be kept for at least seven years.
Do not keep contracts, home improvement receipts, and mortgage records after they are inactive. It is crucial to keep in mind that whenever you decide to throw a paper that contains your name, address, or phone number (old insurance policies and receipts as well), you have to shred them properly. Shredded paper can also be mixed with the rest of the household recycling and can make a great addition to your compost.
The Three-Pile Method
This is a straightforward and effective method. You need to categorize all your papers into three piles: keep, shred and recycle. The keep pile has everything that cannot be replaced like tax documents, account statements, medical records, insurance policies, etc.
It should have anything that you cannot track down through an online account. The second pile should contain the papers that you no longer need. Remember that these papers should not have any personal information or bank details.
You can buy a shredder as it helps a lot when it comes to paper security. Recycled piles will have papers that do not have personal information. It would help if you threw these into the garbage bag immediately. Repeat this process as many times as you want to.
Store Coupons and necessary Receipts in Binders
Binders, also known as index card cases, are a fantastic tool for organizing paperwork. You can store it in your car or purse. Store it in a convenient and easily accessible place so that you do not make any excuses whenever you must add a new receipt or a coupon.