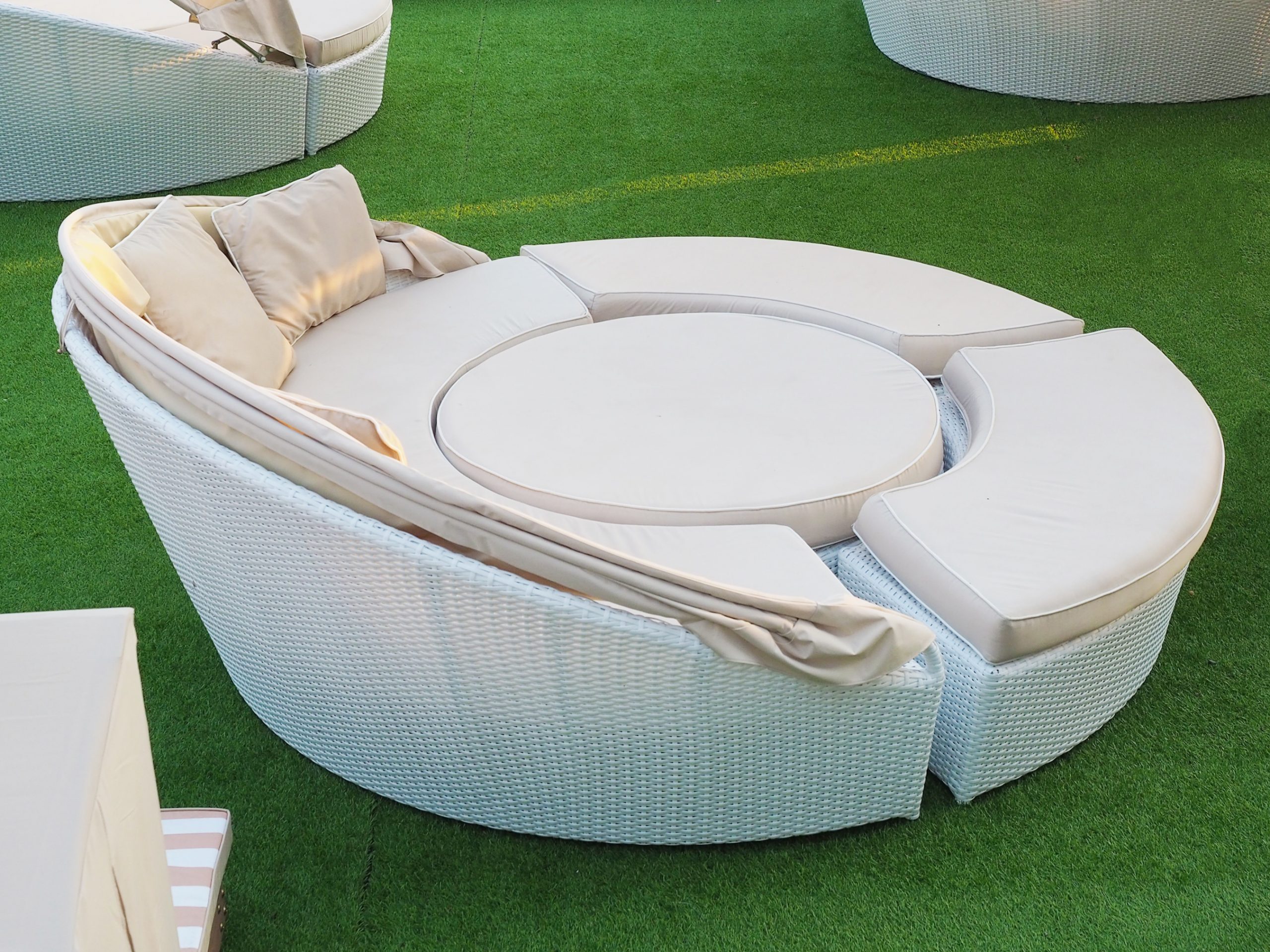 Once summer sets in, it's a wonderful idea to spend more time outdoors with close friends and family. For a lot of people, there's no better way to do this at home than to have daybeds strategically placed in the garden.
Rattan daybeds are among the most versatile, modern furniture you can add to your home. Besides being functional pieces of furniture that make hanging out in the garden or backyard more comfortable and relaxing, they serve as aesthetic furnishings that'll enhance the look of your exterior spaces and allow you to create a welcoming ambience.
The good thing about rattan daybeds is that they're completely waterproof. This means you can leave them outside throughout the year without worrying about damage due to natural elements. Also, you don't have to think about where to store them when winter comes around. Of course, you're free to move them elsewhere during the snowy season if you wish.
Daybeds come in different styles and prices. If you're planning to buy rattan daybeds for your home, here are some useful tips to help you choose the best one:
1. Pick The Right Size
Rattan daybeds are available in various sizes. When selecting a daybed, consider the amount of space you have in your garden or backyard. If your property is spacious enough, you can always go for a large daybed. There are options that can easily be adjusted to occupy less space should you need more room. A good example of this is the Olivia Double Rattan Daybed (Grey) from Garden Centre Shopping.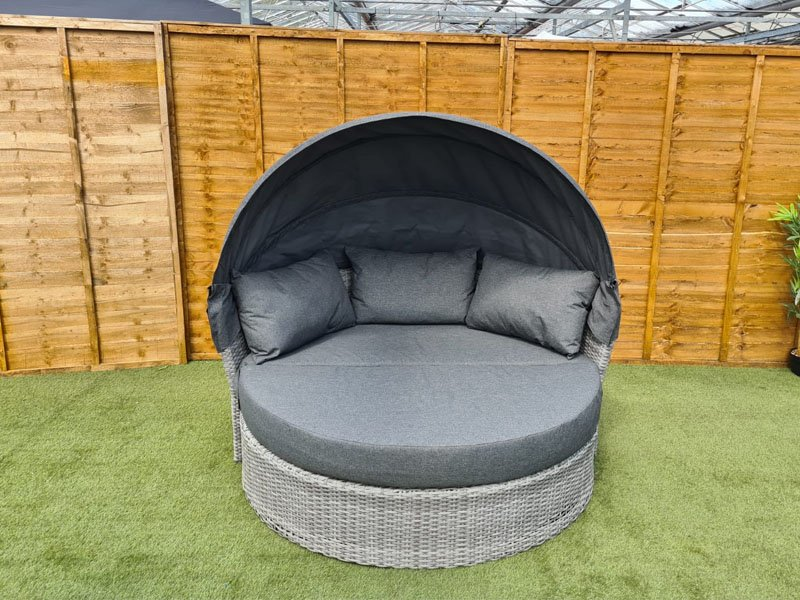 Olivia Double Rattan Daybed (Grey) from Garden Centre Shopping
If you're working with a small garden space, you should get a smaller rattan daybed. You may also buy one with a footstool section and a sofa section. The two pieces can be placed together to form a daybed where you can lie down and relax. Alternatively, you can use them separately if you need an additional seat for another person.
2. Pay Attention To The Materials Used
Rattan daybeds are made from different materials. This means their manufacturing processes vary. The best rattan daybeds are produced using either high-density polyethylene (HDPE) or polyethylene (PE) and manufactured through eco-friendly methods.
Weatherproof rattan garden furniture is recyclable and resistant to mold. It's also more durable compared to other types of daybeds because the material used to make them is tougher than polyvinyl chloride (PVC) or polyurethane (PU). Although you may need to pay more for HDPE or PE rattan daybeds than you would for PVC rattan daybeds, the former option is more durable and can be placed outside without a problem.
When buying a rattan daybed, check the furniture frames to ensure that they're strong. Rattan daybed frames are mostly made of aluminum, which doesn't rust when left outdoors. Also, see to it that your daybed is UV stabilized so it can withstand the glare of the sun.
3. Check The Cushioning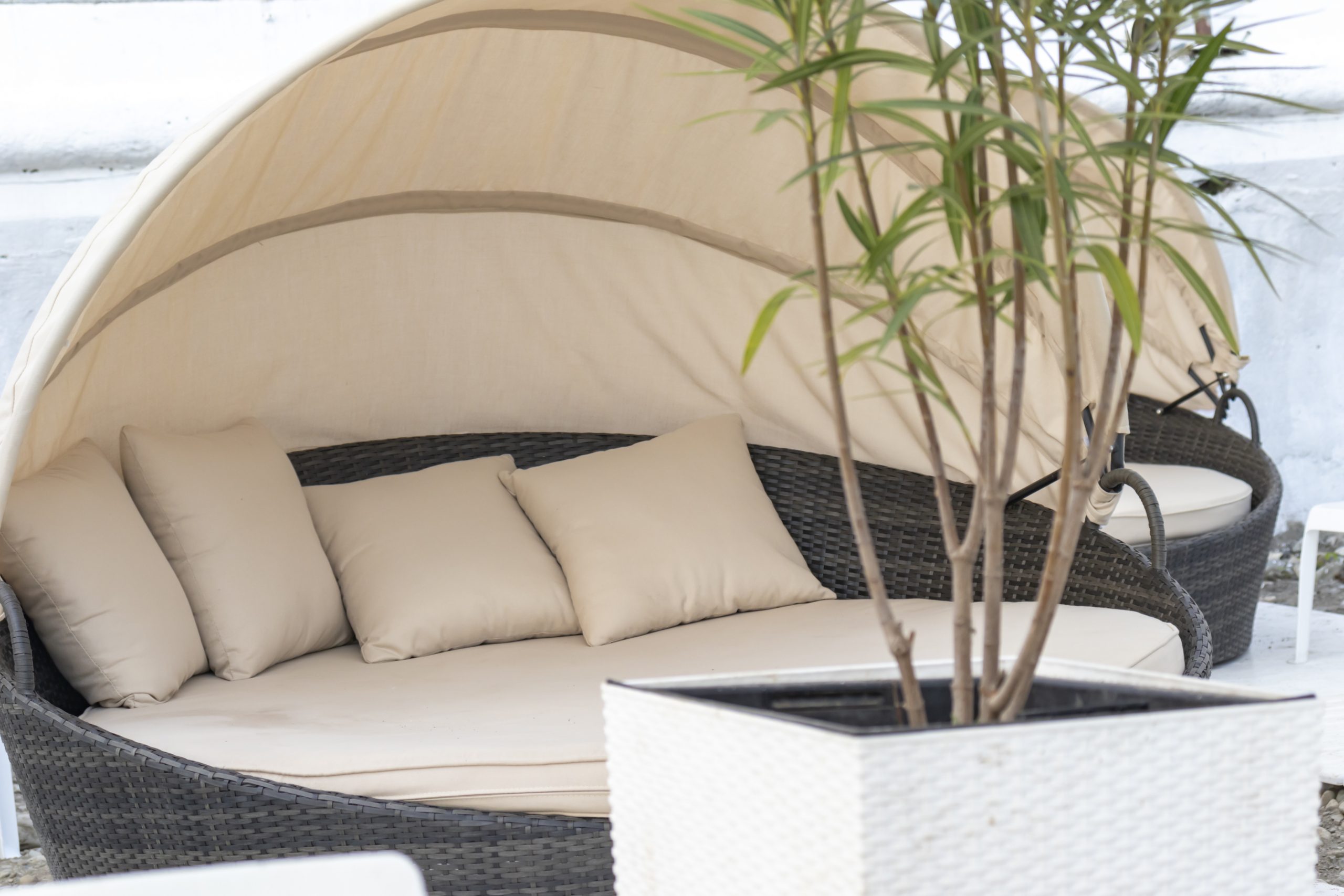 When shopping for a rattan daybed, you need to pay attention to the cushioning. For more comfort and better relaxation, opt for daybeds with thick, padded cushions. Thin cushions tend to wear out fast and aren't comfortable to sit or lie on for long periods. For each daybed you choose, make sure that the cushion you get is waterproof and looks good with the rest of the furniture.
4. Consider Style And Color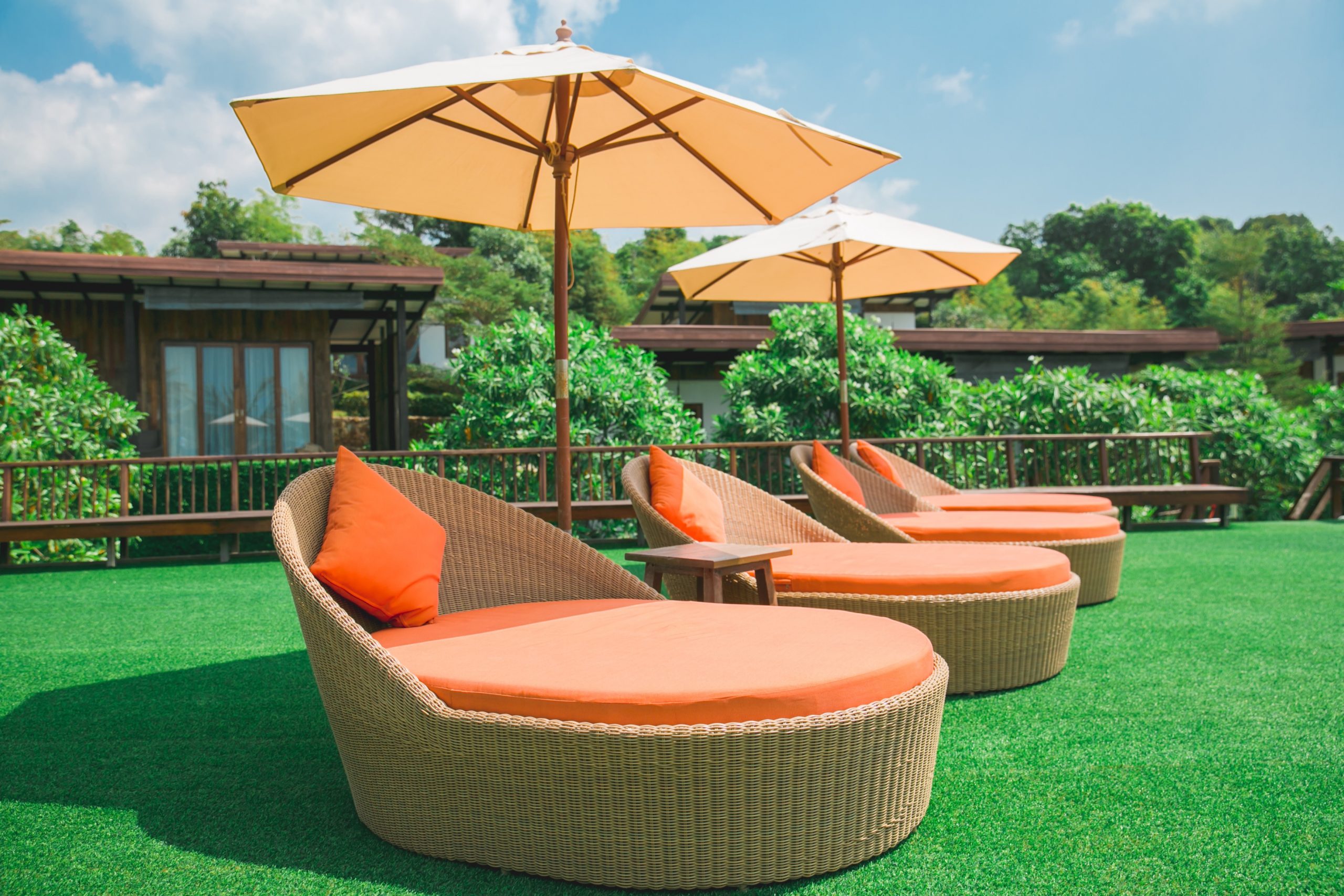 There's a wide range of rattan daybed styles and colors you can choose from. It's advisable to go for one with a retractable hood or canopy. This way, you can shield yourself from the sun should it start to get too hot outside, but you can also fold it out of the way if you'd like to sunbathe for a while.
As you shop for rattan daybeds, select a color that reflects your personality while complementing your outdoor décor. If you're unsure about what to get, neutral hues are always a safe bet, and you can style up the daybed with patterned or colorful pillows meant for outdoor use.
5. Go Modular
It's best to look into modular rattan daybeds so you'll have more flexibility. Depending on what you purchase, these can transform from an ordinary daybed into a couch, and there are options that allow you to have a coffee table or a surface where you can place drinks and snacks. This will enable you to maximize your outdoor time because you'll have everything you need to unwind within your reach.
Final Thoughts
Summer is the perfect season to make the most of the outdoors. However, this doesn't have to entail going to the beach or even just leaving the house. Having rattan daybeds in your home will give you the opportunity to enjoy the sun with all of your loved ones. It's also an easy way to add style to your garden or backyard.
Whether you have a big property or a small one, there's bound to be a daybed that's suitable for you. Follow the tips discussed above to find and purchase rattan daybeds that fit your aesthetic preferences and meet your family's needs.