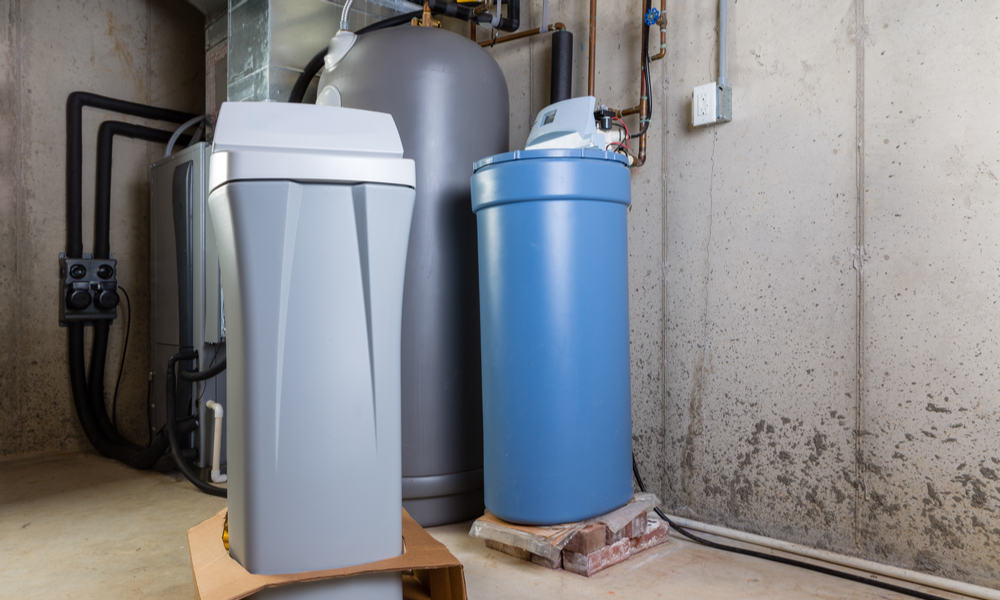 Water is one of the fundamentals of life and having constant access to clean and soft water is no less than a blessing. But a majority of American homes don't enjoy this privilege. Did you know that 90% of the houses in the United States have hard water? Hard water is a term used for the kind of water containing high levels of magnesium and calcium. Hard water can cause diverse problems in water systems in your homes.
From basic everyday tasks like laundry and bathing becoming challenging to scaly build-ups on kitchen utensils, hard water is a nuisance to deal with. The plumbing fixtures, appliances, pipes, and heaters are also not immune to hard water hazards. The build-ups in them are one of the core reasons their lifespan is reduced, causing financial losses and compromising the homeowners' mental peace. To effectively deal with hard water, a water softener is an ideal solution.
What Is A Water Softener?
Water Softeners are filtration units that are designed to eliminate minerals like calcium and magnesium from hard water. When hard water moves through a water softener, the incorporated mechanism depending on the water softener's type removes these minerals from it. A fresh, clean, and soft water is supplied to the plumbing where it is installed. The right quality water softener is long-lasting, with an average life is 15 years.
Are you one of those annoyed homeowners looking for a permanent solution to get rid of hard water & want to fix a water softener in your homes? Then you must be wondering how much it will cost you and what are the feasible options. Today, we will guide you about the water softener installation costs according to their type. So without any delay, let's dig in.
What Are The Cost Determining Factors Of Water Softeners?
Various types of water softeners are available in the market with unique features and mechanisms. Overall, the cost depends on the water softener's efficiency and capacity. You must invest in one depending on the hardness of your home water( calculated in Grain Per Gallon- GPG). The factors that contribute to the price tag are.
Size and Configuration: Dual tank softeners are more expensive than single ones.
Features & Components: Automated ones are costlier than conventional timer-based ones.
Valve Types: Softeners with smart and robust valves are costly due to increased efficiency and reduces water wastage.
Water Hardness: Higher the GPG, the more powerful and high-end Water softener is needed.
Ownership Costs: High-end water softeners often require less maintenance and repairs than low-priced ones.
What Is The Average Cost To Install A Water Softener?
We have already discussed the factors that vary the cost, but a water softener installation charges are between $500 & $6000 for the cheaper and high-cost ones, respectively. The average price would be around $1500. Depending on the model of water softener, the labor costs are determined. If you are tech-savvy and are familiar with installing devices, the DIY softeners are relatively easy to install, and you can do it purely by yourself. However, a professional installation is a right thing to do if you opt for a more expensive one.
The plumbing problems that could result from a faulty installation are an added disadvantage. Therefore it is highly recommended to let the professionals do their magic. American Home Water & Air is a trusted name in Plumbing and HVAC services that offer end-to-end water softener installation, repair, and maintenance services at the most inexpensive in multiple locations in Arizona. For fantastic discount offers and more information, explore their official website.
Types of Water Softeners & Their Installation Costs:
Water Distiller:
A water distiller is the simplest and commonly used water purification system that works on converting the water into steam and then tempering it to filter out the hard mineral and impurities. They are cost-effective but slow in functionality therefore not recommended for multiple uses. People mostly use them to soften water for drinking purposes. The total install cost varies between $50 to $2000. The cheaper ones are very ready to install, so you don't need a professional.
Ion Exchanger System:
Ion Exchange Water System also referred to as Salt Water softeners are the most sought-after water softeners. Quite evident from the name, the ion exchange system incorporates a mechanism that exchanges hard mineral ions like Magnesium and Calcium with a Sodium ion from the salts added to the system. This is an efficient softening method and works very well. Don't worry about the salt if you do not follow a very low sodium diet; you won't notice it all. The installation price fluctuates between $500 to $2000.
Salt-Free/ Potassium Water Softeners:
Salt-free water softeners are ideal for people who don't like the feel of Ion-exchange softener-produced water or a die-hard fan of low sodium diets. This system does not remove the calcium or magnesium ions; instead, they neutralize them to halt build-ups in the plumbing system. They are generally more pricey than any other option and have high installation and operational costs. Very much suitable for homeowners who don't like to replace and buy salts, just an occasional filter change and routine maintenance will suffice. The total installation cost of it is $800 to $4,000
Reverse Osmosis Softeners:
Reverse Osmosis Systems are a combination of water softeners and filtration systems and are not typically considered water softeners; instead, they are a complete filtration system. They are efficient and super functional in removing hard water minerals and other contaminants from the water. The water filtered through them is very much suitable for drinking. You can install them under the sink too. Routine maintenance and frequent changes are some factors that increase the costs. The installation cost is between $1k to $2.8K.
Magnetic Water Softeners:
This is one of the latest ones on the shelves, which is, in fact, an electronic device that you can attach to your pipes. This is a plug-in water softener, which doesn't require any installation or maintenance. The prices are on the lower end and vary between $30 to $200. It creates a magnetic field around the water, which alters the hard water mineral ion charges, which result in repelling each other to prevent the build-up in the plumbing lines. The efficiency of this new softener is debatable, but it is an excellent low-cost DIY option.
Wrapping Up:
Water softeners are the need of the hour for everyone who is dealing with the problems caused by hard water. They are incredibly beneficial and a great long-term investment. Imagine how much you can save by buying less bottled water; your appliances will love the soft water, and also daily chores become easier and comfortable. Just an extra tip: Always purchase and install them through a licensed and experienced firm that offers great warranties and customer support to ensure that you are in safe hands.