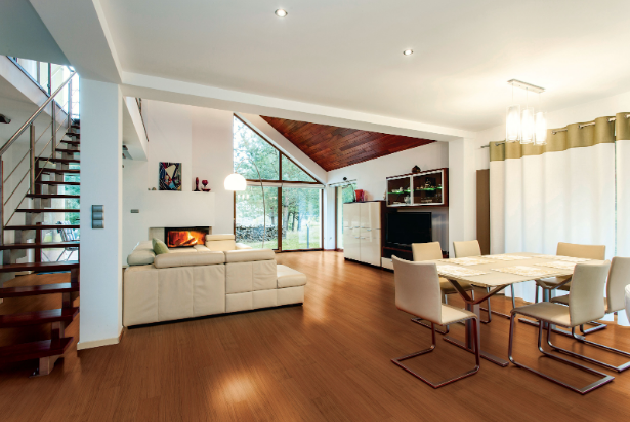 Creating the perfect dream home is one of the best investments you'll ever make. Your home is your sanctuary, your haven, and your solace. This is the place you'll come home to every day for the rest of your life. They say that home is where the heart is, and nothing could be better than coming home to a place that's built to last a lifetime.
One of the aspects of a great, quality home lies in the hardwood flooring. When you're shopping around for materials to use to either build or renovate your home, you're going to come across several types of flooring options to choose from. However, when it comes to long-lasting durability combined with a quality finish and design, engineered wood flooring is going to be your preferred choice.
These engineered floors were first introduced sometime in the 1960s. Since this initial invention period, the quality, performance, and appearance of these engineered wood floors have only got better with time. Whatever type of home you have, engineered floors are going to be a perfect addition to turning your home into the picturesque dream house you've always envisioned for yourself and your family one day.
Reasons Why Wood Flooring That Has Been Engineered Is the Best
The decision-making process is always a hard one, especially when it comes to big decisions like what your home should consist of. The wrong decision could prove to be rather costly since home furnishings and renovations don't come with the cheapest price tag around. If you've been toying with the idea of exploring the engineered flooring option, here are five reasons why you won't regret going with engineered wood, the solution to your home flooring troubles:
It's easier to install – The installation process with this type of engineered wooden floors is much easier because of the installation options it affords you with. If you were to go with the solid hardwood option, you'd only have the option to nail or staple the floor into place. With the engineered variety of flooring, you can choose to either nail, staple, glue, or even float it. Its flexible nature also means that the engineered floors are better suited to work in a much larger variety of room options. The flooring can be used in rooms like your basement, bathroom, kitchen, or any room in the house for that matter. Moisture isn't going to be a problem the way it would be with solid wood flooring.
It's affordable and sustainable – Wood flooring that has been engineered is the better option in terms of affordable quality flooring because of the sustainability factor. With the engineered wood floors, you'll get a layer of high-quality hardwood on top of the plywood. This makes it a much more affordable option than solid hardwood, plus it's better for the environment because it won't require as much solid timber to produce. It's sustainability and affordability rolled into one for a fantastic price point.
It's very resistant to moisture – Another perk you'll love is that wood floors that have been engineered are going to be very resistant to moisture. You get the benefit of having wood floors that look like the real deal, without having to worry about the wood rotting away over time, thanks to the moisture it's bound to come into contact with. Thanks to the plywood base it comes with, wood-engineered floors are a lot more sturdy and long-lasting. You can safely install these in your home with peace of mind, not having to worry about whether the wood is going to warp or flex easily. You can trust that engineered hardwood floors are going to hold their shape a lot better, even if your floor were to be flooded with water.
You'll enjoy all the same benefits you'd get with real hardwood floors – Just because it happens to be engineered, it doesn't mean you're going to be compromising on quality. In fact, you're probably getting better quality and more value for your money by going the engineered route. That's the biggest advantage of living in today's modern technology world. Modern technology can work wonders, with engineered flooring included. Your engineered flooring masterpieces will boast an aesthetic and natural appeal that compares quality to the real deal. Plus, what's even better is that it comes in various finishes, wood grades, and wood types. Thanks to how durable and sturdy it is, this is going to last in your home for years to come, or until you decide its time for another home renovation makeover.
It's much easier to maintain than original hardwood floors – There's no denying that hardwood floors are beautiful. The only downside to them is that they tend to develop scratches and scuffs over time; not to mention that the surface of your floor will fade and look duller over time. This is part of the hardwood's natural aging process and the general wear and tear. This is yet another reason why engineered floors have become so popular. The low-maintenance aspect is a given with the durability factor. If you choose to enhance your home with engineered wood floors, the only time you need to refinish your floors to give it a fresh look again is once or twice over the floor's lifespan. This will save you a lot of money down the road when you don't have to worry about sanding your floors frequently to keep them in tip-top shape. Do a quick mop and clean with a microfiber cloth and quality wood floor cleaners regularly, and you're good to go.
Did you know that by actually installing these engineered wooden floors in your home, you're increasing the value of your home? No wonder this is the number one choice when it comes to furnishing your home with the right type of flooring. This dead ringer for solid wood floors is a winner.