If you have a heap of files and regular files and folders, you need some system to organize them. If you add new files to the already existing files every day, you need an organizing system.
You need a folder system to keep things in order and detailed. But how can you do that? The first thing that comes to a mind is to put them in a box by dating them. It is fair and progressive, but instead of a box, you can use a compartment of files to put them in date-order. This compartment of files and the system to organize such is the 'tickler file' system.
Tickler File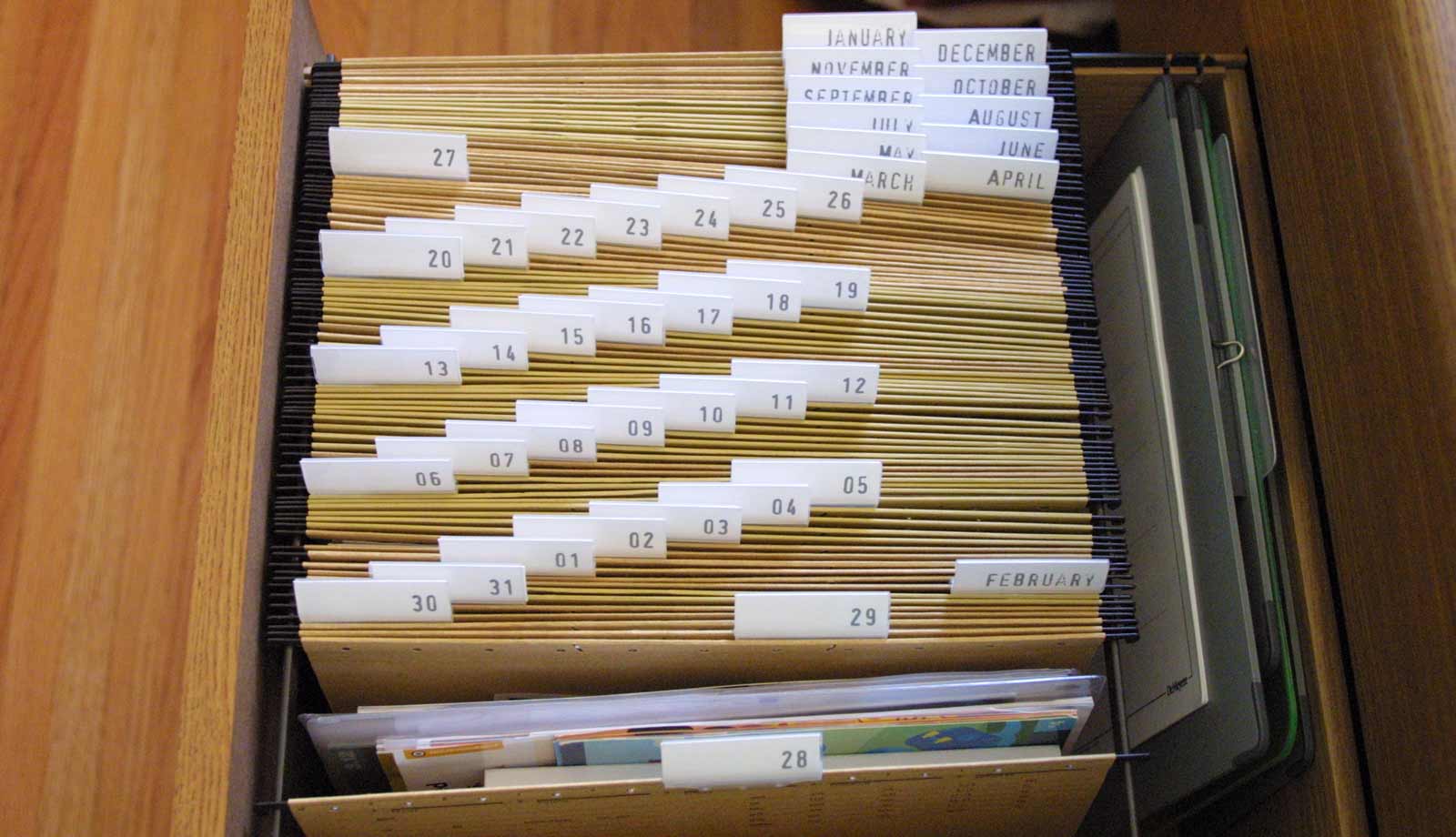 A tickler file is where you organize your files and folders. But using it for better things is the most productive thing to do. How productive can we use the tickler file system? One of the famous and widespread usages of this system is using it as a to-do list.
As the files are dated, you can put reminders on dates and can check the tickler file occasionally. The name tickler comes from 'tickling' our memory.
A tickler system is a calendar but more detailed and more profound. You cannot pin files, bills, and notes to a single date on a calendar. But when you have filed for each date, you can use them to store invoices, receipts, and notes for future days.
On any day, if you check what you put in the file, you can see the bills that you need to pay on that day. If there is nothing inside the file, there probably is not anything you need to remind yourself.
How to Create a Tickler File?
First, you need to get a container and gather all your files to put in dated order. The number of files put inside a box is precisely 43. Because of the number, it is famous as a 43-file system.
You should gather 43 files and put them in a file draw/box/container. As a month has 31 days, mark the 31 folders with dates of this month. Now, mark the other 12 folders with names of months. Now put all these named files in the file holder.
Order of Arranging
Place the dates files in a way that the current date should be in front. For suppose, if the date of today is 18th September, the file named 18 is in the front, and the September named file behind it follows 18 to 31 files.
And the months to come should be behind September. At the end of each day, you should put the current day file behind all the dates, and then the next day's file will be in the front. After the last day of the month, the following dated file should be the 1st, and the current month should be placed behind all the other months.
This placement is perfect as it has a recurring and never-ending system. The files will not go anywhere, and you do not need to replace them unless they are damaged or worn off. Wearing off does not happen soon, so you do not need to worry about replacing them anytime soon.
Why Use a Tickler File?
What is the use of a calendar? It is to keep you on the track of days. Many calendars allow a blank space for you to write something on the dates. You can use some keywords on the provided blank space. These keywords can remind you of what you planned for that specific day. But what if the things you need to remind yourself do not fit in a word or two? You need sentences to remind you of a few things.
But the traditional calendar does not have enough space for you to write terms and phrases on it. That is when you use a system like a tickler file system. You can write notes, put receipts, and even place the book inside the folders to remind yourself to read this book on that day.
There are a lot of things you can do with a tickler system. Its purpose is to tickle your memory. How you use that tickle is up to your own choice. Even what you want, the tickler to tickle is your choice to make. But when you get external help and a more complex system than a calendar, why not use that?
Memory
A tickler file is a lot of things but especially something that helps you do things right at the right time. In daily life, it is common to forget paying a few bills or doing something. It is now a widespread habit to maintain a to-do list. But if you plan something to do for a week later, how will you do that on that day? That is when a tickler system comes in place.
You can control your to-do list not just for a couple of days, but plan months ahead. You can even put a note in the month- something you must do after a year; you can open that next year when the month passes again. Having this 43-file system can help you that precisely and that is why you need a tickler system!
How to Use a Tickler File?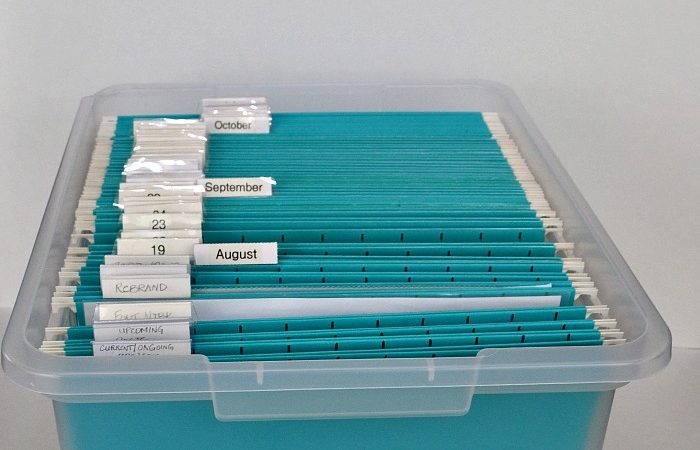 How the part is pretty much understood, looking at the process of making it. But to be more specific, we should discuss its usage. The most common and widespread usage of a tickler or a 43-folder system is to use it as a to-do list that can help you for weeks and months. This benefit of the system is known right through the title of it. But can you use it for your advantage in different ways?
Yes, you can customize it according to your needs. If I was an avid reader, and I have a target to read individual books on dates. I can put the books in the file of that specific date. I note on each day that I should finish reading what I am reading before and so days.
When I get closer to the book's day, I put notes that remind me of days remaining. When the next book is coming, I will finish reading the current book before the day of the new book. This way, I remind myself of the time and motivate myself to read more.
And I get to read all the books according to my timetable. This level of customization is only possible if I know how to use it to my advantage. According to your habits and why you need remembrance of things, you need to plan your usage of this system.
Modern Day Usage
Tickler file systems are famous. They are used in massive organizations and offices. You can see this type of cabinets having dates and files, and you can spot these folder systems lying around the reception desk.
As receptionists need to remember many things and take many forms and papers, they use a tickler system to organize their activities. Hospitals have these kinds of systems at the form-filling desks and form-accepting desks.
Even after digitalization and the usage of computers and excel sheets, tickler files are handy and are always in front of your eyes. So, even after the digital era, the tickler file system survives and progresses each day by having enough space to allow every user to use it for their advantage.
If the receptionist must record all the appointments scheduled for each day, they can use this system to put up a note on each day. They do not have to remember appointments verbally but can remind themselves by looking at these folders every day.
Conclusion
After looking at how and why to create a tickler system, one can immediately start thinking that it is unnecessary. But when one gives a peek at the section that describes what it can do and how you can use it for your advantage, it gives you an immediate liking towards this 43-file system.
This is not targeted or specific towards forgetful people; instead, it is for people who want their schedule to be more organized and constructed. It is for people who want to do things for the planned day and time, and do not compromise on postponing them.
This is what the system is about, organizing! You can do just the job with an essential planner or a to-do list, but allowing one to file objects, notes, or papers gives the user full freedom to use it in any way for their advantage.