Pronounced "hoo-ga," hygge translates loosely to a holistic feeling of coziness and general contentment. In recent years, it's taken on its own meaning in the interior design world, reflecting the need for a great environment to bounce your mood off.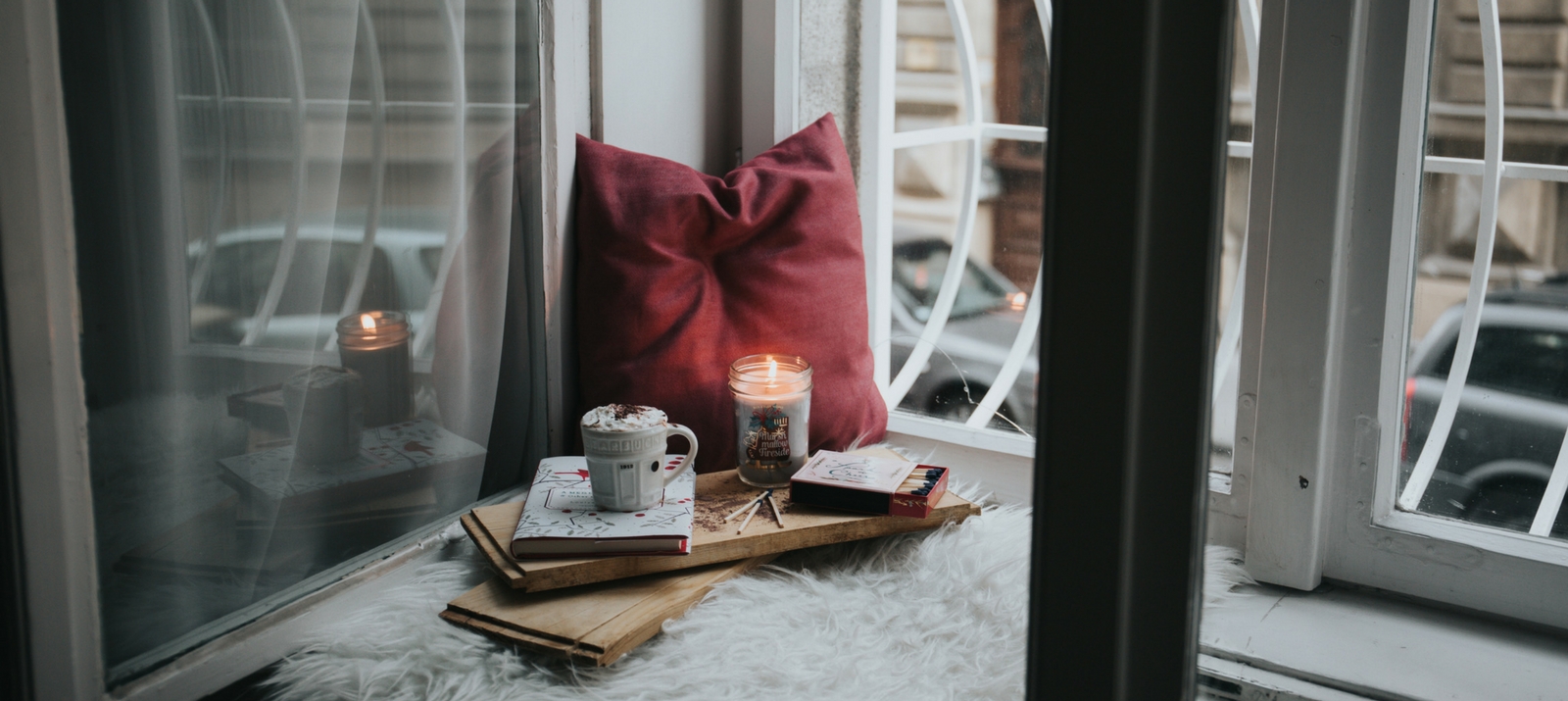 The notion centers around inner-peace, gratitude, and enjoying the small things that life has to offer.
Where does it come from?
Hygge originates in Norway and Denmark, with very similar meanings. It's considered a more Danish practice, though, due to how popularized it is there.
Traditionally, the hygge approach begins in the family home.
To get more hygge in your life and in your home, check out the hygge checklist and find inner peace:

A calm color scheme: muted tones and dimmed lighting make a cozy atmosphere to relax in. Colors such as red, brown, and orange are often associated with autumn and are prevalent in hygge home practices.
A reading nook and lots of books: preferably next to an open window for hygge to be in full swing, reading is said to provide solace for the soul. In this comfortable space, the aim is to feel free enough to read and write, uninhibited. Journaling is a popular part of hygge too, find out how to start at littlecoffeefox.com
Open fire: there's nothing like an open fire on a cold autumnal evening. Fire is pleasing to our senses, giving us warmth, bright colors and the unmistakable crackling sound. It encourages relaxation and feels so very natural. For extra hygee points, toast marshmallows and laugh with friends.
Dinnerware: plates, mugs, and cutlery galore for the many nutritious and heart-warming snacks and hot beverages that hygge promotes. Try out some hearty hygge recipes at elledecor.com
Radiators: upgrade your freestanding and integrated radiators to warm your cozy home for real and pure hygge. A range of styles and materials are offered at a competitive price at warmrooms.co.uk – you're sure to feel snug and warm.
Spa bathroom: a spa-worthy bathing area to get clean and relax in. To indulge in hygge, take a long bath with candles burning and a warm fluffy towel. Hygge is all about finding the value in the small things, so stock up on some home treatments to help you enjoy the lifestyle.
Add some greenery: plants in the home have many benefits, such as increasing the humidity and reducing dust and pollutants, but they look fantastic too! Eucalyptus is an excellent choice for bathrooms as it acts as a decongestant, whereas lavender is ideally grown in the bedroom where you will reap the benefits of cleaner air!
Warm textures: bed sheets, rugs and loungewear – they should all be soft, comfortable and inviting to spread hygge throughout the home!
To sum up…
Hygge is a Danish practice which means different things to different people. It begins at your base: your home, and becomes a lifestyle that encourages happy and healthy living. Despite there being many definitions and translations of the word, hygge has one constant: wellness. You can live it, too!