How long can a food item be frozen before it is no longer safe to eat is a common dilemma among people. It is good to have freezer storage times for some everyday food items in hand to know how long your frozen food will taste best.
You must be worried about how long the turkey is right in the freezer or whether you can freeze cheese. A frozen food storage guide or a chart can be beneficial. You will find tips for freezing food correctly in this article.
A frozen food chart is excellent for people who use the commercial freezer often to store food. There are many food items that you may not know that you can freeze for a very long period without any loss of quality.
If you store food properly, you will keep them fresh longer. Refrigerating Food is essential; in fact, you should not let perishable food sit out of refrigeration for more than 2 hours. If you live in a hot region (90-degree F or above), this time is reduced to one hour.
Freezing can also be thought of as a smart storage option for consumers who want to extend the shelf life of perishable food items. Whether you are freezing or refrigerating, you should follow one basic rule: when in doubt, throw it out.
Tips for Freezing Food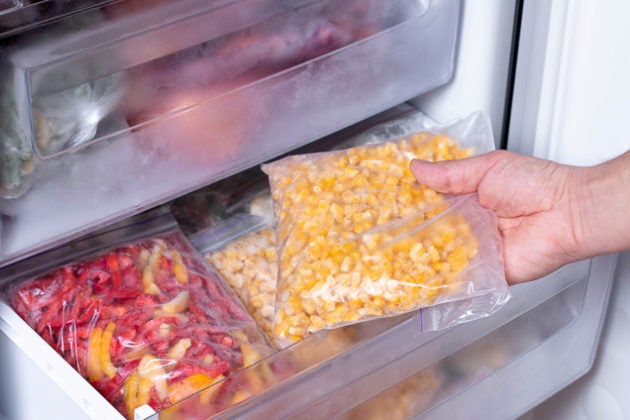 Eggs in shells and food in cans are some of the items that should not be frozen. If you take the food item out of a can, it can be frozen. Keep in mind to not freeze pressurized liquids because they can expand and burst.
The ideal temperature to store food items in the freezer so that they retain color, flavor, and vitamin content is -18-degree C or 0-degree F. If Food is stored at 0-degree F, it will always be safe to eat. The freshness and quality of the food item also depend upon the actual condition of frozen food.
Arrange your freezer according to the food item category so that it becomes easier to find and minimize the time the freezer door is open. If food items like berries, hamburgers, cookies are placed together, they can stick.
To prevent sticking, freeze them individually and then place them in a plastic bag in the freezer. If your house is experiencing frequent power outages or if power is interrupted and the freezer stops operating normally, ensure that you open the freezer door only when necessary.
If the freezer is loaded, the food inside will usually stay frozen for up to 2 days. Do not freeze hot food as it will only increase the freezer's temperature, and other food items in the freezer will start de-frosting.
If you have some space free in the freezer, fill it with a plastic bottle as a full freezer is economical to run. Cold air does not circulate much, so it does not require a lot of power. It is a myth that a freezer kills bacteria, so if you are not sure how long something can be frozen, you should throw it out. You should de-frost your freezer regularly if ice builds up. An icy freezer is always inefficient.
How Long is Ground Turkey Good for in the Freezer?
If you are wondering how long is ground turkey suitable for in the freezer, the first thing you need to know is that it should always be refrigerated. How long is ground Turkey suitable for in the freezer after its sell-by date? 1 to 2 days. To maximize its shelf life, it should be stored in its original packaging in the freezer. Please do not keep it at room temperature for more than 2 hours.
Which Food Items Should Not be Frozen?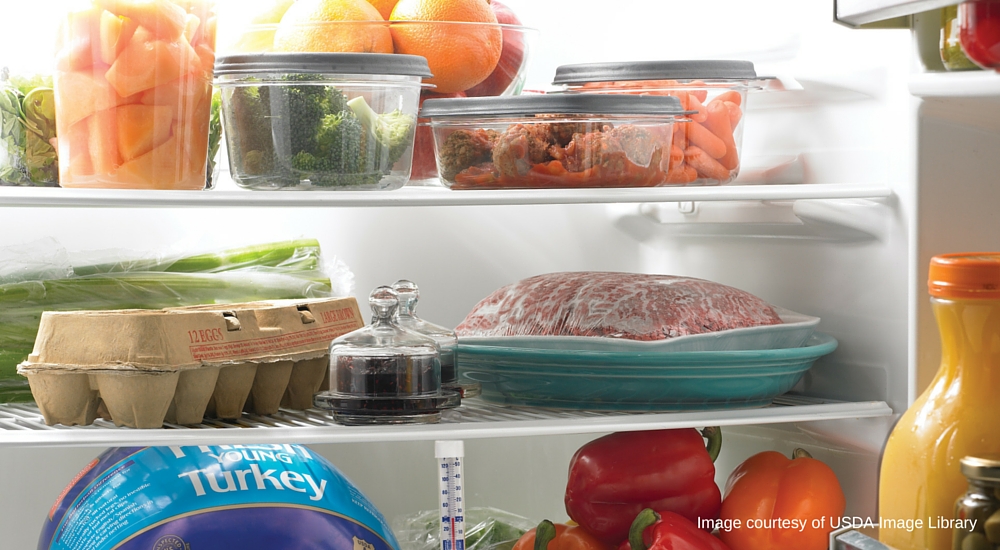 Almost all ingredients can be frozen, but some foods are not freezer friendly. They are- hard-boiled eggs, vegetables with high water content (cucumber, radish, etc.), egg-based sauces like mayonnaise, and soft herbs such as basil.
Cream-based products like yogurt and soft cheeses should not be frozen either. Cooked pasta and fried foods get soggy if refrigerated. Rice becomes mushy and flavorless if frozen. Raw potatoes should be frozen only after cooking them first and storing them in containers meant for freezing purposes.
Food Items That are Great to Freeze
Dairy products like butter, cheese, cottage cheese, egg whites, ice cream, whipped cream are freezer friendly. Meat, poultry, and seafood like bacon, crab, hot dogs, lobster, shrimp, pork are also great to store in a freezer. Almost all kinds of products can be frozen. Herbs should be frozen in water or oil, and cabbage becomes soggy after freezing it.
Nuts, seeds, and grains do very well in the freezer. They have high-fat content; therefore, they should not be stored at room temperature for long as they can go rancid. Baked goods are also freezer friendly.
All of us know that fruits and vegetables can be stored in the freezer for a long time, but some grocery staples go well in the freezer, like apple sauce, casseroles, chocolate, ginger, and tomato paste.
Can you Refreeze food?
After food is thawed in the refrigerator, you can refreeze it without cooling, but there may be a loss of quality because of moisture lost during de-frosting. You can refreeze the unused portion after cooking raw foods that were frozen previously. While freezing previously frozen meat, poultry or fish, keep the freezer's temperature at 40-degree F or below.
What are the Effects of Freezing?
Suppose any food item is frozen for too long. In that case, it loses its quality; for example, canned ham becomes watery and soft, crumb toppings become soggy, food items with high water content like cabbage become mushy, milk or custard will separate, and whipping cream may not re-whip.
Freezer Storage Guidelines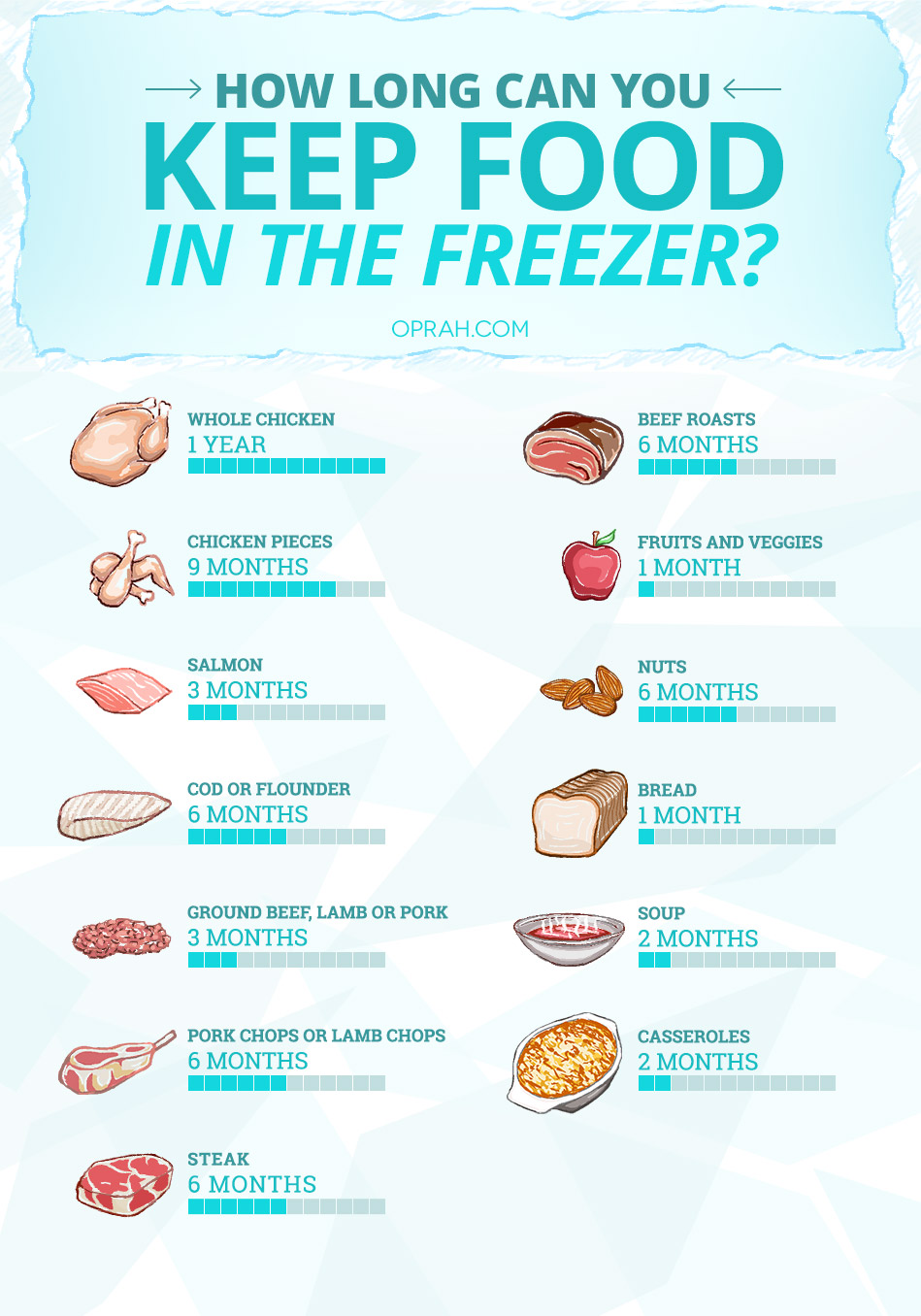 There is some general estimate of Food when Food will taste the best in the form of a chart that you can stick in your refrigerator door. However, these are merely some guidelines, and you should check the expiration date of the food item and rely on it.
All cheese (except cottage cheese and cream cheese) – 6 months
Butter – 6 to 9 months
Ice-cream – 1 to 2 months
Milk – 3 months
Yogurt- 1 to 2 months
Fatty fish- 2 to 3 months
Lean fish- 6 months
All fruits (except some)- 10 to 12 months
Citrus fruits- 4 to 6 months
Avocados and bananas- 3 months
Fruit juices – 8 to 12 months
Baked bread and cookies- 3 months
Cakes and pastry- 3 months
Muffins- 3 months
Pancakes and waffles- 3 months
Ground beef, pork- 4 months
Other beef (steaks)- 1 year
Bacon and sausage-1 month
Ham- 2 months
Chicken and turkey(whole)- 1 year
Chicken and turkey cuts- 6 months
Beans, broccoli, cauliflower, corns, onions, peas, soybeans, spinach- 10 to 12 months
Tomatoes- 2 months
Soups and stews- 2 to 3 months
Pumpkins- 1 month
Cookies- 3 months
Cookie dough- 2 month
Casseroles- 2 to 3 months
Quick bread- 2 months
Fruit pies- 2 to 4 months
Giblets (uncooked / cooked)- 3 to 4 months/ 4 months
Asparagus, turnips- 8 to 10 months
Freezing is an easy, quick, and most convenient method for preserving food items. If frozen properly, food maintains its color, flavor, and texture. It would help if you learned to manage your freezer correctly.
Place the freezer in a cool and dry area and keep it at least ¾ full for efficient operation. Keep replacing food, and do not store it. Keep the doors of your refrigerator closed and sealed correctly.
Manual freezers should be defrosted regularly. Use the chart given to you to determine different food items' shelf life, like how long is ground turkey good in the freezer.