I am one of the least organized people on this planet. I have a messy house, an even messier bedroom, and the messiest wardrobe. I forget what groceries to order, and I forget that I had to give the dress I had spilled spaghetti on the other night to the dry cleaners.
I even forget my best friend's birthday. For these and many instances showing how unorganized I am, and have the potential to become my mom, renamed me "Scatter-Brain." I am not even kidding; I have been called scatterbrain for most of my life.
The first time I was my unorganized self when I was in third grade, and I never could set my bag according to my timetable. Never. I had to forget half of the books I was supposed to take with me to school, and I would forget what homework I was supposed to do when I reached home.
As an adult, I would forget what groceries to order (I did not acknowledge the existence of grocery list templates) and then pay extra shipping for that one item and get it delivered a day later.
I have been living with my boyfriend for more than a year now. At first, he thought this scatterbrain nature of mine was charming, and I think he convinced himself to get past it, even though he is the opposite of me. He has grocery list templates for grocery lists.
While my "grocery list" is a receipt of the Chinese takeaway when I absolutely must make one. Most of the time, I order whatever I feel I would want to eat in the coming week.
I never really paid heed to his organized grocery lists, or the different types of downloaded grocery list templates on his desktops, until a month ago when I had to go to the supermarket and get a load of groceries he needed. I forgot most of them, and then he threw a fit.
As a part of my apology, I promised to start making grocery lists with the grocery lists templates. And I cannot say that I hate them.
Why Printable Grocery Lists?
I chose my kind of grocery list template online. It was pink with proper columns for each day and spaces to fill with the things I need to get. Now I wouldn't say I like being organized, but I do like stationary.
And these printable lists are a total must-have. Writing on these made me feel like such an adult, and they were so much better than those untidy Chinese takeaway receipts; at least the ink will not start fading the moment I write on the templates.
No eating bread and beans for dinner fourth time in a row
Another thing I loved about these grocery list templates was that I could keep track of what I bought the last time, or last to last time I was grocery shopping, so now I don't have to repeat the items that already exist in my kitchen.
We do not even have to eat the same kind of meals all the time, just because I got hotdogs for the third time this week! Nor do we have to put our minds on the most challenging question of all times –
"What's for dinner?"
And on top of everything, it pleased my boyfriend to no end. At least now, we do not have arguments about getting five packets of instant noodles when we already have five in our kitchen, of the same flavor.
The Most Important Ingredient
Hell, hath no fear when I forget to buy an ingredient, which was imperative for the dish he would make for lunch.
These grocery lists templates are saving my relationship, to be honest.
Printable – Downloadable Grocery List Templates
When I went online to download the templates, I found so many choices and types, and I went completely gaga over all the options in front of me. I did not know where to start.
There were printable grocery lists, checklists, and shopping lists. The web has innumerous printable versions, something for every kind of person with every kind of taste and preference.
Some people like to use paper lists while shopping; some prefer to have multiple lists on a single page. Some like to cut and fold and separate the lists for each day after printing. Some want their lists categorized with everyday items listed as constant reminders.
There are blank printable PDFs, Excel Templates, customizable lists, and whatnot.
Grocery Lists with Meals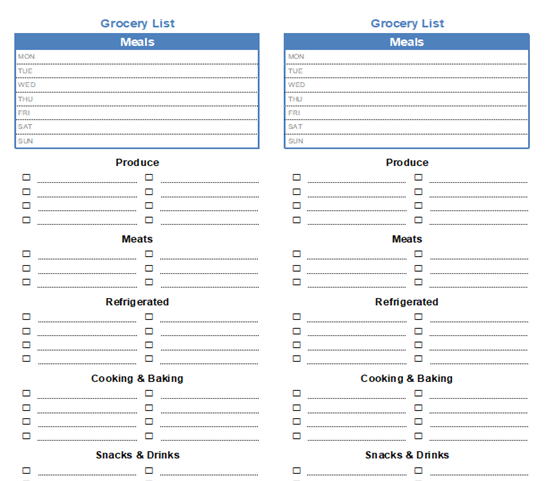 Using this kind of grocery list template, you can list your meals for the week and create a categorized list using this easy-to-use template. You can easily use a single page for listing two weeks of meals and groceries you will need accordingly. Cut or fold after printing for creating separate lists per day or week, or meal – that is up to you.
Simple Shopping List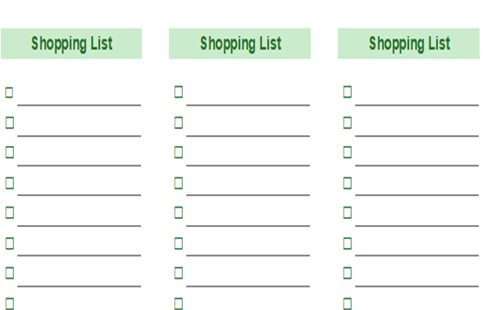 For something simple in the name of a grocery list, you can choose the shopping list template with three columns that you have the choice of cutting or folding out later to make separate lists.
You can pre-populate the spreadsheet with everyday items that you buy frequently and then take the list with you to your grocery shopping trip so that you buy the items when they are on sale.
Grocery List Template with Prices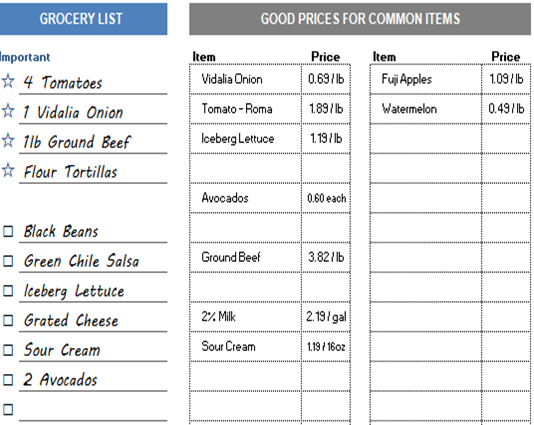 You have the option of storing the standard prices for items in the spreadsheet. You can check the prices and discounts from online stores for that. And then print the grocery lists before going to the stores.
When you see the items on sale, look at your list totally, leverage the sale prices online and in the stores and see which one suits you more. You can also note down the prices in one store, in this list, and then compare the prices in the other store.
Print and Fold Lists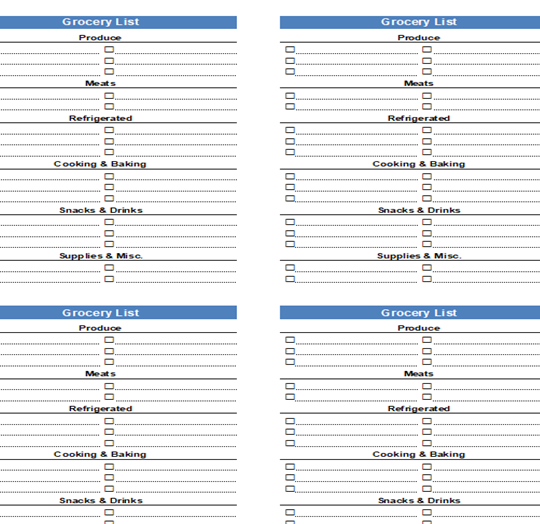 Keep separate grocery lists for each day, on a single page. And then fold it in half twice to make a list fit your pocket or wallet. Or, cut out the lists after printing and allot a new shopping list to each day to take grocery shopping.
Grocery List (Large Print)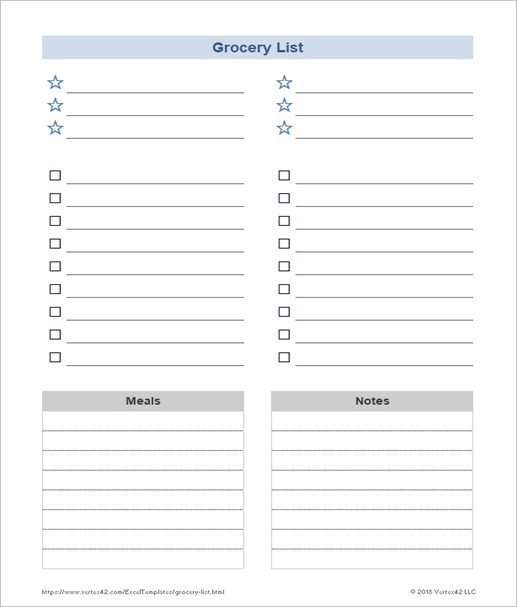 A grocery list is having large, easy-to-read writing and layout. Print a checklist for your shopping with the starred items at the top – indicating they are the essential things you need to buy. If you do not like the starred item section, you can edit the Excel template and use the copy/paste to replace these rows with the regular checkboxes too.
Make Your Grocery List Template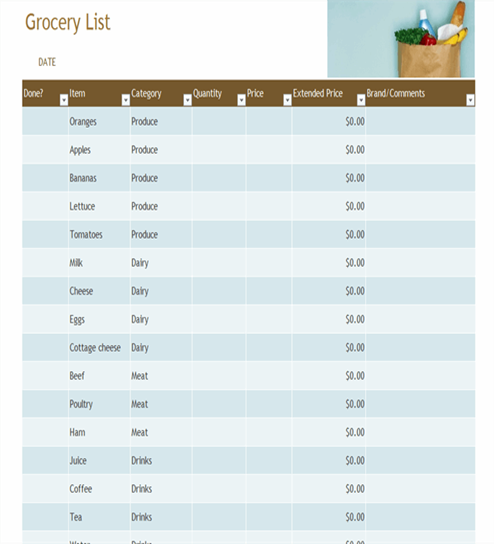 Microsoft Office 365 has this template feature to organize your shopping list and optimize your food budget with ease. Use this grocery list template to mark off items on the go and compare the prices between vendors and online stores, maximize your savings, and keep your expenditure in check.
This dynamic grocery list template is an Excel Spreadsheet and is saved to your OneDrive Cloud Storage for real-time and easy access. This template is trendy among grocery list enthusiasts and Microsoft users.
Other Sites
Many websites offer you a chance to create, download, and print your grocery list templates without downloading any apps or software. They also offer their ready-made, free to download templates in the form of PDFs, Google Sheets, and Microsoft Office formats (Word and Excel)
Non-Printable Grocery Lists via Apps
If you don't feel like getting your grocery list templates printed, and maybe want to save some paper and cartridge, you can install a grocery list app on your smartphone and make future trips to the supermarket far easier.
These apps manage your shopping lists, help you create your meal plans, and help you keep account of your expenditure and the prices.
AnyList: This app quickly organizes your grocery list by categories and translates it into an easy-to-follow plan. The reviewers loved its timesaving Autocomplete feature, which suggests everyday grocery items to the users, as you type them (something like AutoCorrect) and then organize them into categories.
The app also lets you share lists with your contacts, select and organize recipes according to your plan, and sync with Siri for the hands-free mode.
Flipp: Flipp allows users to browse, filter, and find the best deals on the weekly grocery essentials by matching local circular deals with coupons from their favorite brands.
Reviewers describe Flipp as a paperless coupon dispenser that makes saving money on groceries more comfortable than ever. Flipp is a hybrid grocery list shopping app and a mobile deal-finder app combined, saving you valuable time and money.
Out of Milk: It allows you to take your grocery list wherever you go, forget your pen and paper in your office! In addition to allowing users to create a fun interactive shopping list, you can also create a customized to-do list and even have the contents of your home pantry on your fingertips.
Our Groceries: Our Groceries is a simple and easy grocery list shopping app, an all-time favorite for all. It is best for collaborating on shopping lists for any meal or occasion, and users have the liberty to sync multiple lists to check off and add items while they do their shopping.
Cozi Family Organiser: As said on the Today Show, Cozi Family Organiser is a "Must have," enabling users to organize their family schedules, keep them synced and updated.
With the feature of the shared family calendar and a to-do list feature for grocery shopping and other household chores, Cozi is an essential organizer for all families of today.