If someone had asked me to make lists a year ago, I would have laughed at their faces. Making lists is something I avoided because, in my opinion, it took out the spontaneity from chores and grocery shopping, which I love doing. I found making lists a tedious task.
But when I started living with my boyfriend, I was forced to start making lists, especially for groceries, because he would get mad when I would forget most of the things we needed and buy things we didn't require moment.
I would buy the food items I already had at home and forget about the essentials needed for cooking. This drove him up the gum tree, and frankly was my source of entertainment for the first few months we lived together.
But he was no less; he started doing the grocery shopping himself, knowing I love grocery shopping, and if I could, I would do it for my neighbors too. I was barred from grocery shopping because I wouldn't say I liked making lists, and the only way I could get back to the supermarket was if I download a printable pantry list, fill it out with the essentials and shop for what I needed; nothing more and nothing less.
Of course, I was pissed at my boyfriend for days for taking the spontaneity out of my favorite kind of shopping, but soon I got the hang of taking printable pantry lists off the internet and making a list of things we needed. And they came in so many colors and designs I could not resist them.
Now I see why it is reasonable to use a printable pantry list for your grocery shopping; here is why:
To finish the food, you have already got in your kitchen before it expires or gets old because you forgot it was there in the first place.
Save Money by stockpiling more of what you need or pass up a great discount deal when you do not need that product.
Stock up on all the staple foods and other supplies regularly.
It helps you plan your meals quickly.
You can separate and categorize your inventory into some significant categories of food storage items that you typically find in pantries, including dry goods, canned goods, cereals and grains, pasta, rice and beans, spices, and others.
Note: You can download a separate printable pantry list for the frozen items in your freezer for creating an inventory of those food items as well.
How to Use a Printable Pantry List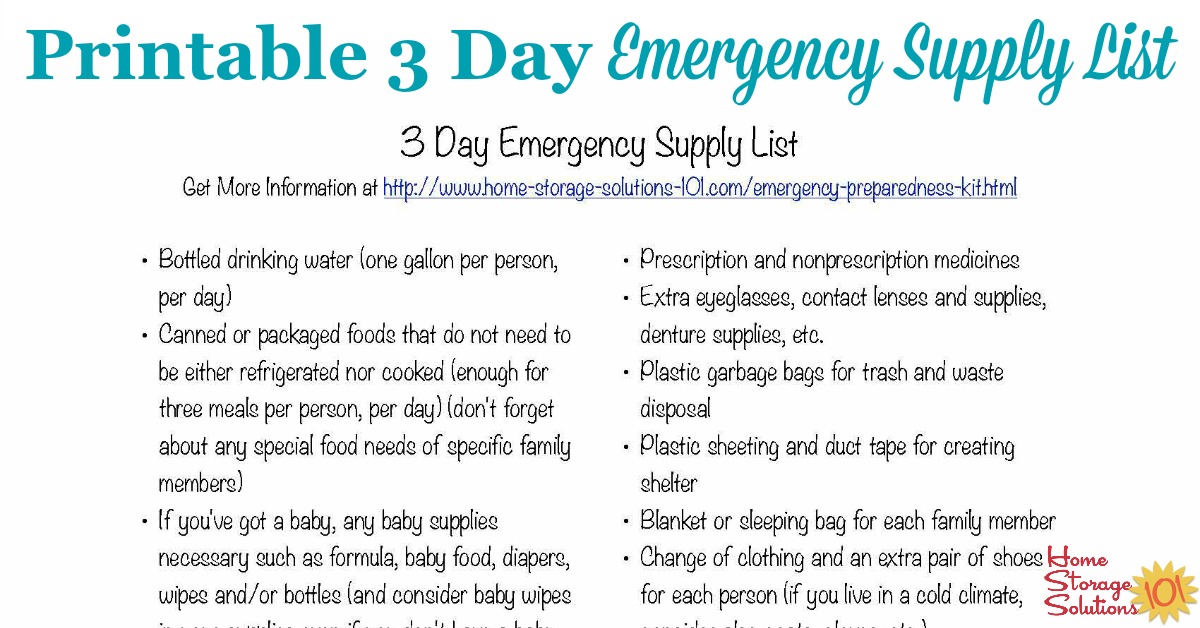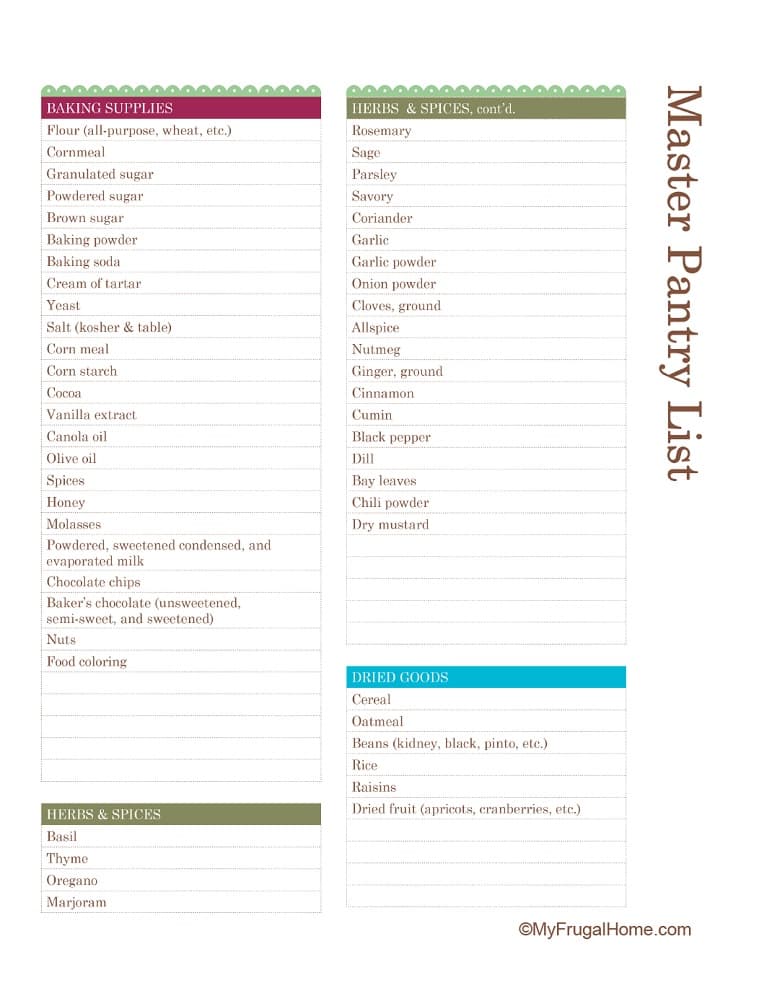 You can put your printable pantry list in many different places in your house depending on your needs and which is the most frequently visited spot in your house so that you will remember the location of the list and don't have to keep making a new one because you lost the old one.
The two main places where you could put your printed pantry list are either in your household notebook or stick it on your kitchen door. Perhaps pin it on a clipboard, and keep a pen nearby so that it's convenient to update the list as and when required.
The inventory will keep changing and be in constant flux; as you add and subtract items off your pantry list, it will become a confusing mess if you don't place this printed list in a plastic page protector and then write on it with a dry erase marker, so that if you feel like changing the items on the list, or make changes to the quantity or status of the product in your kitchen, you can do so easily without having to keep printing out new lists every single time.
There are different kinds of pantry lists you can have for every kind of food you plan to buy. There can be a
Plant Diet Based Pantry List
Non-Perishable Essentials List
Cheap and Healthy Snacks List
Snacks for the Cheat Day Diet List
Essentials List
Like these lists, you can create many others according to your consumption, diets you follow, and the kind of food you eat.  
You can either create separate columns for such food items in one list, but that might get a little confusing, or it will get a bit crowded, and we don't want that if we want to keep updating the list again and again, for all these combined in one list will make it difficult to read.
What to Add to Your Printable Pantry List?
Every day pantry list essentials, every list maker should add in the columns, and every pantry cupboard must always have stored. What are some of the must-haves you should always have in your pantry, ready to be cooked and eaten? Let us look!
For baking you need, Flour, Sugar, Baking Powder, and Baking Soda. These are the raw materials you need for baking anything. Having chocolate handy, in any form or cocoa powder, is always helpful for baking. And making a confection with chocolate is always a better option than choosing other flavors; it is always much more comfortable.
Preparing breakfast is so much easier when you have a small selection of cereals, oatmeal's, and jam-spreads ready to serve. Steel-cut oats are perfect for slow cooker oatmeal. On the other hand, using a bulk package of instant oats to make your own flavored instant oatmeal packets, sided with hot coffee or tea, are always a hit on the breakfast table.
Dried beans have always been an easy-to-store option for all cooks. They are also a great source of protein for all diet conscious people. You have a choice between canned beans and dried beans; you can stock either 
Along with these, a selection of differently shaped kinds of pasta (durum wheat or white flour), and jarred pasta sauce (it is probably easier and cheaper to buy from the store rather than make it at home), and rice (be it brown or white) is excellent for a healthy lunch, or a quick-cooking side dish for dinner
Keeping a variety of canned tomatoes and other vegetables like onions, potatoes, capsicum, cabbage, garlic can prove to be worth it when you don't have any specific plans of cooking, or you want to make a simple dish heavy, healthy, and fulfilling at the same time.
These do not even require space in your refrigerator, they need a cool and dry corner of your pantry, and you can use them for a long time. On the other hand, Chicken or beef broth needs refrigeration and is used all the time to add flavor to numerous recipes, making them delicious and wholesome.
You always have the choice of the spices, seasonings, and condiments you want to add to your dishes in your hands. You can be either be in charge of the kinds of spices you use and experiment a bit, or you can stick to the tradition and use the ones your family has been using for a long time. Some of the most common spices used are Cinnamon, Garlic Powder, and Paprika.
In the last of your pantry list come the snacks and biscuits we all need for light snacking in the middle of the night, during work, or in the morning with our breakfast and tea. Crackers, Popcorn (Microwaved or kernels), Pretzels and tortilla chips, and comfortable and cheap snacks that almost every household pantry has. They are best for family time snacking, leaving enough room for the meals too!
How Should I Organize My Pantry?
The answer to this is simple. It would help if you organized your pantry to work best for you and other people living in your house. For a start, collect similar items and put them together in the same spot or shelf of the pantry (you can divide the pantry into different sections according to the category of the food items.) For instance, canned and ready to eat goods and snacks can go together on one shelf, while spices and seasonings can go on the other shelf.
You can keep these items together after categorizing in plastic baskets or just on different shelves; that is up to you. If you have young children, you can color-code these baskets per child and keep separate baskets full of snacks, according to each child, in each basket.
Your Basic Pantry List:
Common Pantry Staples for every household
Packets of Different Types of Pasta
Tomato Sauce (and other types, according to preference)
Canned Soups
Rice
Cereal and Oatmeal
Chicken Broth
Mixed Nuts
Dried Fruits
Canned Mushrooms
Canned Chicken
Canned Beans
Canned Corn
Potatoes (and other vegetables, according to preference and diet)
Butter (Peanut/Salted/ Unsalted)
Flour
Bread
Essential Items for Baking in your Pantry List
Baking Soda
Baking Powder
Corn Starch
White Sugar
Brown Sugar
Chocolate Chips
Jam
Cocoa Powder
Raw Herbs, Spices, and Oils Essential for Every List:
Cinnamon
Sea Salt
Celery Seeds
Call
Paprika
Oregano
Basil
Garlic Powder
Dried Onion
Pepper
Olive Oil
Canola Oil
Coconut Oil
Vegetable Oil
Essentials for Your Freezer:
Frozen Spinach
Frozen Green Beans
Frozen Peas
Frozen Broccoli
Ready to fry/ microwave snacks.