Nerf is not just a toy that kids play with. The toy gun comes for kids and high-powered versions for adults and older kids (14 years old or above). If someone is a Nerf lover, then it is pretty sure that the person might collect variants of it, along with accessories.
The accessories in the market are cool and functional, providing more range to guns and more fun. That is why blasters and accessories are also bought along with the Nerf. However, having too many of those can make the room quite messy if left unchecked. The same will be the case if they are kept in just one cupboard or box randomly.
That can make it very difficult to find the right Nerf when needed or the accessories and damage them while storing. Therefore, below are some ideas and tips for storage and organizing the Nerf guns and accessories.
A Closet Armory of Nerf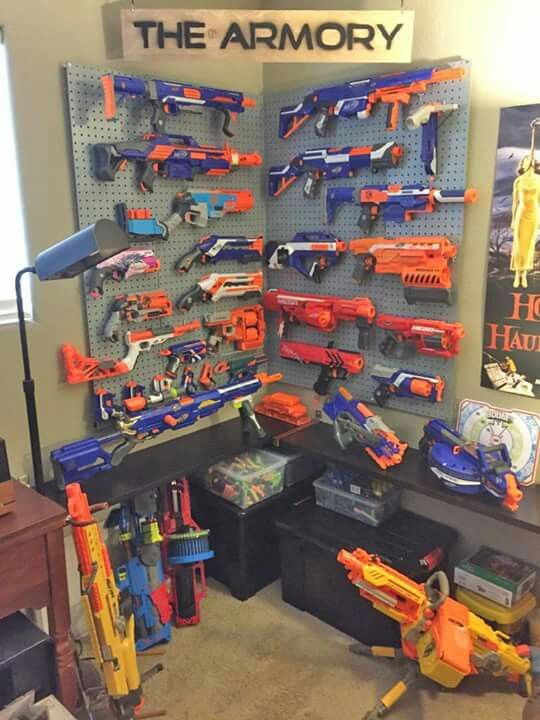 A closet can be used well to make a cool looking Nerf gun armory for storage. Keeping Nerf guns inside a box is challenging since they are bulky as well. That is why wall mounting them is convenient and immensely useful.
It is simple to make. Collect all the cluttered guns, blasters, and accessories. Please use empty closet space in the house and mount the guns and their accessories, as shown in the image. A little bit of work will have to be done on the wall with hooks and screws. This storage method keeps everything in sight, sorted, and accessible.
The kids can get to them just as quickly as an adult. After use, they can be put back just as quickly. Saves a lot of time and effort. Mounting can be done on a wall inside a room, the basement wall, bedroom, some big enough closet, or anywhere else. Whatever works the best for someone.
Using A Peg Board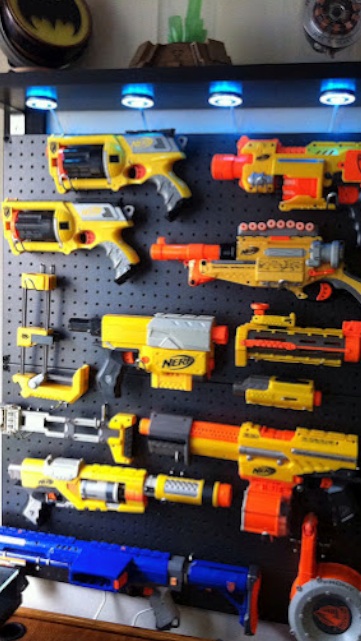 One of the easiest and best ways to store the Nerf guns mount the blasters, and all the foam accessories is to use a pegboard. It can be done inside any closet, or the board can be placed anywhere it fits or suits the need.
This method helps mount the blasters and the shooting darts and other accessories when used with the right organization products for Nerf. The image below shows how it is done.
Types of Equipment That Can Be Used for The Project
The most important thing that is needed is a pegboard and a wall. After that, pegs and hooks will be needed to mount the guns. Baskets and bags can be used for storing darts and foam bullets that can be hung from the hooks.
Dorman Hardware 4-9845 Assorted Pegboard Wire Basket Set, Pack of 3
Includes small (3.125" x 6" x 3.375"), medium (4" x 8.125" x 3") and large (5.875" x 12" x 4") baskets
Fits 1/4 in and 1/8 in pegboard – Bottom pegs are spacers and not designed to fit in holes
Organize your small items on a pegboard
Constructed of quality steel
Coated to prevent corrosion
Using A Shoe Rack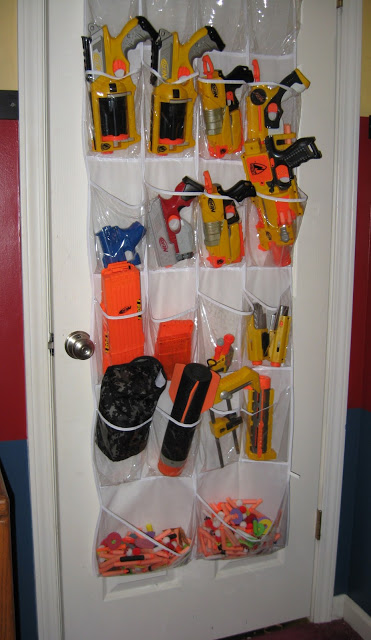 It is a straightforward and effective way of storing the Nerf guns. The accessories and others can be stored just as easily with it, as shown in the image. Shoe racks like the one shown here are not expensive and can be hung from any door or wall. It has enough capacity and is durable. Using multiple racks, one can store a lot of guns and accessories in the same room.
Using Dedicated Cabinet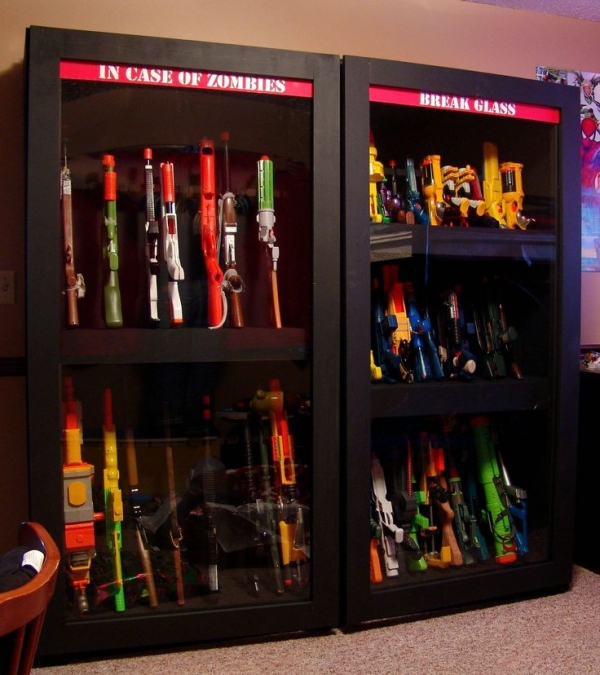 This is going a step further with the storage methods. Getting a custom-made cabinet for Nerfs could be expensive. However, using an old cabinet in the house or a new one for storage can work well and give the storage an even better look.
As shown, it will make things look more professional and easily accessible. If the budget is not that much, then cheap cabinets are also available in the market. The nerf guns and accessories will stay dust-free in the cabinet.
A little searching and window shopping will have to be done to find the right thing for the purpose. The cabinet should have several compartments for storage. The compartments should be high enough to store the guns vertically. If not that, then broad or deep enough for horizontal storage of the Nerf guns.
Wooden Hook Storage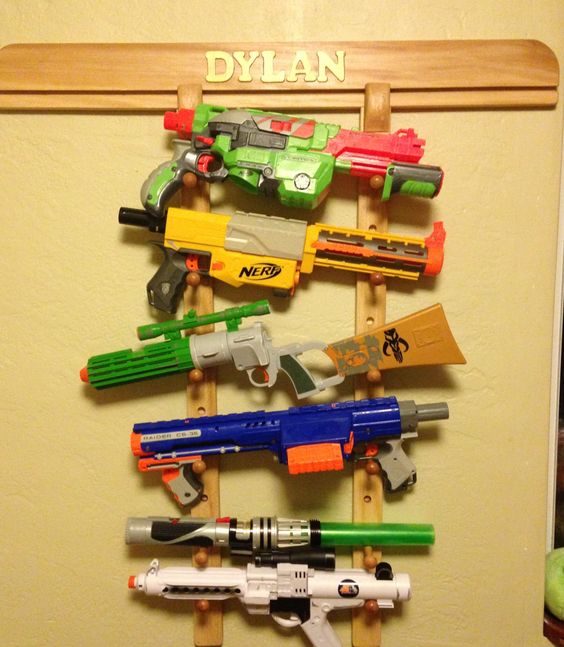 This one can be bought from the market. Although it is not made for Nerf gun storage, just like many other things in this article, it can hang the guns from the wall. A wall is necessary for this one because doors, while opening, can shake them off. This might cause the guns or accessories to fall and break.
It is also an excellent idea, especially for those who do not have too many guns or accessories.
Dedicating an Entire Wall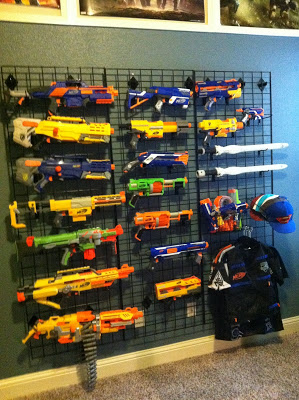 This method is quite like the pegboard method. The difference here is that it does not use some limited space, but an entire wall. The wall can be of a garage, kid's room, basement, or any other.
A sturdy vertical metal net with hooks attached to the wall will serve the purpose just well. Having hooks installed as per need, creatively, might take some time but will benefit the most. This will help store a lot of Nerf guns and accessories, dozens of them, or even a hundred or more.
The wall can be painted, or wallpaper could be attached to the wall, to make things look even more creative and relaxed. A zombie theme wall will look creative. This idea is not that easy to implement comparatively. However, worth it if executed properly, and possible to implement in the house that is.
PVC Nerf Storage Rack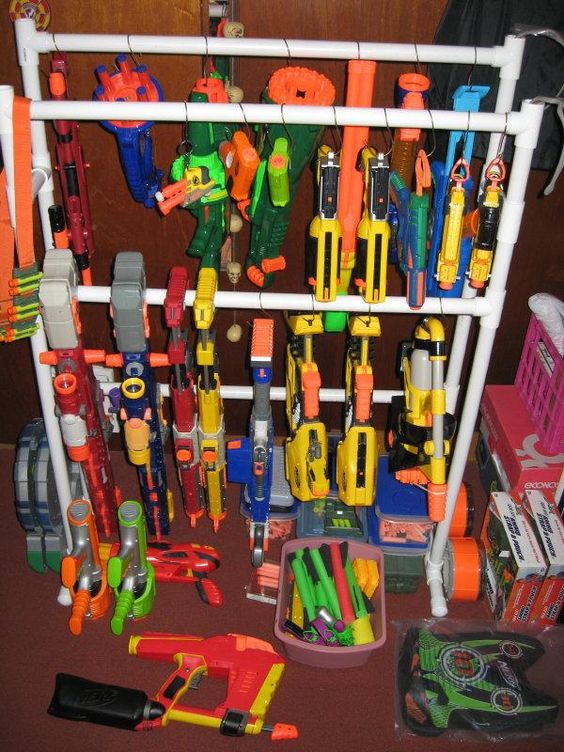 The name suggests what this idea is about. This Nerf gun storage idea involves an improvised PVC rack. It is economical and functional. Using extra PVC pipes at home will work. Buying new PVC pipes will not be too expensive as well.
The trick here is attaching the pipes so that guns and accessories can be hanged at various levels. This is demonstrated in the image. Metal wire hooks are used in it as familiar hooks are difficult to attach to the pipes. The accessories and darts are kept in some bag, box, or similar storage. This rack can be kept anywhere in the house and is easily accessible by the kids.
Storing the Guns Vertically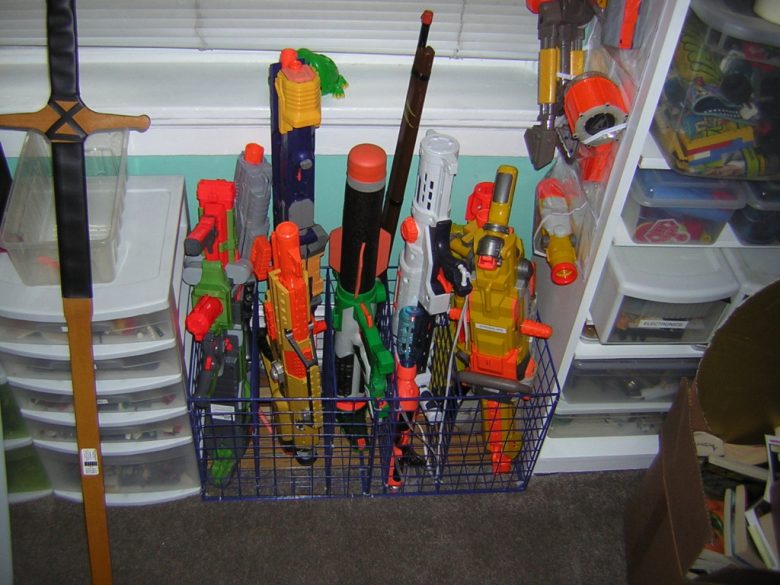 The idea is relatively straightforward in its approach. The guns are stored vertically erect with some support in the front and the back. A long and broad enough wooden or metal basket is useful for this. The guns are stacked side by side, and they support each other. The accessories can be kept together in one box, and the box can be kept separately.
This method is most suitable for those with only a handful of Nerf guns.
Therefore, all the ideas mentioned in the article are useful. Their use is dependent on:
The amount of Nerf guns
The types of accessories
The size of Nerf guns
The space available at home
Budget
Keeping these in mind, one can think over these ideas and decide which idea to go with. Several ideas can be Integrated if needed. Only the imagination is the limit, as it is said.