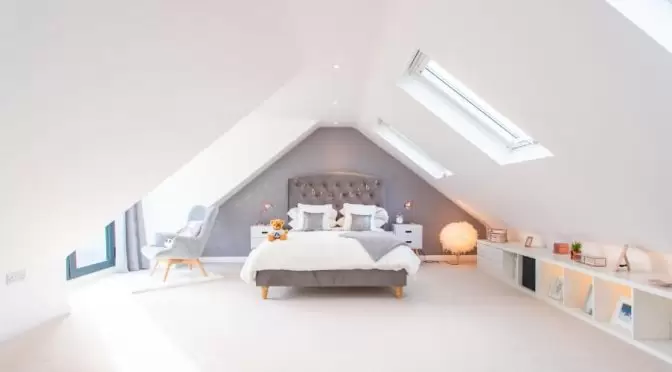 Thinking of adding a Velux loft conversion to your property? Then you are in good company! More and more homeowners are opting for them, reaping the rewards of the natural light and ventilation that they add. Here's everything you need to know, including why you should work with a local specialist in Velux loft conversions Essex residents trust.
What is a Velux loft conversion?
First of all, what is a Velux loft conversion? This type of loft conversion sees the installation of Velux roof windows. They really maximise the amount of light in your loft and will turn it from a dark and dingy space that is rarely used into a bright, welcoming room that's suitable for a wide range of uses. Perhaps you will use it as a new master bedroom and make the most of the morning sunshine. Or maybe you will use the space as a light and airy home office.
Will it be suitable for my loft?
What kind of lofts is this kind of conversion suitable for? Well, if you are lucky enough to already have adequate head room in your attic, you are in luck. Velux loft conversions are the perfect option for lofts where you have all the space you need to make the space work, but want some extra natural light and ventilation to really make the space somewhere that you can use all of the time.
Do you need planning permission?
We're often asked if planning permission is required for Velux loft conversions. The answer is usually no, as this kind of loft conversion normally falls within permitted development, and you will not be hugely altering the external appearance of your property. However, there may be some circumstances where you do need to seek planning permission, such as if you have had your permitted rights removed, you live in a listed property or your home is located in a conservation area.
Does a Velux conversion add more space?
One question that we are often asked about Velux loft conversions is: will it give me more floor space? The answer to that is no. This kind of conversion is only suitable for lofts where there is already adequate space, as the only thing that will be added is the windows – along with access to the loft and a floor that complies with all current building regulations. However, you'll be amazed at how much bigger the Velux windows make the space feel.
How much do they cost?
The great thing about Velux loft conversions is that they are by far the cheapest kind of loft conversion that you can choose for your home. As you won't be building up or out from the existing shape of your roof, a Velux loft conversion requires so much less time and materials to carry out. So, if you are looking for a more budget-friendly way to convert your attic space, this could be the right choice for you.
What next?
If you are going to convert your loft with Velux windows, then you should reach out to an experienced local building company who have worked on properties in your area. They'll be able to advise you on what steps to take next.