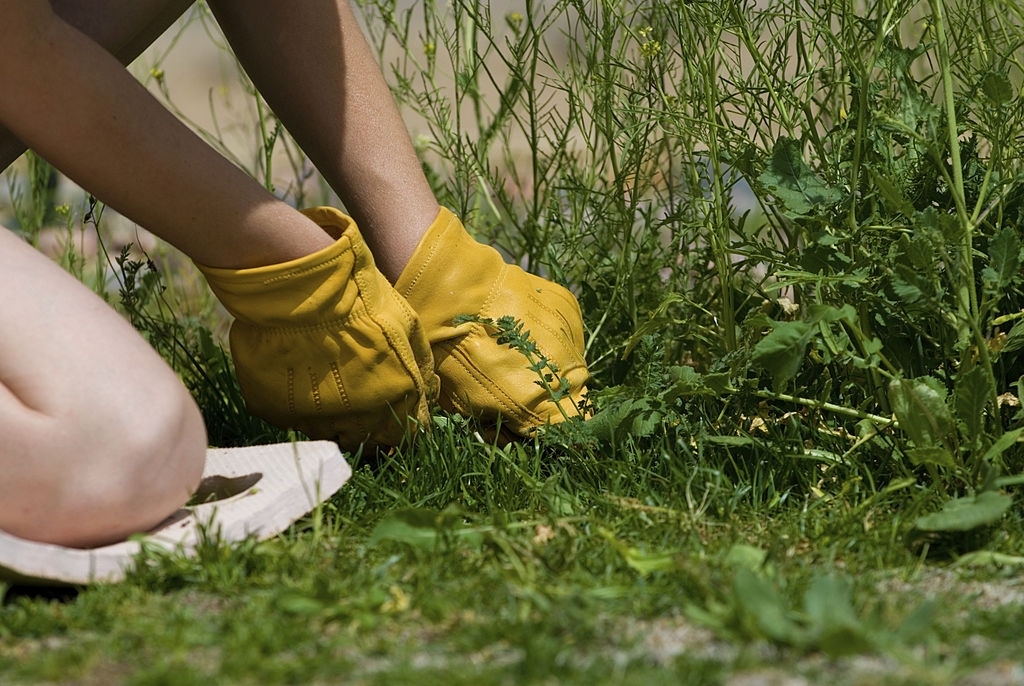 Weed might be the bane of existence for many gardeners. Can you tell how many hours you spend every week being hunched over in your garden pulling out annoying weeds? But no matter how hard you work to keep them from growing, if you slack on weeding even for a single day, they will grow right back. This is what sets them apart from other plants- they have this uncanny ability to grow and multiply despite the harsh environment.
Weeds compete with your garden plants for food, water, and sunlight, and your plants might not always win. They can grow even on the cracked sidewalk, and your garden is much more favorable than a sidewalk. So you need to be strategic on how to handle their growth. Here are some effective methods to tackle weed growth in your garden.
Be Cautious With Tilling
We know, to prepare the garden bed for planting you need to dig and cultivate it. But by doing so you are just making a way for the weed seeds to grow that were lying dormant before. There are weed seeds strewn all over the soil in your garden, and you cannot escape from bringing them on the top layer when you dig the ground. With the favorable soil conditions in the top layer, they start to grow.
Wait, that does not mean you have to stop tiling altogether? What you should rather do is to be economic with your digging; dig only when you need and try not to disturb the soil layer when you do so.
After tilling, make sure you cover the area with mulch, so the weed seeds stay hidden in the dark. Even if you use some natural weed killer, prevention is always better and careful tilling will ensure that weeds don't stand a chance to grow in the first place.
Regularly Mulch Your Garden
Mulching has holistic benefits to gardening. For starters, a thick layer of mulch over the soil retains its moisture. Besides, it smothers the small weeds that are yet to be a nuisance. And mulching also creates an unfavorable condition for weeds to grow from seeds.
When mulching, always opt for organic elements such as grain straw, fresh hay, wood shavings, and tree leaves instead of in-organic mulch such as fabric or plastic cover. Organic mulch is a far better option for the environment and your plant.
How to Mulch Properly to stop weed growth?
For effective mulching, you need to remove visible weeds that are large enough for weeding out. Then apply a 4-inch thick layer of coarse mulch over the soil. Cover this coarse layer with a 2-inch deep layer of fine-textured mulch. Make sure not to cover the plant roots with mulch, this will kill them instead of the weeds.
Don't Over-Fertilize
Many new gardeners over-fertilize their gardens in the beginning. But instead of speeding up the plant growth, it might backfire by growing weeds. However, if you cut down fertilizer in fear of weed you might stunt the growth of your garden plants.
To avoid this dilemma you need to know how much fertilizer is needed for each plant species in your garden. Follow the instruction from the fertilizers package for the correct fertilization process. Pace and time your work so that you don't end up fertilizing too much too soon.
Select fertilizers that are slow in releasing nutrients and nitrogen, this will provide enough time for the fertilizers to start working, and you do not need to fertilize as frequently.
Be Strategic With Watering
Weeds can eat up a good part of the fertilizer and water that are intended for your plant. So pay attention to how you water your plants. For starters, adopt a weekly watering strategy that covers 1 inch.
While watering the grass, you need to water deep and infrequently. Watering in the top layer can give rise to weed growth like crabgrass, chick weeds, bluegrass, etc.
Grow Your Plants in Blocks
While you need to maintain a certain distance for planting large trees, with shrubs and small plants you can adopt a block planting strategy. This will allow the plants to grow together and create a shed that will be enough to curb weed growth. You can easily group together different herbs, vegetables, and flowers to achieve maximum shedding within the garden soil.
Get Weeding Regularly
If you thought these strategies will save you from the mindless weeding, sorry to disappoint you. Preventing weed growth requires combining all efforts, and you can't leave out weeding from your gardening. However, combined with all other strategies you might have less weeding in your garden. Just be consistent with your weeding schedule, usually, once a week of pulling out strong-rooted weed will suffice.
Beware When You Bring Intruders
When you bring a new plant, it can bring along some weed seeds with it. And before you know it, you might end up with a new weed problem in your garden while you are trying everything you can to prevent them. Before transplanting new plants to your garden make sure there are no unfamiliar weed sprouts or seedlings.
Don't Keep Your Garden Bed Empty
You might have seasonal plants in your garden that don't grow all year round. And as the winter rolls in, you might find the garden empty. Well, maybe not empty to make the most out of the empty bed, weeds might try to emerge from the soil, when there is no other competition in sight.
Plan your garden so that there is always some plant in every season, and weeds don't get the chance to monopolize your garden.
The Bottom Line
Not all types of weeds are detrimental to your gardens. A moderate level of weeds is required for keeping the soil condition intact and reducing soil erosion. Besides, weeds can attract some beneficial bugs in your garden. However, if weeds grow in large quantities in your garden, the cons can dominate the pros. You need to take immediate action before it gets out of control. However, don't apply harmful weed killers or chemicals to your garden to get instant results; this might backfire. To curb the weed growth right at the root follow the above strategies and enjoy weed-free gardening.
Image Link-
https://www.istockphoto.com/photo/pulling-weeds-gm172249029-3641615