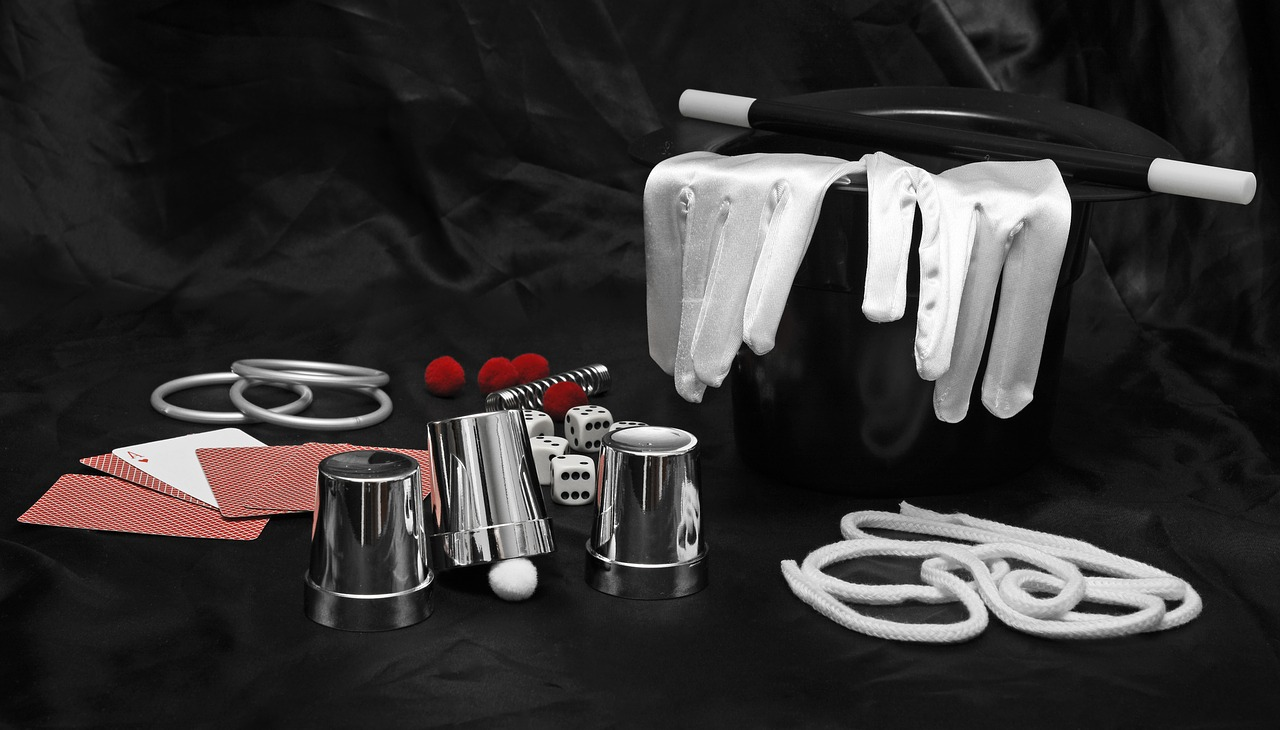 https://pixabay.com/photos/magic-conjure-conjurer-cylinder-2034146/
Ever since Teller became a famous magician, people have remembered him for his unique performance style. Namely, he doesn't use words when he's in public or during his act, which led to numerous theories regarding his speaking ability. Some said he's completely mute. Some said he has difficulties talking, while others said he probably isn't eloquent enough.
While Teller the magician has been in the magic and show industry for a long time now, he only recently decided to address the question all his fans were wondering about for years.
So, if you'd like to know about Teller, his early magician days, his partnership with Penn, as well as the real reason behind his silent acts, keep reading.
Teller's Early Days
Teller first started working with magic when he was in college and decided to earn some additional money by performing magic tricks to fraternity students. However, magic wasn't his main occupation since he was also a high school classic teacher after graduation.
Although just an amateur at magic tricks, Teller slowly built his public character, which started to differentiate from his real-life personality more and more. Even then, silence already played a big part in Teller's tricks and shows.
After some time performing magic tricks across the US and traveling from city to city, Teller had no idea his silent magic would attract such a large fan base and audience to his performances. After meeting Penn, the duo quickly gained popularity due to their unique style.
Penn & Teller Era
The Penn & Teller era started in the late 70s, and the famous duo is still very much active today. Penn and Teller are most famous for their magic acts and performances, and they currently perform in Las Vegas at The Rio.
Penn and Teller are famous for their unique performance style, where Teller remains silent and uses mimics and body language to communicate with the public, while Penn serves as the duo's orator. This contrast between the two magicians complemented and balanced out their acts.
Besides live magic shows, Penn and Teller are also famous for their TV shows, such as Penn & Teller: Fool Us, where other magicians come and try to fool Penn and Teller with new magic tricks.
Additionally, Penn and Teller are authors of several magic trick and performance books, such as Penn & Teller's How to Play in Traffic, Penn & Teller's How to Play with Your Food, and Penn & Teller's Cruel Tricks For Dear Friends.
Furthermore, both Penn and Teller had several guest appearances in various shows, TV series and lent their voices to some characters.
The Reasons Why Teller Doesn't Speak!
So, because Teller uses his voice while lending the voice to characters and in private life, what is the reason behind his silent act when performing magic? Well, here are the three reasons which all equally contributed to Teller's silence vow.
Magic doesn't require words!
Firstly, the greatness of a magic trick can often be ruined with unnecessary magician's banter.
The magic acts don't require any words to be successful, and often the communication between the audience and the performer is much more intimate when there's no verbal communication between them.
Instead, mimics and body language tell everything the audience needs to know to understand the act.
The focus of the audience
Furthermore, constant talking distracts the audience from what they truly came to see. They focus all of their attention to hear what the performer is speaking, afraid they'll miss something important. Instead, they're missing out on a big chunk of the performance.
Besides ruining the audience's focus on the performance and magic tricks, performers also tend to lose their focus when talking. Namely, they have to simultaneously entertain the audience and perform magic tricks, which isn't easy at all.
So, the silence helps the magician focus on the magic trick, and the audience focuses on what's important during the performance.
Minimized heckling
Something Teller noticed ever since his magic events during college days was that silence increased the focus of the audience and thus minimized heckling. When remaining silent, the audience directed its attention to the act, while speaking often triggered all kinds of commentary and heckling from the audience.
So, to ensure a positive and pleasant experience for everyone during his magic acts, Teller decided to stay silent.
Conclusion
To sum it all up, the real reason why Teller doesn't speak during his live performances doesn't have anything to do with his inability to speak. Rather, he's a very eloquent person who simply decided when the magic needs to speak for itself.
So, combining the complete silence with magic tricks, the audience will experience a more intimate connection with the performer and focus on the act.