A knife is one of the oldest and most reliable tools for survival. From saving yourself from predators in the wild to lighting fires to keep yourself warm, a knife has been used for a lot of different tasks. Of course, now that times have changed, so has the use of a knife. Now a knife is used more as a utility tool than as a tool for survival. Today we have as many different types of knives as there are its applications. What I mean by that is you can always find a custom-designed knife for every specific application.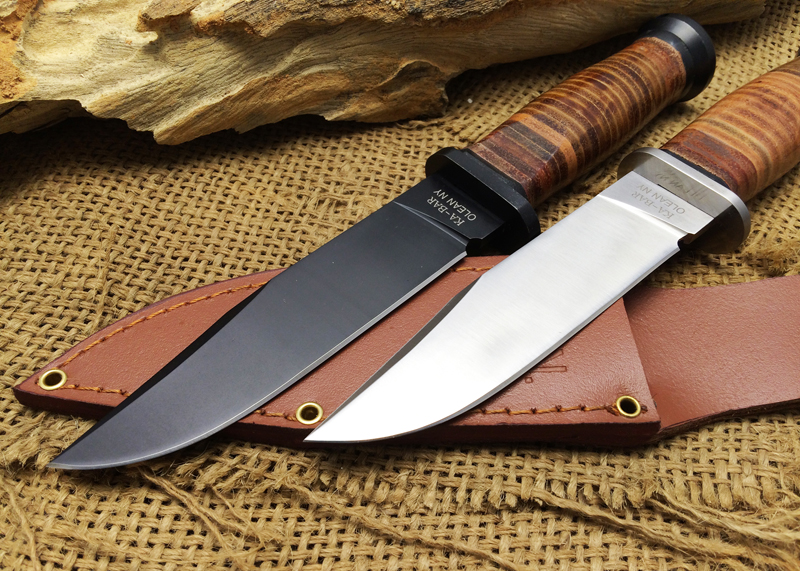 This article is based on some specific types of knives which are made for what blades were initially created for; survival. More specifically, we'll be talking about one particular brand that has been making survival knives for a very long time and has been doing so better than anyone. Of course, I am talking about none other than, KA-BAR. It is a brand that every person, who has ever used a knife in the woods or for self-defense, is familiar with. In this article, I am going to review 6 of the best KA-BAR knives that I have used and shared my experiences. I will also include a buying guide so that you can easily choose the best-suited knife for your use. Before that, let us look into the history of KA-BAR and understand what makes their knives so unique.
History of Ka-bar
KA-BAR Knives, Inc. isn't just a brand that makes knives, but rather an emotion for a lot of people, including me. I developed a liking for firearms and weapons after I was gifted a KA-BAR by my granddad, a world war II veteran. I can still remember holding that knife in my hand and immediately feeling how it was different from every other knife I had ever held up to that point. This is how good KA-BAR knives are, that even a child like me could tell the difference. The model, my grandfather, gifted me, the original USMC KA-BAR, is the one that started it all.
During World War II, the US Military was issued the same Mark 1 Trench Knives that they were issued during World War I. It was a knife made out of copper and had a knuckle guard. Having a knuckle guard was meant as a safety feature, but more than providing safety, it was limiting the user's movements. There weren't many ways the knife could be held during combat, which put the soldiers at a disadvantage.
Also, the knife wasn't easy to carry and was reported to be broken easily during the war. Due to all these difficulties that the soldiers were facing, the army had no other option but to search for a new, more advanced alternative to equip their soldiers with. They wanted a knife that could be used both as a weapon and a utility tool. That's where the KA-BAR came in. The USMC worked with Union Cutlery Company (Now known as KA-BAR Knives, Inc.) and used the Mark 1 Trench as the basis for improvement, to make what we now know as The Original USMC KA-BAR. It was a knife with a simple yet durable design that allowed it to be used in whichever way the user wants.
In 1944, it became the official knife of the US Military and had retained that honor since then. Having seen so many wars since 1944, it can now safely be called a legend in the knives department. But, KA-BAR being a big company now, makes a lot of other knives as well. Each has its unique design and purpose. But are they any good? That is what I thought when I bought them. And here is what I believe now.
6 Best KA-BAR Knives [hands-on]
1) The Original USMC KA-BAR
There is no doubt as to why this knife is at the number 1 spot on this list. The USMC KA-BAR is a legend in the world of knives. During World War II, it was the official knife issued to the US Marine Corps and gained popularity around the world in no time. It's now been more than 50 years since it was first used by USMC, and it still offers the same quality and durability that it did back then.
As far as using the knife goes, it's pretty easy to use owing to its straightforward yet groundbreaking design, which is the result of feedback taken from the soldiers in the field. It was designed for not only being used in combat but also for other utility tasks that need to be carried out by the troops in the forest. Therefore, it holds its own against any sort of challenge it put up to. I have used it for all kinds of camping tasks and never have been disappointed by the performance. The 7-inch 1095 Cro-Van Steel blade will hold its edge pretty well and will cut through anything that you expect a knife to cut through. Also, sharpening this knife would not be a challenging task, another attribute of the Cro-Van Steel, and even something which I can confirm from experience.
The knife itself is almost a little over 13-inches, which means you get a good-sized, 6-inch handle for an excellent grip. The material for the grip comes in two options, Leather and Kraton. If what you're looking for is a firm grip, then Kraton would be a better option, but leather just says "Classic" unlike any other material, which is what this knife is. If you're not going to do too much heavy-duty work with this knife, then the leather handle wouldn't be much of a problem, and it also would be a better choice if you're looking to give it as a gift to someone. Another good thing about leather is that with time it will wear and then will provide you with a better grip compared to a new knife. In short, it will get better with time. The leather is the outer covering of the handle. The core of the handle is made of steel as well and is reasonably durable. The pommel is strong enough to take a pounding as well. The blade end of the handle has a curved steel guard to protect the hand from danger. Another feature worth mentioning about the knife would be its weight. At 0.7 pounds, I think it falls in that perfect weight range for me. It is light enough to be able to be used without much effort but is also heavy enough to give you that confidence on the knife that it will hold its own against heavy-duty tasks.
This is a tool, which at first glance seems just like a real piece of equipment, but when you use it and learn about it, you realize how remarkably effective it is compared to all those other fancy looking knives. An honest but extremely reliable knife with a high-quality leather sheath, this is the knife you will never go wrong with.
[amalinkspro_autoshowcase asin="B001H53Q6M" alignment="aligncenter" new-window="true" nofollow="true" /]
PROs
The best and world's most famous Straight Edge Knife Design
Ideal for self-defense as well as utility tasks
High-quality materials like leather and Cro-Van steel
CONs
The leather handle might be a bit difficult to use, and also leather will wear out faster compared to Kraton.
2) USMC KA-BAR Short
Yes, you guessed it right, this knife is exactly like the original USMC KA-BAR just, shorter. It is a compact version of the original KA-BAR made so that you don't have to carry the sizeable 7-inch blade with you always. The knife is advertised to be the perfect size for camping and general utility purposes. I had always been using the original size version of the USMC KA-BAR and never had any problems with doing any sort of task with it. But I decided to use this short one to see if the small blade is any good or maybe even better.
The USP of this blade is its compact size which makes it perfect for camping as you can keep it in an easily accessible place like your pocket. That said, I think its 7-inch big brother is also not too much of a hassle to carry, but maybe I feel so because I'm accustomed to carrying it. But if you are someone who usually uses a short blade and also don't need a sizeable 13-inch knife but want to buy the KA-BAR because you recently discovered how cool and excellent it is, then this will be the perfect knife for you.
This knife has all the features that the 13-inch USMC KA-BAR has like the Cro-Van steel blade, Leather handle, and the best straight-edge design in the world. Which means you cannot go wrong with the performance of this knife. If a 5-inch blade is all you need, this knife would be a perfect choice for you.
[amalinkspro_autoshowcase asin="B001RTEOVY" alignment="aligncenter" new-window="true" nofollow="true" /]
PROs
The compact frame at just 9-inches.
A smaller version of iconic USMC KA-BAR.
CONs
Might not be suitable for tasks that require more extended than the average blade.
3) KA-BAR BKR7 BRK Combat Utility
A guy like me has little chances of getting into a fight. Which is why there is virtually no need for me to buy a combat knife. But, when I decided to review KA-BAR, I wanted to make sure I cover as much knife territory as I possibly can. I didn't want to review those models, which were almost the same as the USMC KA-BAR, with just slight differences in the design. This is why I bought a unique knife, which was made mostly for soldiers or people who know how to use a knife for self-defense.
The knife in terms of size is almost the same as the USMC KA-BAR with a 7-inch blade and slightly smaller 5-inch handle. The blade is again made of 1095 Cro-Van Steel, which is a sufficient material if not the best. The design of this knife is completely different than the traditional KA-BAR knives. It is because of two reasons. First, it is not designed by KA-BAR but BK&T (Becker Knives and Tools), and second, it is intended mainly for combat and survival purposes. The knife has a unique curved handle to give you a perfect grip, which is essential in combat. Although the handle felt a bit slippery, for people, it's meant to be used by, usually wear gloves, so I guess it would fine. As this knife is for survival, it means it'll have to go through tough times.
Therefore the materials used are used to make it last, not to make it look good, which is evident from the nylon sheath. Some people think the sheath is overdone, but I think it's cool that it has all the little pockets and straps that make the sheath versatile.
[amalinkspro_autoshowcase asin="B001IPMG8K" alignment="aligncenter" new-window="true" nofollow="true" /]
PROs
Well designed for combat. The handle provides an excellent grip.
Materials used can withstand rugged use.
CONs
Handle feels a bit slippery.
4) KA-BAR TDI Law Enforcement
When I said I wanted to cover as much knife territory as possible, I meant it. And this knife is proof of that. The KA-BAR TDI is a very unique looking knife designed for a particular purpose. The Technical Defense Institute collaborated with KA-BAR to design a knife for the police force or the defense forces which get into close hand to hand combat often. The KA-BAR TDI serves a unique purpose in such combats, which is to act as a hidden weapon that you can draw and use in close combat when you are cornered, and your gun is out of your reach.
The design of this knife stands out so much that if you have not heard of this knife, you will not be able to understand it's purpose. The knife is curved almost at a right angle where the blade meets the handle. It is done so that you get a perfect grip on the knife. It is hard for me to explain how that happens in an article, but as someone who has held this knife, I can assure you, it won't slip from your hand comfortably. The handle is made out of Glass-Reinforced Nylon, which provides a perfect grip. The blade is made from AUS-8A stainless steel, which is a good quality knife steel.
Although the knife has a full-sized handle, the blade of the knife is tiny, which is something that aids in close combat as maneuvering the knife becomes easy. The sheath of the knife is also designed to enhance this close combat quality of the knife, as it has a belt clip to allow you to clip the knife into your belt and hide with your t-shirt. Therefore your opponent won't know you have a weapon, and you can surprise attack him. The knife comes in a serrated edge or straight edge option, out of which I reviewed the latter. Edge preference is something that depends on the person and how he uses his knives.
This is a knife only made for one unique purpose and won't prove to be of much help in any other case, but it does what it's made for perfectly. If you can put this knife to use, it would prove to be very useful. As for me, I'm done reviewing it, and it's just going to sit on my shelf now.
[amalinkspro_autoshowcase asin="B003IXYW3M" alignment="aligncenter" new-window="true" nofollow="true" /]
PROs
Extremely useful in close combats.
The sheath has a belt clip, thus allowing you to hide the knife and also draw it instantly when required.
CONs
Not of much use other than self-defense.
5) KA-BAR Adventure Potbelly
If what you need is an ultimate survival knife, then look no further. Adventure Potbelly is the only knife you will need. This knife is inspired by a "machete," says KA-BAR itself. And that is pretty evident from the size of the knife.
The adventure potbelly has a 7-inch blade, big enough to cut even a wood log. I have tried that with this knife and was able to cut a small size wood log pretty easily. The blade, made of 1095 Cro-Van steel, will also hold its edge pretty well against such heavy tasks. The 5.5-inch handle has a unique two grip design that provides a comfortable holding position. The handle is also covered with KA-BAR's adventure grip, and the texture seemed to provide a tight grip when held in bare hands. The blade is shaped in belly shape, thick in the middle and thin at the edges, which makes it rather fat, thus shifting the weight of the knife forward. This forward weight distribution helps in heavy-duty cutting tasks.
Just like every other knife that KA-BAR makes, its unique quality can be seen to be enhanced by the accessories it comes with. The sheath of the knife has a pocket that can be used to keep essential survival items like a matchbox or other stuff. It also comes with an 8-feet nylon cord that can be used to tie the knife to a stick and make it into a spear to protect yourself from predators. But the most exciting of them all has to be the small extra knife that comes with it, known as the adventure piggyback. This small knife is the replica of the big one and is meant to do what the big one can't; precise cutting. Although I didn't test it but judging from its size, it would be perfect for making small cuts in any animal that you might catch in the wild.
[amalinkspro_autoshowcase asin="B0039B9GWU" alignment="aligncenter" new-window="true" nofollow="true" /]
PROs
Forward-weight distribution and colossal size make it ideal for heavy-duty work.
Comes with a small knife and a rope.
CONs
It cannot be carried in hand or tucked into clothing due to massive size. Will have to be kept inside the backpack, thus cannot be used for self-defense.
6) KA-BAR Coypu
Coypu is yet another knife from KA-BAR designed for unique purposes. This time it's rescuing. The coypu is a foldable knife with a 3.25-inch blade and a 5-inch handle, making its total length 8.25-inches.
Being a foldable knife, it's compact and thus easy to carry with you. You never know when you might face an emergency, and so having a tool always by your side is reassuring—the design of this too modern with a unique handle that has small carvings for better grip. The build quality is excellent as expected from KA-BAR. You can feel that the knife is heavy for its size, and it can take some abuse with ease. It is loaded with features like a belt clip, a seatbelt cutter and a glass breaker tip at the end of the handle. All these features make it a handy tool for rescue situations.
I did not want to cut my seatbelt or break any glass, so I never tested those features, but being from KA-BAR, you can trust that those features will work and are not just a gimmick. Apart from that, you can also use this knife for cutting and chopping purposes without any issue, and it will work just as good as any other KA-BAR knife. The knife comes in two options, straight and serrated edge. I bought the serrated one, and it cut pretty well. It is something that is entirely a matter of preference. Overall, this knife works pretty well.
[amalinkspro_autoshowcase asin="B07HKNCYM3″ alignment="aligncenter" new-window="true" nofollow="true" /]
PROs
Compact size
Has seatbelt cutter and glass-breaker, useful for rescue situations.
CONs
Some users have complained about poor edge-retention of the blade.
Buying Guide for Ka-bar Knives
I have here given my opinion on 6 KA-BAR knives that I bought and used. But, KA-BAR has a wide variety of knives to offer, each having its use, its pros, and its cons. If you are reading this article, you might be looking to buy a KA-BAR knife for yourself. To choose the best-suited knife for yourself, you must have some pre-requisite knowledge. That is where this buying guide will help you.
There are a lot of features in a KA-BAR knife, but before getting into that, you should know the types of blades KA-BAR makes. There are two types of blades manufactured by KA-BAR:
1) FIXED BLADE
A fixed blade knife, as is evident from the name, is a knife in which the blade is fixed in one position and cannot be moved from that position. This is a quality essential in a knife you are going to use for heavy-duty work, where a moving part can prove to be ineffective. Also, as they are one fixed piece of equipment, they are easier to clean and maintain, unlike knives that have hinges in them.
Also, in tactical situations, where the speed at which you draw your blade can prove to be a deciding factor in the outcome, a fixed already exposed blade can be handy. This significant factor makes a lot of people choose a fixed blade knife over folding blade ones.
2) FOLDING BLADE
A folding blade knife is a knife in which the blade folds away into the handle, giving it a compact frame and making it easier to carry around with yourself comfortably. A folding knife is known by most people as a pocket knife. It can also be used for all the things a fixed blade knife is used for, that is survival, self-defense, and utility purposes.
A folding knife is rarely used for heavy-duty tasks as it has hinges and moving parts that can easily be broken. But in a high-quality folding knife, the moving parts are made to be durable, and that is something you can also expect from KA-BAR folding knives.
Now that you know the types of blades KA-BAR manufactures, I should mention the features that will help you decide what kind of blade will suit you.
3) Durability
If you don't want to be buying a new knife every year or so and want that one knife lasts you for a long time, you must buy a durable knife. Depending on the use you are going to put your knife to, you can buy either a fixed blade or a folding blade knife. Fixed blade knives are for more heavy-duty work while the folding blade is for lighter tasks. KA-BAR makes durable knives with high-quality materials, so buying one of KA-BAR knives will have you covered.
4) Blade Length
Blade length is an essential factor in getting the right performance from your knife. A longer blade is effective for cutting tasks, but too long a blade can prove to be hard to handle. A short blade, on the other hand, is useful for making precise cuts. KA-BAR makes knives with almost every required blade length, and you can choose a knife that has the right blade length according to your need.
5) Blade and Handle Material
A blade is made with a lot of different kinds of steels. Each steel has a unique property. Some steel has excellent edge-retention while others are easy to sharpen. You can always look up for the quality a particular type of steel has and choose your blade accordingly. Similarly, KA-BAR also makes knives with all sorts of handle material, so you must buy a knife that you feel comfortable while holding.
6) Blade Design and Angle
Blade angle is the angle at which the blade is sharpened. For a knife to work effectively, the combination of the right blade angle with the right amount of sharpening is necessary. Although you can always change the blade angle by sharpening the blade yourself. Also, different blade design offers different advantages, like a heavy blade is useful for chopping purposes. So, choosing a blade with the right angle and design is essential.
Most Frequently Questions Asked About KA-BAR Knives
1) Is KA-BAR a knife or a brand?
Both. KA-BAR is a brand that became famous after making the USMC KA-BAR knife. This knife is also referred to as the Original KA-BAR knife or just KA-BAR. Therefore, people often get confused.
2) Should I buy a straight edge or serrated edge knife?
Each of these knives serves its own unique purpose, and the one you should buy depends on what you are going to use the knife for. Therefore, you should first be clear about the use of the knife before choosing a suitable knife for yourself.
3) How often should I sharpen the blade?
Sharpening a blade is something that depends on the user as everyone uses theirs to a different extent. But, it is advisable to always keep your knife at the sharpest edge possible, as leaving a knife blunt for too long can reduce its life-span.
4) How do I sharpen my blade?
You can sharpen your knife blade by rubbing your knife against a rock, or you can also buy knife sharpening equipment for the same.
5) Where to store my KA-BAR knives?
When not in use, it is essential to store your KA-BAR knife in a place where it is out of reach of children. The knife should be kept in a sheath, out of harm's way, or it can prove to be fatal.
6) Do I need any special license to own a KA-BAR knife?
There is no need for any special license to own a KA-BAR knife. However, you should above the age of 18 to buy one.
7) What is the best steel for knives?
Knife blades are often made with two types of steels which are, stainless steel and carbon steel. Stainless steel tends to be more resistant to rust, but it wears out and loses its edge rather quickly. On the other hand, carbon steel has good edge-retention but is more prone to rust. The best-suited steel for anyone will depend on how and what they use their knife for.
8) What size knife is best for camping?
A mid-sized knife with a 6-8 inches long blade is ideal for camping. Such a blade can be used for utility purposes as well as protecting yourself from wild animals.
CONCLUSION
By now, you must have understood why KA-BAR is the best brand of knives in the world. From making the USMC KA-BAR for the US military to providing such a large variety of knives for every possible application, KA-BAR has come a long way. The experience they gained as a brand can be seen to be reflected in their products.
With so many different types of KA-BAR knives out there, I have done my best to review the six best KA-BAR knives. I tried to cover as much knives type as possible, but still, there is a lot more you can choose from, and after reading this article, I'm sure you will be able to do so confidently.