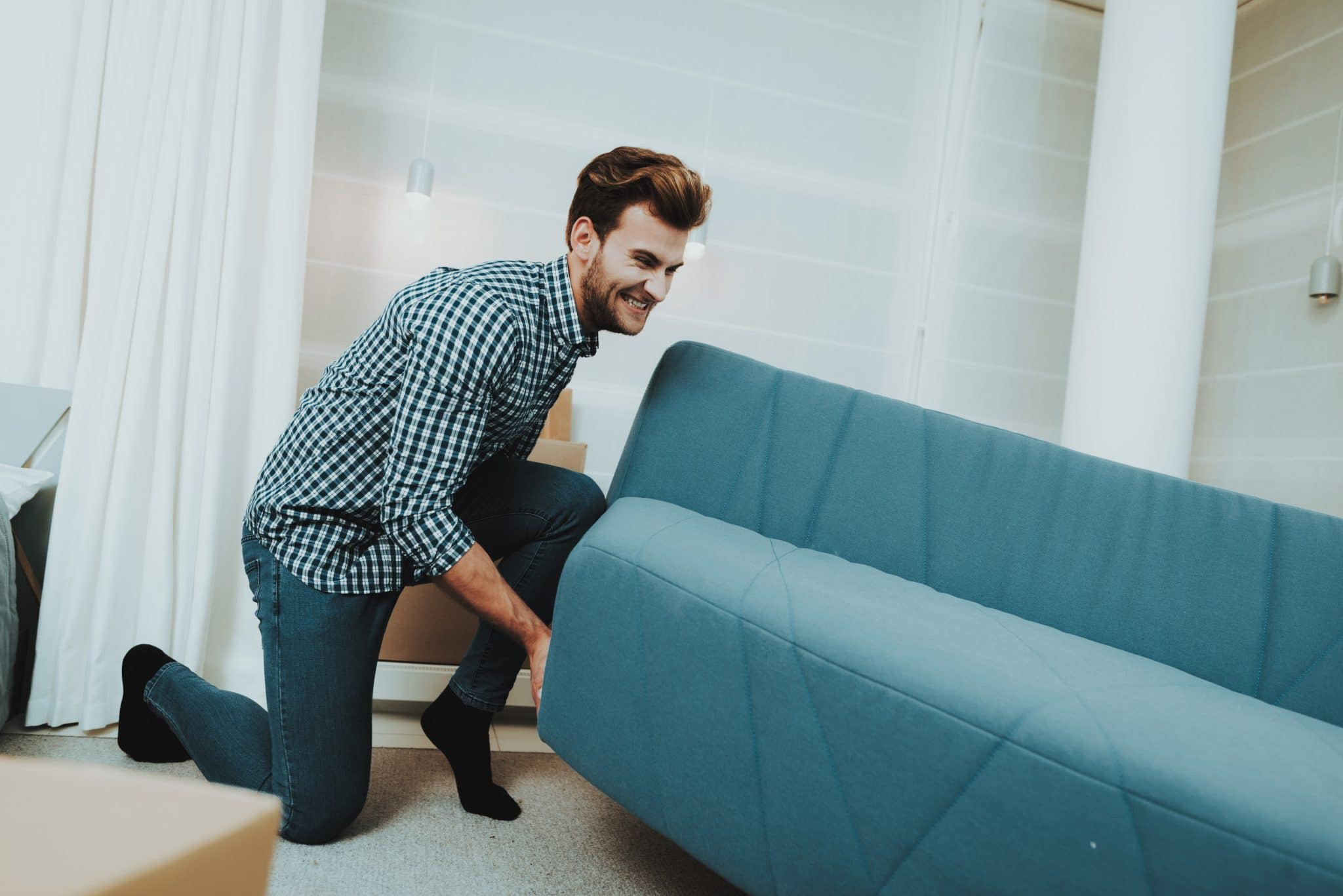 If you have an upcoming move to a new place or are planning to relocate to a different city or state, you're probably preoccupied with packing, especially if you have a lot of furniture and appliances to take care of.
After you've finished packing, the next thing you'll need to handle is the moving process. Although smaller items are simple to move, larger ones can be difficult, especially if this is your first time.
Here are some practical tips you can follow, so moving large furniture and appliances won't be as stressful and complex as you think.
1. Seek Assistance From Family Or Friends
If you're going to move on your own, packing and transporting large furniture and appliances can be challenging. So, it will be best to enlist the help of family or friends, even if it's just for packing your stuff.
2. Work With Professional Movers

If you want to ensure an efficient packing and moving process right from the start, consider hiring a reputable moving company that will complete the tasks for you like professional movers Ogden. Leaving the moving process to reliable and experienced professionals will be a wise decision.
Professionals have the proper training and equipment to carry out the job efficiently and safely while completing the task in less time. Another benefit of getting professional movers is having peace of mind since liability insurance is required. You have the option to include additional insurance, which will provide you with the appropriate level of protection. So, with insurance, you'll be covered in case anything goes wrong during the move.
But if you're unsure of the moving insurance, ask the moving company you plan to hire. Any reputable company will give you a detailed breakdown of what the liability insurance covers and the various levels of coverage available.
3. Maintain A Clean Floor Free Of Dirt And Debris
Make it a priority to clean the floor ahead of time if you want to minimize any damage to the flooring during the move. Debris and dirt can easily harm hardwood or tile, particularly when rolled over by a heavy dolly.
Hence, before relocating your appliances and furniture, take the time to sweep, mop, and vacuum the floors in both your old and new homes.
4. Make Sure You Have All Of The Necessary Moving Supplies
When you have large appliances and furniture to bring along during your big move, such as a washer, a refrigerator, a stove, or a dryer, you should have the necessary tools or equipment for moving them. These items are heavy and can be awkwardly shaped, making them difficult to carry.
So, if you're going to take charge of moving your stuff on your own instead of seeking professional assistance, then you'll want to invest in or rent the following moving and lifting equipment from a moving supply store:
Dolly: When moving large or heavy items, these wheeled platforms come in handy. Load the appliances or furniture onto the dolly, so you don't have to carry them to and from the moving truck.
Glides or pads: They're useful for moving appliances or furniture over hardwood floors since they help you avoid scratches or nicks. Generally, they work best for short distances when moving appliances from their current position to the dolly.
Moving or lifting straps: They're useful for securing appliances or furniture to dollies and preventing the items from tipping over during transport. You can also use them to lift and carry appliances safely over short distances, which will minimize the risk of harm or injury.
Moving blankets or any protection for the floor: They cushion items from blows or shock, so use these cloth coverings to protect your stuff from damage.
In short, the right equipment is crucial for your safety and the appliances or furniture you'll be moving.
5. Make Use Of Personal Protective Equipment
If you're not careful with handling large, bulky items, you could injure your hands or feet. For instance, you could break a finger or hurt your toe if you drop an item accidentally. In some cases, using too much force can even harm your back.
To protect yourself from injuries, use the appropriate personal protective equipment. Although there's no need to wear a full protective suit, there are certain items you should wear, such as the following:
Gloves for heavy-duty work
Steel-toed boots or durable, non-slip shoes
A long-sleeved shirt and a pair of pants for added protection
A hard hat, particularly if you're moving heavy or large items down flights of stairs
A back brace if you're prone to low back pain or have a history of injuries
6. Disassemble Furniture Pieces
Consider disassembling large, heavy furniture into smaller, manageable pieces before transporting them. Although the disassembly process adds time to the packing process, it can significantly reduce the risk of injury or damage to your belongings or even your home while moving.
Some of the items you might want to disassemble are the following:
Bed frames, particularly those in queen and king sizes
Dressers
Tables that are large
Wardrobe or closets
Modular sofas
Shelving units
It's advisable to hire a professional mover if you don't have the time or the necessary tools to disassemble these items. A full-service moving package usually includes complete disassembly of your furniture prior to the move, as well as reassembly once you arrive in your new location.
7. See To It That The Doorways And Hallways Are Adequately Protected
Expect large appliances and furniture to collide with surfaces along the way, particularly walls and door frames in narrow hallways.
If you don't want to accidentally hit, mold, or create holes in the walls, then you should take steps to protect the door frames and walls properly.
The following are some simple ways to protect these surfaces:
Take out the doorway trimming.
Remove any decorative molding if applicable.
Protect furniture with moving pads or blankets.
Apply protective adhesive padding to the doorways and corners.
If you're worried about causing any damage to your home when moving heavy, large-sized appliances and furniture, hiring professional movers is worth considering. Experts have all the necessary moving and protective gear to complete the job quickly and safely.
8. Get The Appliances And Furniture Ready To Move
If you want to ensure that the large appliances and furniture will be moved safely, here are some tips you can follow, depending on the item you're transporting. Following these tips will help you protect your belongings during the moving process:
Make sure to disconnect your refrigerator from the power source and remove all the contents. Clean both the interior and exterior thoroughly. Close the doors with tape once everything is clean and dry. Make sure to keep the refrigerator in an upright position during the move. Avoid laying it on its side because this can damage the compressor and cause oil leaks.
Make sure your appliance dolly is ready, so you can move it to the moving van with ease. Strap the refrigerator to the dolly to safely move it to the moving van. Allow your refrigerator to settle for 24 to 72 hours after it arrives in your new home and is placed properly.
If you're planning to bring your oven or range too, be ready to handle the heavy work. Clean your oven thoroughly—both the interior and exterior—and then let it dry fully. Make sure the gas line is unplugged or turned off.
After removing the grates and burner pans, use newspaper to wrap all the detachable parts. Using an appliance dolly, you can easily move your oven out of your place and into the moving van.
Your television is one of the essentials you'll bring to your new location. If you still have your unit's original packaging or box, you can use it to transport your TV set. But if you no longer have it, carefully wrap your television in bubble wrap and place it inside a box with a tight fit to keep it from moving around too much during transport. Before you pack your unit, however, clean it with a microfiber cloth and secure the cables.
Tape all hoses in place on the unit after unplugging and disconnecting them. Allow the unit to air dry for up to 24 hours to eliminate all moisture. Using moving tape, secure the racks and the door.
After disconnecting your washing machine from the power and water sources, secure the cords and hoses into the unit. Leave it open for up to 24 hours so that it fully dries out before you tape it shut. For loading the washing machine onto a dolly and transporting it out of your home and into the moving van, enlist professional assistance. Once the appliance is placed in the moving van, double-check that it's positioned upright.
Having a large wardrobe is part of what makes moving challenging. The first thing you should do is to take out all the contents from your wardrobe. Then use an adjustable strap and tie it around the wardrobe, so the doors remain closed as you move the furniture piece around. Put the wardrobe on a dolly or ask someone to help you carry it horizontally before bringing it out of your old place and transporting it to the moving van.
If you bring your mattress and bed along, there are considerations to keep in mind. One option is to disassemble your bed to make it easier to move it but ensure that each component is free of damage and ready to reassemble once you arrive in your new place.
Regardless of the type of bed you have, you need to remove the blankets, sheets, and pillows and use a plastic sheet to protect the mattress from dirt. If you know how, you can try disassembling your bed. After dismantling your bed, you can move the bed frame, mattress, and other components individually and safely.
Today, sofas are available in various sizes and shapes. Because they come in a variety of forms, most homeowners find moving this furniture piece hard to do. When getting ready to move your sofa, see if you can disassemble it to make transporting it easier.
If you're unable to disassemble your sofa, you can request assistance with transporting it to the moving van. First, try to rotate and flip the sofa. Make use of the sofa aperture to gain additional space, especially when passing through doorways, narrow hallways, and stairwells.
9. Pay Attention To The Proper Lifting Techniques
Even if you have all the tools to move large and heavy appliances and furniture, there will be times when you'll need to lift some stuff on your own. In that case, remember to prioritize your safety. You can do that by following the proper lifting techniques:
Bend at the knees instead of using your waist. If you're going to lift heavy furniture, use your legs to support the weight rather than your back. It's preferable to squat on your knees rather than bend over. Most of your weight will be divided between your arms and legs instead of your back when you stand up.
Hold items close to your body. When carrying heavy furniture, you must hold it close to your body. Doing so will help you maintain your balance and allow you to make the most of your upper arms and shoulders.
Avoid twisting your body while carrying or lifting. When lifting and moving furniture, try to keep your body still. Excessive movements, such as twisting, can result in injury. Allow your hips to lead and your feet to follow if you need to turn or twist.
As a safety precaution, you need to keep an eye on where you're going. Make sure to go where your eyes go by facing forward at all times, not looking down on the floor.
Final Thoughts
If you're planning a move to a different neighborhood, city, or state, you'll need to be prepared for packing and transporting your belongings. Moving is never easy, even if you've done it before, since you'll have to bring a lot of heavy and bulky furniture and appliances. However, you can make the process smoother by following these tips. Besides, you can always leave it to professional movers to do their job well.