Small apartment living is nothing new in big cities, but it doesn't always have to be synonymous with cramped, stuffed spaces. With a few decor changes and choosing functional furniture pieces, even the smallest apartment can become a great living space.
From decluttering the entire apartment to choosing the right lighting and wall paint, small living can be comfortable and fun.
Keep reading to learn how to style small apartments to maximize storage and comfort and minimize clutter.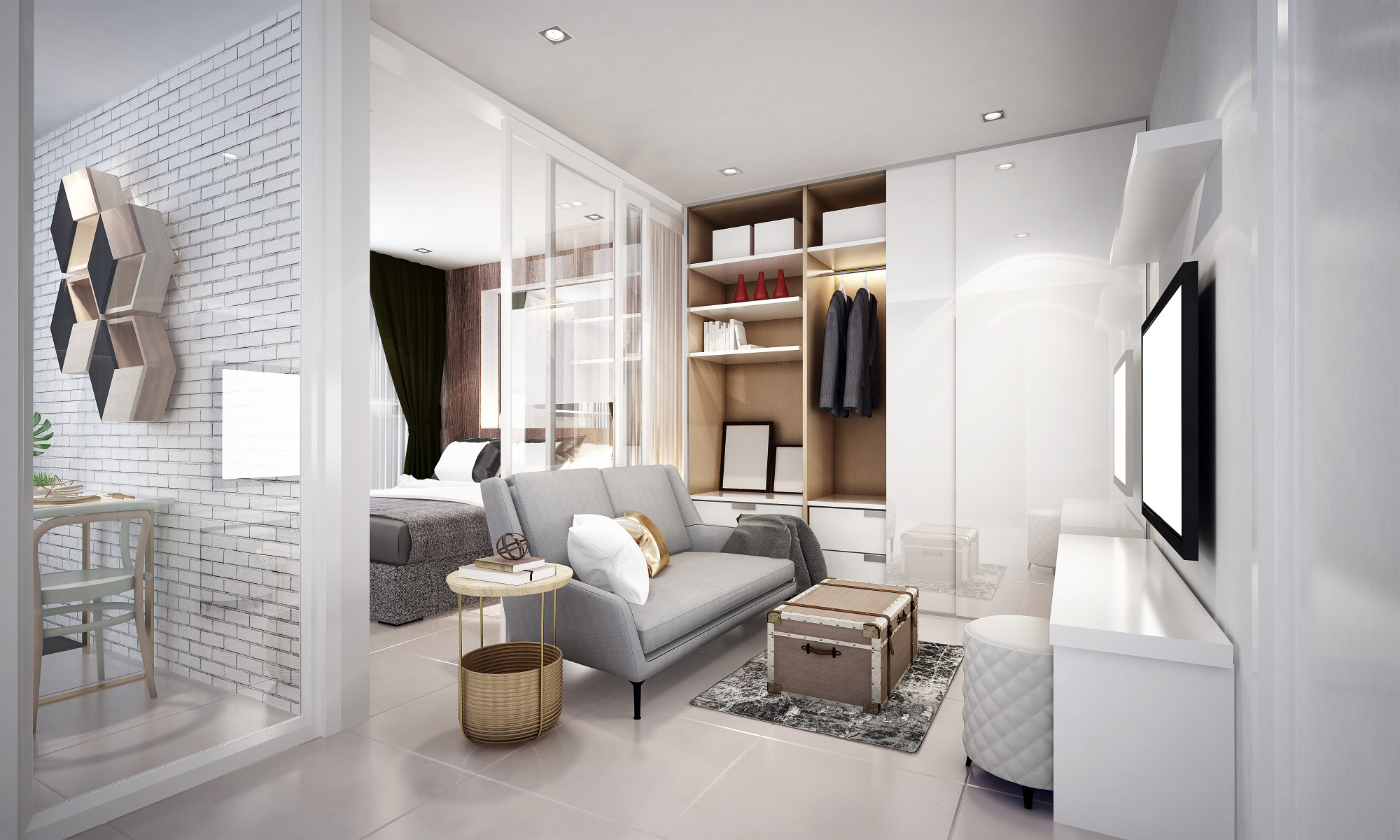 1. Purge and Declutter
Sometimes, small apartments can look and feel even smaller because of the amount of stuff crammed into them. This calls for a purge-and-declutter session to help you get rid of all the unnecessary stuff that's been sitting around taking up precious space.
Before you change anything in the apartment decor-wise and buy new furniture, set aside a day or two to purge and declutter. Throw away anything that you don't use, get rid of old magazines, boxes, clothes, shoes, and even carpets and floor lamps.
The more floor space you have, the lighter the apartment will feel. Then, think about extra storage solutions. Can you use empty walls to build floating shelves, hanging planters, or install mirrors? Is your furniture functional or just pretty to look at? Then, move on to the next step.
2. Make a Plan
The best way to make a small apartment work is to make a plan. You can brainstorm small apartment ideas to find inspiration for furniture, wall paint, artwork, lighting, and greenery. Then, write down ways to maximize space by finding storage solutions that'll serve a dual purpose.
With a plan in hand, you can then sell anything that doesn't work with the space and go shopping for new, more space-saving items.
3. Lighting on the Walls
Instead of floor lamps that take up tons of space, go for wall and ceiling lighting. This way, you'll avoid clutter and fill up empty wall space. The right lighting fixture can make your apartment look bigger and brighter.
Avoid big lighting fixtures that take up a lot of space on the walls. Instead, install them on the ceiling to make sure they light up the entire room.
4. Functional Furniture
Choosing small apartment furniture can be tricky because you need to think of comfort, space, and interior design, all at the same time. Luckily, there are great pieces of functional furniture that'll give you extra storage without compromising on style or budget.
For example, when choosing a bed, go for one that has drawers for storing blankets, bedding, and pillows like the Murphy bed selection. Choose sofas that can be turned into a sleeping bed. Get a coffee table with drawers and storage space and invest in storage ottomans that you can use to keep various things out of sight.
5. Choose Your Colors Wisely
Colors are an essential part of a functional small apartment interior design. The right colors can make your space look bigger and vice-versa. For example, bright colors are perfect for apartments that don't get a lot of natural light. If you like darker wall colors, you should only ever use them on a single accent wall rather than painting an entire room in a darker color.
Light grey is one of the best colors for small rooms as it's neutral enough to keep the room bright, but also elegant and classic. Small kitchens work best with bright white colors, and accent walls are best for bedrooms and home offices. Try to avoid wallpaper with prints as it can make the room appear smaller. Pastel wallpaper with large, unnoticeable print can work for an accent wall or as a backsplash in the kitchen.
6. Mirrors, Mirrors Everywhere
Mirrors aren't just for vanity – they're the best way to create an illusion of a bigger space. Don't be afraid to use them in every room, especially in spaces that need a little extra brightness. Mirrors will reflect the light from windows and lighting fixtures and make your entire home bright and happy.
According to Feng Shui, mirrors in the bedroom should never face your bed directly. Install them to face a direct source of natural light, and relocate the full-length mirror in your hallway or on the bedroom door. In living rooms, mirrors are best placed above the sofa or on a wall facing direct sunlight. Go for patterned mirrors in an unusual shape if you want them to double as home decor.
7. Floating Storage
Floating storage is the best choice for small apartments. Whether you use floating shelves for storing dishes, books, or clothes, utilizing wall space is the best way to avoid clutter.
Floating storage units and cupboards are especially useful in the kitchen. If you don't have separate pantry space, try to use every nook and cranny for shelving. Install shelves and cupboards on every empty wall around the apartment, especially in spaces that need to hold a lot of items.
To maximize storage in the bedroom, install floating shelves next to or above your bed instead of a night table. You can use the bottom shelf for your phone and other nighttime essentials and use the rest of the shelf for photos, beauty supplies, bedding, and books.
8. Plants and Greenery
Plants and flowers can make any space look brighter and joyful. Choose plants that grow upwards if you have tons of wall space, and choose plants that grow downwards if you want to hang planters from the ceiling.
The best house plants for small spaces are succulents because they don't take up a lot of space and don't need special maintenance. Other great plants for apartments include bamboo, snake plant, spider plant, ficus tree, and pothos plant.
Living in Small Apartments Can Be Easy with These Tips
Whether you live in a big city or prefer simple living in the suburbs, a huge space doesn't always mean comfort. Small apartments can be just as charming, and with these tips, you can make them work for your needs and lifestyle.
Want more home decor and housing tips? Check out some of the other articles we've written and stay tuned for the latest trends and news.