Growing weed at home may sound like a fun endeavor, but it's no walk in the park. You'll get the hang of things eventually, but don't be surprised if it takes a few harvests to get there. To help make things easier on you, here are a few things you can do to make your indoor grow op a success.
Get Prepared Early On
This first tip is something that many growers say they wish they would have done, and not just because it would've saved them countless trips to their nearest Home Depot. Getting prepared for grow op is one of the easiest things you can do to improve quality and boost yields of your crop.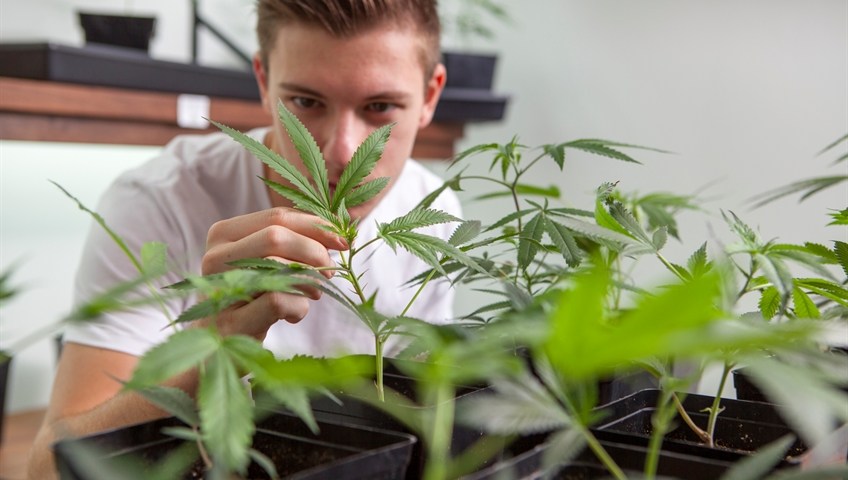 The first step in getting prepared is to physically sit down and draw out the layout of your grow room. Even if you don't consider yourself a skilled artist, making a basic layout will give you a lot of insight into how the plants should be placed, how the lights should be hung, and how the ventilation system should be installed.
After creating a layout, make a list of things you'll need, at least for the early stages of the operation. From start to finish, you're looking at 3 or 4 months, so you've got time to buy the things you need for the later phases later on. In the beginning, focus on the things you need for the cloning, seedling, and vegetative stages. And be thorough!
Pay Close Attention to Genetics
This might seem like a no-brainer to some cultivators growing cannabis indoors in Canada, but beginners don't often realize the importance of genetics. Genetics don't just have to do with how a certain strain makes you feel, but also with how the plants grow.
Plants with strong genes are more likely to finish strong when it comes time to harvest. Although it's not always the case, they're generally easier to grow and less finicky. Chances are they'll experience fewer problems relating to nutrient deficiencies and climate than a weak-gene plant.
Genetics also plays a huge role in the size of the plant. Sativas are generally tall and skinny and take slightly longer to flower, while indicas are short little bushes that tend to flower fast. If you don't have the ceiling space to accommodate tall, skinny plants, the decision to grow indicas has pretty much been made for you.
Of course, you'll also want to choose indicas vs sativas based on the high and medical benefits you're hoping for. Indicas produce a strong body high that's great for pain treatment and relaxation while sativas give more of a head high that boosts creativity and productivity.
Start with a Solid Foundation
No matter what you hear or read from other growers, the soil you use does matter. The best way to ensure strong, healthy plants is to start with a strong foundation, and by that, we mean high-quality soil.
The right soil provides your plants with the essential nutrients and minerals they need, it has good water retention, and it promotes healthy root development.
Keep Up with Pruning
A lot of growers worry that pruning down and plucking off leaves will cause stress to their plants, but the opposite is actually true. When you fall behind on pruning and don't remove yellowing leaves and weak branches that aren't getting much light, a plant ends up wasting a lot of energy.
When you pluck, primp, and prune, the plant is able to redirect its energy to the strongest buds, therefore making them even stronger. The thing to remember here is that eliminating the unnecessary can help you to achieve bigger, thicker buds.
A Clean Grow Room Is a Happy Grow Room
When it comes to a grow room, the phrase cleanliness is next to godliness applies. Keeping a grow room clean and tidy isn't just about appearances; low hygiene brings about greater chances of disease, insects, and pests from taking over. If spider mites show up in the grow space, getting rid of them isn't easy, and it can completely destroy a crop.
Another major reason to keep your grow room clean is that it lowers the risk of unnecessary maintenance later on, especially for your ventilation system. Try to remove dust and debris from your vents every few weeks so that it doesn't build up and cause damage.
Invest in Climate Control Tools & Equipment
Controlling climate conditions like temperature and humidity is a major part of any grow op. It's extremely important, but it's not always easy. This is even more true if your light system gives off a lot of heat, which will definitely be the case if you've opted for high-intensity lights like HPS or CMH bulbs.
Even if you've gone with low heat output LEDs or fluorescent lighting, there are a lot of challenges to managing temperature. To make things easier on you, you'll definitely want to invest in the right equipment, like temperature controllers (Inkbird is the best brand for this).
Plants don't just thrive in a certain temperature range, but there's also an ideal humidity range for each phase of the grow op. When the grow room is too dry, your plants won't be able to draw moisture they need from the air, and when things are too humid, you run the risk of problems like mold and root rot.
Be Patient About Harvesting
As you're nearing the end and getting close to harvesting your bud, it's extremely important that you practice patience. Harvesting at the wrong time might mean that you did all that work for nothing, so try not to cut down your plants before they're ready. Use a microscope or magnifying glass to examine the trichomes; once they've turned from clear to milky white, this is when THC is the highest.
Growing weed might not be a walk in the park, but these tips should help you to make your next cannabis crop a success.
If you are looking for the best canadian seed bank which is most trustable and reliable then checkout 
420expertadviser.com