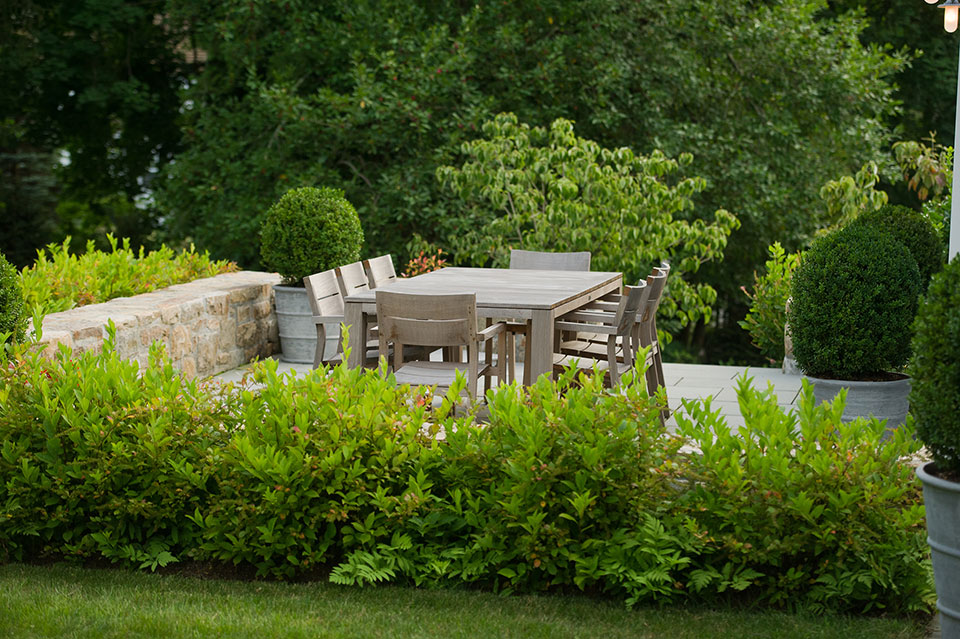 With summer parties and post-COVID life looking to be a boon for all of us, there's a pretty good chance you're looking to make the most of your backyard this year. Whether it's with an all-new outdoor seating space, a party zone or just about anything else, we're sure our tips below will have you become the ultimate party hoster by year's end.
Keep in mind that with a little elbow grease and a calculated upgrade to the backyard you might just find that you've breathed a whole lot more life into your home along with added value too!
Take a look at our six great backyard rejuvenation tips below.
1. Carefully Considered Furniture
For our first tip, we're going to suggest something that is a little less invasive and more affordable than the full redecking of a deck, for example – and that is re-furnishing your outdoor space.
In a lot of our homes, the outdoor space doesn't get too much attention with regards to furniture, if at all, and with this in mind, we ask that you take an all-new approach.
It's best to sit and have a think about how you want to use your space and go from there. This means researching some of the best furniture pieces for a party hoster's backyard, for example, and working to stylise your outdoor spaces with furniture that you're going to make use of, and also allow you to get more use out of the yard.
2. A Major Cleanup
Depending on how long it's been since your backyard has been upgraded and given a little love, you're likely going to need to do a lot of tidying up and even tearing down fences and other unused elements of the yard.
With this tip, we suggest having a drawn up plan of what you want your final backyard to look like and tear out anything that gets in the way of this. However, it might be worth having a little help visit your home, like the 1300 Rubbish backyard cleaning service. This will make throwing out all of those hard-to-transport items effortless.
3. Expand Sheltered Areas
When it comes to getting the most use out of the yard, you're going to want to make sure there are plenty of undercover spaces for your friends and family to enjoy, and this means working to expand shaded areas.
Whether this is through a simple shade cloth and some studs placed into the lawn, you're going to add a whole lot of useable space for parties and events.
Another key point to consider is adding a gazebo or another built shaded space for your backyard. This will add permanent sheltered space and give you the chance to rely on it all year round.
4. Understand Zoned Yard Use
For those who are looking to get the most use out of their yard, it may be worth considering zoned spaces in the backyard.
With this tip we don't mean splitting the yard with walls, but rather pulling on your use of furniture to do a lot of the work. If you have a fire pit, for example, work to surround it with intimate ground-level seating and have this as your late-night or relaxed chill zone. For the times when dinners with family and friends are on the cards, you're going to want to move everyone to the patio, and so a carefully laid out dining setting is going to come in handy here.
Lastly, for the kids, a play zone in a space in the yard is going to work wonders at keeping the little ones entertained.
5. Designed to be Clean
Before we wrap up our list, it is important to make sure that you're designing your outdoor spaces to be kept clean, rather than making a zone that is hard to tidy up or hard to clean.
With this tip, we suggest keeping clutter to a minimum and not going too hardcore on the number of decor and furniture items on the outside of your home. Keep in mind that when it comes to styling an outdoor space, less is almost always going to be more, and that holds true when it comes to using the space too – too much 'stuff' increasing the risk of someone falling over someone.
6. Plan How it All 'Works'
To our final tip, we ask you to take a look at how your entire backyard setting works together and make sure that there is a sense of flow that makes it a breeze to use the space.
For example, there's a good chance you're not going to want your party guests to have to trek into the home every five minutes for food and drink, and so outdoor kitchens, fridges and other food prep areas is a good place to start.