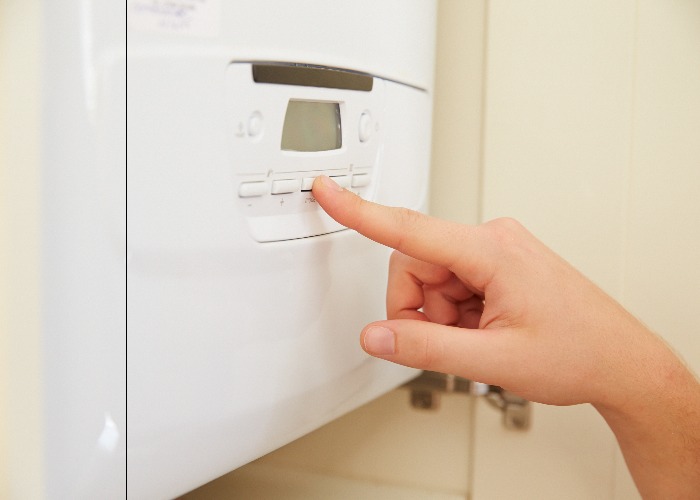 Is your old boiler not working as well as usual? Then you may consider getting a new one. Most people usually think that buying a new boiler just means spending a lot of money. However, replacing your old boiler with an energy-efficient one could save you hundreds of dollars every year. Your heating bill will remain at the minimum possible due to your boiler's better performance. In this article, you will learn what you need to check.
Table of Contents
1. What is a boiler?
2. What to check when buying a boiler
Type of boiler
Size (output rating)
Efficiency
Warranty
Price
3. Final thoughts
1. What is a boiler?
Short and straightforward, a boiler is the main part of your house's central heating system. It heats your radiators and supplies your taps with hot water.
Boilers can run on different types of fuels. The most common ones burn oil, gas, or LPG (Liquified Petroleum Gas). However, there are also electric and biomass-fueled boilers.
2. What to check when buying a boiler
Not all boilers work in the same way, nor are they suitable for all properties. When buying a new boiler for your home, you must carefully check its type, size (output rating), efficiency, warranty, and price. All these can make a difference in achieving the results you want.
There are three types of boilers: regular (also known as conventional or traditional), system, and combi.
Regular boilers. They produce hot water for your central heating system but need an additional cylinder to store hot water for your taps, baths, and showers. These boilers get cold water from a tank in the loft.
System boilers. System boilers are a modern version of regular boilers. They take cold water from the mains at a higher pressure instead of from a tank in the loft. Like regular boilers, they require a storage cylinder to store hot water for your taps.
Combi boilers. Combi boilers have two heat exchangers and two hot water pipes. One is connected to your radiators and the other to your taps and showers. They produce hot water on demand, so there is no need for a hot water storage cylinder. Similarly, they don't need a tank in the attic as the cold water comes from the mains. Combi boilers are the most commonly installed today.
When replacing your boiler or buying a new one, you must consider that combi boilers generally work better in smaller homes with a single bathroom. They don't store hot water in a separate cylinder, so the hot water flow may weaken if two bathrooms are used simultaneously. However, some powerful combi boiler models are suitable for large houses with two bathrooms.
When we talk about the boiler's size, we talk about its power rather than its length, width, and height. Boilers' technical specifications include it as output rating, measured in kilowatts (kW).
Combi boilers have two output ratings: one for central heating (CH) and another for domestic hot water (DHW). System boilers and regular boilers only have one output rating (for CH), as the domestic hot water is taken directly from a hot water cylinder.
Compared to regular and system boilers, combi boilers need to be more powerful to achieve the same result. The table below shows the approximate boiler size ranges (in kW) meeting the central heating requirements of different houses.
Approximate Boiler Sizes (CH Output)
Combi Boilers
System Boilers
Regular Boilers
Houses with up to 10 radiators
24-27 kW
9-18 kW
9-18 kW
Houses with 10-15 radiators
28-34 kW
18-26 kW
18-26 kW
Houses with 15-20 radiators
35-42 kW
26-40 kW
26-40 kW
Boilers receive an efficiency rating from A (highest) to G (lowest) on an ABC banding scale known as the ErP rating. Thanks to condensing technology, all modern boilers are highly efficient. Most of them are A-rated, but it is also worth checking their efficiency rating out of 100%. The closer they are to 100%, the lower your bills.
Manufacturers provide different warranties for different boilers in their range. Duration, terms, and conditions may vary from provider to provider. A good tip is getting a boiler with a nice long warranty to ensure peace of mind for as long as possible. Although it is not an exact science, the most reliable boilers come with longer warranties.
The total cost of a new boiler consists of the costs of the boiler and the installation. There may also be other minor costs such as filters, flues, pipes, and other sundries. While price shouldn't be the deciding factor when choosing the best boiler for your home, saving a decent amount of money upfront is always nice.
Taking the UK market as a reference, the table below shows approximate costs for different types of boilers, including installation:
Boiler Cost (including installation)
Boiler type
Cost range (UK market)
Combi
£1,000 – £3,000
System
£1,000 – £3,500
Regular
£1,000 – £3,750
3. Final thoughts
Getting a new boiler worth every dollar you spend on it. Among other benefits, your home will be cozier, and you will spend less on heating. However, the best boiler for you will always be the one that best fits your specific needs.