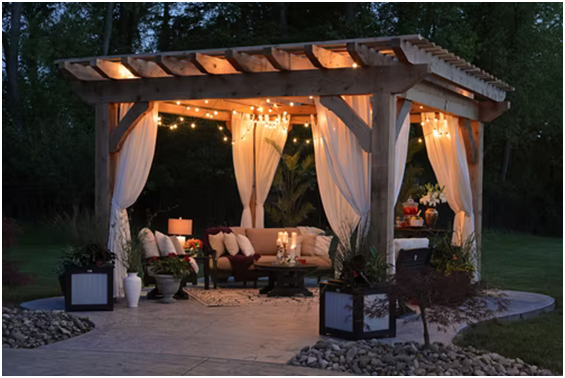 An outdoor space where you can sit and relax to the sounds of nature, enjoy your morning coffee or unwind after a long day at work is a luxury not all of us have. If you have a patio, deck or even a balcony, then read on for some creative ways to enliven and uplift your outdoor space.
Function
Before deciding on your design, give some thought to the purpose you would like your outdoor space to serve. Is this a place of sanctuary and solitude where you escape the distractions of the modern world or is it primarily for family meals and entertaining guests over dinner? Perhaps it will serve more than one function and you intend to use the area for entertaining, relaxing and gardening. Having clarity on this point will help you incorporate the right features into your outdoor space.
Scenery
Take advantage of the views and natural scenery your outdoor space offers you by arranging the seating to make the most of the sights. For example, a balcony that faces eastward is the perfect place to watch the morning sun rise over breakfast, while a west-facing backyard can give you some spectacular views of the sunset which can be enjoyed over dinner and cocktails with friends.
If you would like to add a particular feature to your space such as a water fountain, floral display or fire pit, ensure that your seating allows for these views to be taken in. If the view from your outdoor space is limited, create an attractive focal point by adding a splash of color with some potted plants and flowers or garden décor.
Sensory Appeal
Make use of some natural touches to create a relaxing and harmonious atmosphere in your outdoor area which also has sensory appeal. Some examples include:
· Light: Illuminate your outdoor space by incorporating various lighting features such as hanging lanterns, garden lamps or a trail of candles. Transform pergolas or patios by hanging up a twinkling array of festoon bulbs or fairy lights to add charm and a touch of magic to your evenings.
· Water: The tranquil flow of a water fountain or cascading waterfall can soothe the senses and enhance feelings of relaxation making them the perfect addition for an outdoor sanctuary or retreat.
· Fire: A fire pit can give warmth and captivate attention through its alluring display of dancing flames. As the evening turns to night, you and your guests will still be able to enjoy your outdoor space by huddling around the warm glow of a firepit.
Furniture
No outdoor space would be complete without somewhere to sit, relax and take in the sights and sounds of nature.
Consider adding outdoor furniture such as a lounger with parasol, a hammock or a table and chairs for dining and entertaining. Add some style and comfort through the use of blankets, throws, a scattering of cushions and other soft furnishings. Make sure to choose fabrics that are suitable for the outdoors and are waterproof and fade-resistant.
With these four tips, you can start styling the outdoor space you have always dreamt of.