Although on the floor, rugs are not simply a piece of floor mat that goes unnoticed. Be it your guests or someone with a taste for home decor and floor rugs, identifying a fake floor rug can be simple for one and extremely difficult for another. And not to mention the embarrassment you could suffer if someone spots your handmade carpet bought to be fake. Plus, the money you invest in buying a carpet or rug (genuine) is unfathomable. So, have you already selected a floor rug for your home or office? Do you know if it's a fake or original piece? If you are puzzled by questions like these, you must go through this quick article.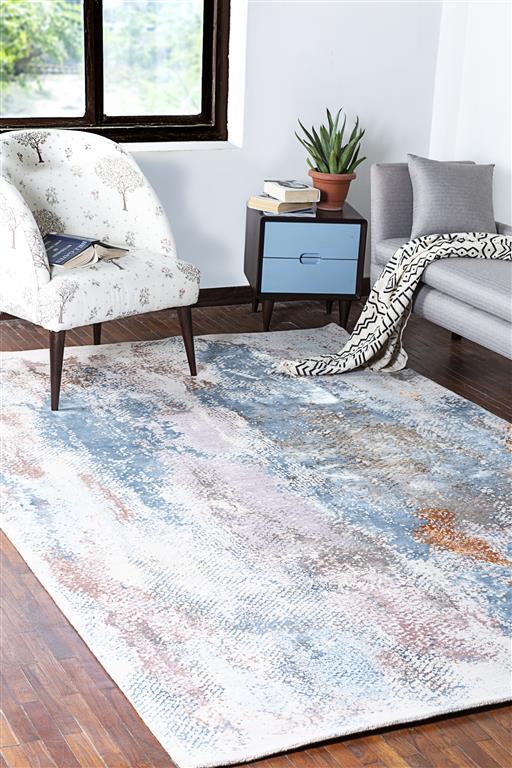 Knowing that you are buying a genuine rug, doesn't matter if it's online or offline, is one of the most important aspects that not a lot of people try to consider but, you should. Why? You can save a ton of money, your time, and for sure, some embarrassing moments. So, if you haven't or you already have, check these elements of your rug to confirm that it's a genuine piece of work.
Are the colors bleeding off only after a couple of months?
A point meant more for rug owners than the ones who are planning to buy, one way to check if your rug is made by using genuine, natural colors is by looking into its bleeding. If it's a fake rug, it will start bleeding very soon only after a few months of use or a couple of footfalls. Genuine handmade carpet purchased will never begin to bleed even though it sees a ton of traffic each day. Fake rugs use cheap quality dye that looks good from the outside, in a showroom, or online in pictures, but as soon as you take it home and put it under your light, it starts to show its try colors.
There is not a single guaranteed way of testing if the dye used is natural or not, which also makes it super easy for sellers to use fake. However, if you put a wet cloth on your rug for long, the color from your carpet transfers to the wet cloth. If it does that, there are chances that it's fake. You can also ask the sellers about the kind of dye used In making the carpet during the time of purchase.
If you go for a handmade carpet, it will have fringe borders. This phenomenon happens when the artists begin to knot the rugs. They start with the borders and, hence the borders around your carpet will be naturally fringe. To make a fake rug seem original many rugs makers use fake fringes and glue them up to the rug giving it that fringy look that a genuine one would have. Don't fall for this try. When looking at a rug, don't just glance through it, or simply admire its design. Look a little closer into its borders, are they fringe? If they are, check to see if they are glued or knotted. It might take a couple of minutes, but you will certainly be able to determine if it's glued or not. If it's glued, it's fake and you should not buy it as a hand-knotted rug.
There is a reason why the majority of genuine rug sellers and manufacturers go for wool as the primary component in a carpet. It has a couple of properties that make it the best. To start with, it will not catch fire so easily. It eliminates the chances of bacterial gathering on your rug. It is highly durable and you or your pet will never have any issue with your health like an allergy to a swollen material rug. So, has your rug ever caught on fire? Is it that even time you sit on your carpet you begin to sneeze? If these things are happening to you, there are chances that your rug is fake.
What does the back of your carpet look like?
If you can't figure out if your rug is original or fake from the front. Wait a minute. Turn it around. If you have ordered online, this should be your primarily checking factor. The back of a genuine rug is covered with a soft material from the back and generally looks very similar from the front. Whereas, a fake rug will have a plastic or hardback. So, what does your rug's back look like?