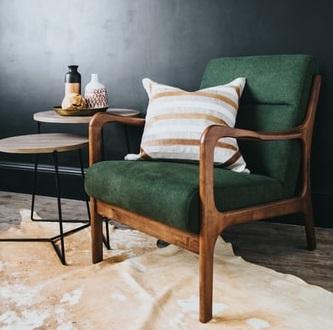 Are you thinking of getting an armchair for your home? I suggest you do. You will never go wrong with a comfortable and stylish armchair. It is always nice to have it in your sitting room, living room, bedroom, reading nook, home office, or any part of your home.
Before telling you the reasons why you should get this comfy and relaxing chair, let's first learn more about armchairs.
What is an armchair
An armchair is a comfortable single-seating chair with sides that support your arms. You can place it in your living room, bedroom, reading nook, or any part of your home where you seek relaxation and respite. This single sofa is considered a very personal furniture item that can help you unwind any time of the day.
What are the different types of armchairs?
Armchairs are available in different types, including a single sofa or accent chair, recliner sofa, rocking chair, chaise lounge, and corner chair. They also come in different materials, including wood, leather, and velvet, and more.  Finally, armchairs can match any home style, including classic, contemporary, cottage, farmhouse, and more.
Why do you need an armchair?
You may not be aware of it, but there are so many reasons why you need to get an armchair.
Here is a list of reasons we can think of:
A stylish armchair can liven up any space in your home, especially an empty corner.
It provides an additional seating space at home to welcome guests.
A chaise lounge-type armchair or a lounge chair can make a perfect place for you to take a nap. It can also allow you to accommodate a guest sleeping in even if you have a small place.
An armchair can complete your living room look in addition to your furniture set.
You will have your personal space to sit back and relax on it. Pair with a good book, movie, coffee, or someone to talk to, and you're good to go.
It offers a comfortable seating area for both work and respite.
An armchair can provide you with the back support that you need.
A recliner sofa, a lounge chair, or a chaise lounge can give you total body relaxation as you rest your legs on the chair, too.
If you have a baby, a spacious armchair is a perfect place to cuddle up, read a book, or maybe even feed your infant.
Many variations and styles of armchairs will match your needs, homestyle, theme, and color motif.
Even if you cannot think of practical use for a single sofa in your home, an armchair can always spruce up any space in your house.