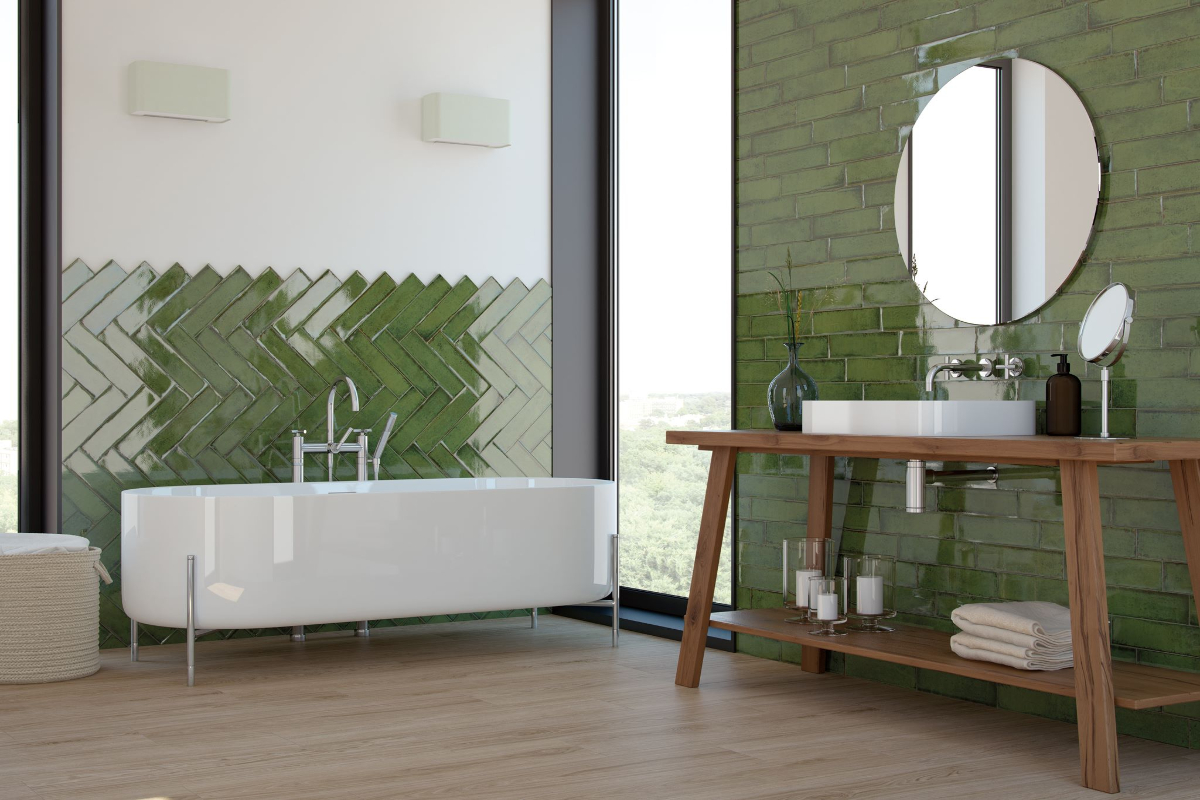 Tiles are an excellent way to up the decor game of any space, be it commercial or residential.
Tiles bring to the table a lot of factors that can prove to be game-changers for any homeowner.
Be it bathrooms, kitchens, or any other space, tiles fit perfectly and help you make the place look aesthetically beautiful and pleasing.
Tiles work as a canvas for any design, tying it all together. One such type of tile that has grown in popularity is metro tile. It has a simple and beveled design that works well in both modern and classic settings. Metro tiles were first used for their practicality as they were considered a simple, sober, tile that was easy to mount and clean. However, with changing times and technology, they've become more of a 'design' that people like to have in their respective spaces.
The simple, sober look now adds to the design with a bit of a character to the decor. People use these tiles to achieve the infamous retro look. There are so many different varieties of tiles available and that too in a plethora of colours that it's impossible to not find something that matches or suits your style.
In this blog, we'll talk about the different ways in which you can use or include metro tiles in your homes.
Straight Pattern
For a traditional look and feel, place the metro tiles in a straight mounting pattern (with all grout joints aligned). This is one of the most popular applications for metro tiles. This will provide you with a very neat appearance and can be used in practically any area of your home.
Vertical Pattern
While horizontal tile layouts are more conventional, a vertical tile arrangement can lend a contemporary touch. If you want to accentuate a shower enclosure or a bathing area, we propose putting your tiles in this manner.
Herringbone Pattern
This pattern is slightly more difficult to lay than the previous options, therefore we don't recommend going forward with it all by yourself. It is always better to include a professional in this process and especially when you are choosing a herringbone pattern. This pattern is achieved by tiling in a V-shape at 45 degree angled tiles. A herringbone tile plan has a noticeable effect. It's eye-catching and will set your bathroom out from the rest.
Diagonal Pattern
Square tiles are set at a 45-degree angle in this design. This design is a great option for floor tiling too as it helps the floor appear wider. You can also use this pattern for walls and backsplashes.
Mix of Horizontal and Vertical
This is a very unique way of laying your tiles. We can confidently say that you'll not come across this pattern on a regular basis. This pattern makes the decor look aesthetically appealing and helps it stand out. This pattern also helps in creating the illusion of the space being larger than it actually is.
1/3 OffSet Pattern
Each tile in this pattern is one-third the length of the tile below it, providing a staggered diagonal look and feel. This is a common layout for one-, two-, or three-colour designs.
Chevron
Just like the herringbone pattern, in this layout, the shorter ends of the tiles are linked together to make a metered 45-degree joint. You'll have to cut the tile to fit unless it's specifically intended for this style.
Tessellate
Play around with patterns! With a little thought, a simple rectangle can be transformed into something entirely different and used uniquely. When placed on walls, traditional flooring brick patterns like herringbone and basket weave look directional. You can always change the direction of the tiles halfway through to add a quirk element to the decor. Tiling is always fun, you just have to know what elements you wish to explore with it.
Two-Tone
Use two colours, or even two different shades of the same colour palette, in a stylish chevron pattern to give your tiles an op-art dimension. A monotone palette is timeless and will never go out of trend; it gives an area a trendy graphic feel. Finish off the patterned portion with a thin pencil tile for a polished finish, and don't forget to match the skirting board as well.
Metro tiles are often plain and can help with the space uplift giving it a classy minimalist feel. Grout, on the other hand, can make things a little more interesting. There are a variety of grout colours available that can enhance the appearance of your tiles. We like the effect of blues and pastel tones on white tiles as they add a subtle pop of colour, but we recommend to choose it according to your taste and choice.
Author Bio:
Isha Tandon has worked within the architecture and interior design industry as a flooring consultant expert – specializing in tiles, stones, and terrazzo. She has worked with Orientbell Limited, a leading tile manufacturer in India, as a product development manager in the design team and has recently joined the marketing team as their digital content expert. Her experience comes in handy in understanding the audience as she creates value-driven functional & informational content for the readers. She creates lifestyle pieces that focus on interior design products, trends, and processes. She loves to travel to historic places with rich architecture.