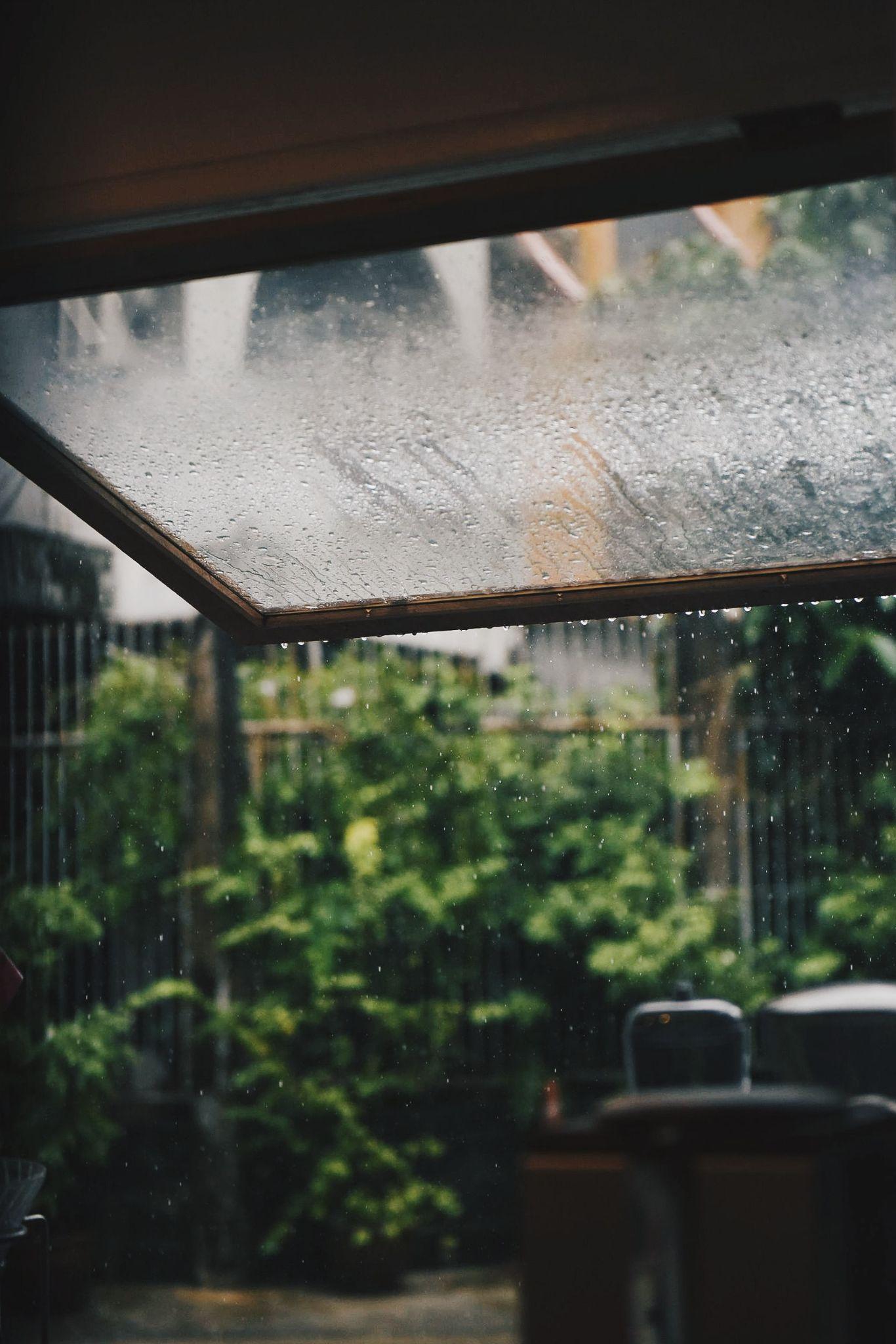 Choosing a suitable retractable awning for your house or business might be more complicated than you expect. From selecting the correct width and projection, choosing attached or freestanding, thinking about production materials of frames and fabrics, considering the type of cassette and level of automation, it's no surprise that many people start to feel overwhelmed by all the information going their way.
One of the questions you need to ask yourself when investing in a retractable awning is if you want it to be waterproof or water-resistant .
What's the Difference?
If you need to choose between two things, you should know what's the difference between them and their pros and cons. What makes an awning waterproof or water-resistant is the production material used for the cover/canopy. So let's begin with defining each term.
Water-Resistant Retractable Awnings
Water-resistant retractable awnings are made of fabrics that can withstand light drizzling rain or other light water sources, such as neighbor's sprinklers. They are suitable for protection from light rain showers and small amounts of water.
Water-resistant fabrics are not made for heavy rain or big storms. The material is lightweight, its fibers are tightly sealed and taut, helping the water slide off the declining edge of the awning. Manufacturing companies might apply additional top coatings that repel water off the fabric's surface. However, even if the material is treated to become water-repellant, it is still unsuitable for large amounts of rainwater. It will not protect people or furniture from getting wet.
Waterproof Retractable Awnings
On the other hand, waterproof retractable awnings are capable of withstanding heavy rain and storms. Even without additional coatings, the material itself doesn't allow water to penetrate at all.
Typically, waterproof production materials are heavier than water-resistant ones and require more robust structures and additional ground support. You will often find that they are more expensive than water-resistant solutions, but they will protect you and your furniture even in the heaviest rain.
Which One is Better?
Answering the question of what's better – a water-resistant or waterproof retractable awning, requires examining one's needs first.
For example, homeowners interested in installing a retractable awning mainly for sun protection during the hot summer months will benefit from lightweight, water-resistant fabrics. They can still use their patio or deck if light rain begins to pour but will have to retract it back and cover outdoor furniture if a storm approaches.
On the other hand, business owners who run restaurants, bars and other outdoor areas that their customers enjoy probably want to invest in waterproof retractable pergolas. Most often than not, business owners want to have a functional outdoor space in all weather conditions. That includes blazing sun, hot summer days, light to heavy rain and even snow.
Installing a waterproof awning can increase outdoor capacity, passerby engagement, customer satisfaction and revenue.
Types of Water-Resistant and Waterproof Fabrics and Materials
When looking into different types of vendors offering retractable awnings online, you might notice each uses different fabrics and materials to produce the canopies. This is because each material has different properties, and their prices also vary, reflecting the final price for the client.
Searching for your new retractable awning, you can see the following awning fabrics, materials and coatings offered by vendors:
Polyester
Solution-dyed acrylic
Solution-dyed modacrylic
Cotton
Vinyl coatings
Aluminum
PVC
Steel.
Keep in mind that each material has a different resistance to UV rays, sun, wind, rain and snow. For example, you can't expect a solution-dyed acrylic to hold snow loads, but it has the best performance for sun protection. On the other hand, Aluminum pergola roofs are best if you live in an area where storms occur frequently, and you often expect strong winds or heavy rainfall. It is perfect for winter conditions, snow and hail.
And lastly, you should consider the material's resistance to mold, mildew and fading. You want to install an awning that will last you for a long time with minimal maintenance costs. A retractable roof complements your property with colors and styles that should last as long as possible.