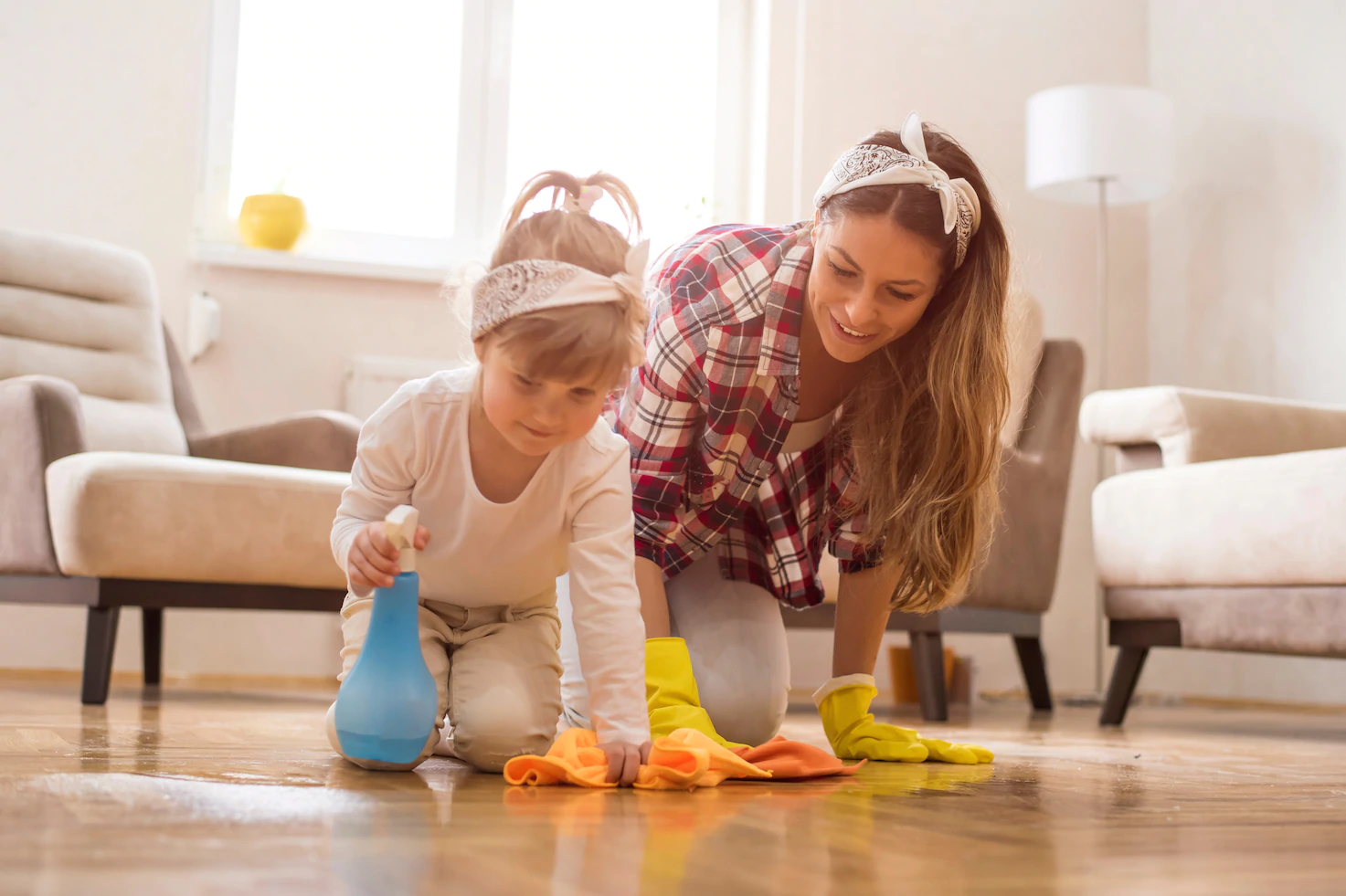 Us Brits spend around an hour a week cleaning our homes with general vacuuming, dusting and tidying up. However, the Spring clean is a deeper, more in-depth affair that tends to be done in anticipation of the warmer weather. To dust away the cobwebs after the darker months of winter. It's a more detailed cleaning session and it can take a whole weekend to achieve, depending on what you have to do, and if you want to get everything done in one go. The benefits of a big Spring clean are far-reaching. You create space, the house feels better, things are more hygienic and it can feel like a fresh start after Winter. Of course, it is hard to think about the benefits when you're faced with such a big task.
If you're feeling a little overwhelmed at the thought of a Spring clean, don't worry, we can help. In this article we have gathered all the Spring cleaning tips and tricks you need to make this job as quick, easy and effective as possible. Here's how to Spring clean like a pro;
Use The Right Tools
One of the reasons that professional cleaners can get a great job done in a short amount of time is because they use the right tools for the job. Does your friend have an amazing hoover you could borrow? Does your mum have a strong steamer you can use? Can you spend a little more on a better cleaning spray that will really get rid of the grime? Having the best tools for the job can only boost your cleaning speed, ease and effectiveness.
Do It All In One Go
It's common advice to do Spring cleaning a bit at a time if you're busy. Whilst this approach can work for some people, in reality it works better to just get it all done over a week or weekend if you can. This means you are focused, the job is over and done with quickly and you'll have all the equipment and time you need to finish it.
Store Your Stuff
It can be really tricky to play furniture Jenga to properly clean a room. Instead, utilise cheap self storage from https://storing.com so that you can move your things there during your deep clean and properly get stuck into the deepest parts of the house. Even better, why not get rid of all your clutter and pop it into your Storing.com cheap self storage unit until you get a chance to sort through it? It can only make more space in your home for your spring clean and gives you time for proper sorting in the future when you have some spare time.
Go Deep
One of the ways that Spring cleaning effects quickly go by the wayside is when the cleaning done does not address functionality. Aka you wash the cupboard doors but don't sort the cupboards, or you tidy the spare room but don't actively Declutter it. Take inspiration from Marie Kondo and don't only clean, but regain the functionality too with more storage, less clutter and perhaps even a redesign of the space itself.
Freshen Up Your Decor
Cleaning is great, but if your decor still says dark nights and winters vibes, it's a good idea to freshen that up along with the Spring clean itself. Think bright, vibrant and summery. Plants are also a great way to brighten up any space and breathe literal life into it.
Don't Forget The Walls And Windows
The walls can accumulate a lot of grime and debris in the space of a few months. This is especially true if you smoke inside, or in areas like the kitchen which have grease clinging to them. You can easily wash the walls by placing towels at the bottom and then scrubbing them with a damp cloth or sponge and a little bit of washing up liquid. For bad grease spots you can use a strong chemical cleaner, but do limit the use of this kind of product so as not to pollute your indoor air too much.
When it comes to cleaning the windows, rinse down the cobwebs and window frame debris with water, then use a window spray to get the windows cleaner. Another great way to brighten them up is to wipe the blinds down and get the curtains washed as well.
Repair, Don't Just Clean
One of the reasons that places can look a little run down is because there are minor repairs that need doing. You might clean your home plenty, but if you have cracked tiles, peeling Lino, paint cracks or other issues, the place will still look a little shabby at the end. So why not, whilst everything is in cheap self storage and covered up, get those repairs done? If it is a case of a little filler, paint or, gluing, it's going to make a huge difference to how your home looks for minimal effort.
Don't Forget The Garden
Lots of people forget about Spring cleaning the garden until it comes to bulb planting time, and it all has to be done at the same time. Instead, it makes sense to break the jobs up and spring clean the garden well before you start gardening in it again. Declutter broken pots, clear up debris (being careful not to disturb hibernating animals), repair any fence issues, clean the shed and do a bit of gentle weeding. Lastly, go to your summer furniture in cheap self storage and give it a good clean ready for plenty of summer use when the time eventually comes to get it out.
You're Ready To Spring Clean With Ease
Spring cleaning can be really draining, but if you have your own way of making it work for you, it is so worthwhile, and actually quite satisfying. Hopefully, with our tips and tricks you can create a Spring cleaning schedule that's perfect for your needs, so come the warmer weather you have a fresh and beautiful home and garden to enjoy with family and friends.