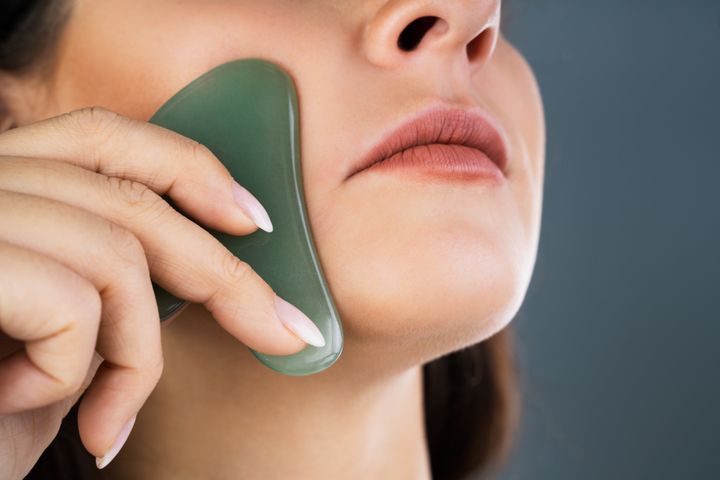 Smooth, sleek, and often created from highly valuable gemstones, a gua sha tool has become the gold standard for treating the face. Originating from China, the technique has gained a lot of traction today and the image of this precious stone is unmissable on any website of a top skincare firm. Gua simply means scrape, and sha loosely translates to flat red, tiny, purple spots. At first, gua sha was a full body treatment. It involves scraping the skin to bolster blood flow, stimulate lymphatic drainage, release heat-toxins, and activate various body points. In most cases, using this tool in combination with the right oil from Anfisa skin leads to a spa-level massage at the fraction of the cost. However, it can also lead to skin discoloration, which risks looking dramatic.
Why Use Gua Sha For Your Face?
Like many skincare fans, you probably first saw the gua sha tool on a video tutorial, YouTube, or a website. But just how did this technique transform from a full-body treatment to a facial companion? The main reason has to do with the tool's efficiency in breaking down muscular tension.
You may experience some pain when you undergo the procedure for the first time. However, with more practice, it will become less and less painful. That is due to reduced inflammation that eases away tension, discomfort, and puffiness. It requires no batteries to be powered and anyone can use it at home, not to mention that it feels pretty good.
Additionally, it plays a pivotal role in ramping up our lymphatic system. The lymphatic system is a complex waste-drainage system that circulates the lymphatic fluid throughout the body through the moving and contraction of our muscles. A facial massage produces intentional movements that help the movement of the lymphatic fluid through the body. It also leads to a more sculpted and toned appearance. For this to happen though, you need to pair the gua sha tool with the right facial product like the Lilou Radiant Hydra Balm from Anfisa Skin.
What is the Best Technique?
The best tip I can give you is to religiously follow the directions recommended for the specific tool that you have. Do not invent your own technique otherwise, you wouldn't get the right results. In general, however, you should perform it in an upward and outward direction only. Press the tool lightly through gliding over your preferred facial oil.
The right gua sha tool, for instance, the one from Anfisa Skin, works with low pressure outwards to form flushing of the skin and at the same time avoid bruising.
Remember that these are only tips for gua sha skincare. If you want to benefit from all medical benefits of a gua sha, you should look for a qualified expert in Chinese Traditional medicine.
Does Gua Sha Leave Behind Bruises?
The short answer is that you will experience occasional bruises when you use a gua sha treatment. This is because the pressing hard of the skin and pushing and scraping can lead to bruises. But they will soon disappear and are nothing to worry about. Additionally, bruises are a sign that the procedure is working.
Why Is Gua Sha So Trendy Now?
There are many reasons for the recent surge in popularity of the gua sha technique, especially in facial massage. But the most obvious reason could be the simplicity in using it. We are used to so much technology, so it feels good to use a tool that is simple, soothing, and effective, as well as does not require charging or any batteries.
Also, the results are pretty good, too. The gua sha is not only wildly popular in TCM, but can be used in our regular self-care rituals. It relieves muscular tension and breaks down fascia adhesions. This makes it a perfect treatment for individuals that have sluggish circulation, the necks, and tight muscles. And for facial therapy, the technique helps stimulate microcirculation, promotes the production of collagen, and reduces puffiness. The most important thing you need to remember when it comes to gua sha is consistency.
How do you select a gua sha tool?
There is no rule of thumb when it comes to picking a gua sha tool. However, I would recommend that you go with the one that appears most attractive to you. The stones from Anfisa are carved with curves and contain rounded knobs. Also, they have points that are within the facial curvatures. These gua sha tools also have pressure points where traditional Chinese medical practitioners believe the Qi flows through.
You should apply the same principles when choosing the crystal you pick for your gua sha tool. Once you have found the one that's most attractive to you, stick with it by all means.
There are different types of stones in the market like jade rollers, tiger's eye, amethyst, and rose quartz scraper, and each of the stones boasts different healing properties. I prefer the gua sha tool from Anfisa because of its all-around effectiveness.
When Should You Perform it?
The best time to perform a gua sha treatment is after you have cleansed your face and applied a facial oil or moisturizer. That is because a gua massage doesn't just give the skin a workout, but also improves the rate of absorption of nutrients into the skin.
It is also recommended to use an oil-based lotion or serum before your gua sha session to give the stone maximum slip. Personally, I like Anfisa Skin's Lilou Radiant Hydra Balm because of its anti-inflammatory properties that leave the skin calmer after applying it only once.
Bottom line
There are many reasons I would vouch for a gua sha treatment. It makes the face feel fresher and your complexion will be tauter. It also improves blood flow in the face and boosts collagen production. Originally a full body treatment, it has evolved into one of the best massage techniques for the face. Additionally, it can be done at home and requires no charging. When you pair the Anfisa gua sha tool with the right facial product, you are guaranteed to get a spa-grade massage without leaving the comfort o your home.