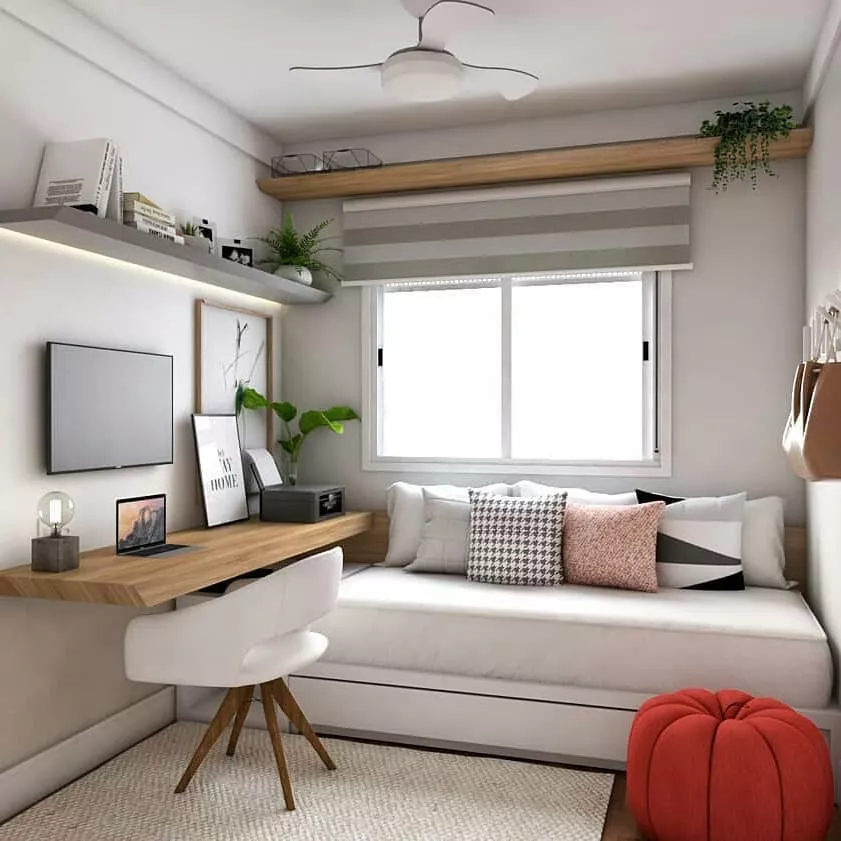 Cutting-edge technology, the Internet, and the demands of modern-day life have brought a sea of change in the working and business world. From freelancers to eCommerce business owners, more and more people are working from home.
That has created the need for a quiet place to get work done away from the traditional corporate offices. A home office can help you create a conducive business environment within the confines of your compound.
As you would expect, it will take money to convert an empty room or disused space into a small business office. But the good thing is, you can easily access business loans, such as ITIN loans, to cover the upfront costs of equipping your home office with all the required elements.
This article lays the main benefits of having a separate space for your home office, design idea, and everything you need to build your home office.
Main benefits of having a dedicated home business office
Save time and money
You don't have to drive far away or beat heavy traffic to get to work. Thus, you can slash commute expenses and save time by just taking a few steps to get to work.
Keep kids away
Kids may get into your work files and cause costly destruction. A separate room is a great way to keep your work files away from unauthorized access.
Avoid interruptions
Disruptions may pop up at any time when working from home. Having a dedicated business office where you can lock the door and be alone inside can help you zone and focus on your work.
A dedicated workspace
You get a comfortable and peaceful space to conduct sales presentations and video conferences to connect with colleagues, clients, or customers.
Increased productivity
No office chat about vacations and expensive wedding rings from colleagues. Thus, you can concentrate and get more work done since no one can distract you.
Flexible working hours
You can choose to work when you want because you don't have to follow a fixed working schedule at your home office. Thus, it's easy to achieve a work-life balance.
Privacy
Everyone who visits your home doesn't need to know what you are doing. A separate, dedicated workspace gives you that privacy.
Ideas to start your home office space
Find a spare room or disused space
The first step towards building a home office is to look around your house or compound for an empty room or unused space. Common spaces that make an excellent fit for an at-home business office include:
Extra bedroom: Bedrooms are spacious and well lit/ventilated from windows and overhead lights.
Basement: They provide plenty of room and a quiet space for a home office
Library: Being already a dedicated place for study, a personal home library works fine as a calm place to get work done.
Walk-in closet: If you run a beauty or fashion e-store from home, a closet may double as an office and a great place to store inventory.
Attic: Being a bit some steps from other areas of your home, an attic provides a quiet space for work.
Design your home office
Once you find where you want to set your home office, the next step is to get the space designed to fit your business or work needs.
Keep in mind that your goal is not to get comfortable but to concentrate on work.
Top design ideas for at-home office include:
Minimalist design: The minimalist design is a top choice to focus on your work, stay on track, and increase productivity. Go for minimal decor, white walls, sleek furniture, and clean lines.
Office for Two: This design is excellent for creating a shared workspace for you and your spouse. You can choose to share one desk or go for a two-person desk set-up, neutral colors, and themes that include elements that inspire you.
Inspiring design: This design is excellent if you work in creative fields, like design, writing, music, etc. Go for bright colors, large wall art, etc.
Comfortable design: If you work for long hours, this design is for you. Go for a spacious desk, soft colors, and a cozy chair with back-supporting pillows so that you can sit for long with little-to-no strain or fatigue.
Mix & match This design is excellent for the whole family and can be a good fit if you want to build a home office that doubles as a study room for your kids. Go for classic painting, vintage chairs, motivation prints, storage shelves, patterned rugs, and more. Don't forget to mix colors.
Gadgets you need to build your business space
Once your office is designed, the final step is to equip it with office furniture and gadgets. The basic office furniture and gadgets you need for your business office include:
Desks
Chairs
Lighting
Shelves
Wall Decor
Computer/laptop
Carpet
Fund your home office with ITIN loans
A lot goes into building a conducive home business office, from designing to filling your office with the right furniture and gadgets. Thus, you may need access to capital to cover the initial costs.
If you're a minority business owner without a social security number (SSN), you can access ITIN loans from a reputable online lender. Visit the link in the intro to learn more about ITIN loans and how they work.