Moving home can be a stressful time for anyone. Whether you've been planning your move for months or it's suddenly sprung on you, getting all your belongings from one place to another is never easy. If you're looking for a way to streamline the process, make moving easier and reduce those stress levels, these top tips are a great place to start:
Make use of a proper labelling system
Whether you prefer to use colour-coding, you like it all written out in black and white, or little drawings are your thing, label every box. It will make it far easier at the other end to figure out what goes where and ensures you're not carrying boxes upstairs that are meant to be for the kitchen – or vice versa. If you can agree on a label system ahead of time, it will also be far easier to pack things together that are relevant for specific areas. It might seem like a good idea at the time, but no-one really wants to get stuck in on the other end to find the TV remotes and bathroom bits shoved in with the kitchen utensils.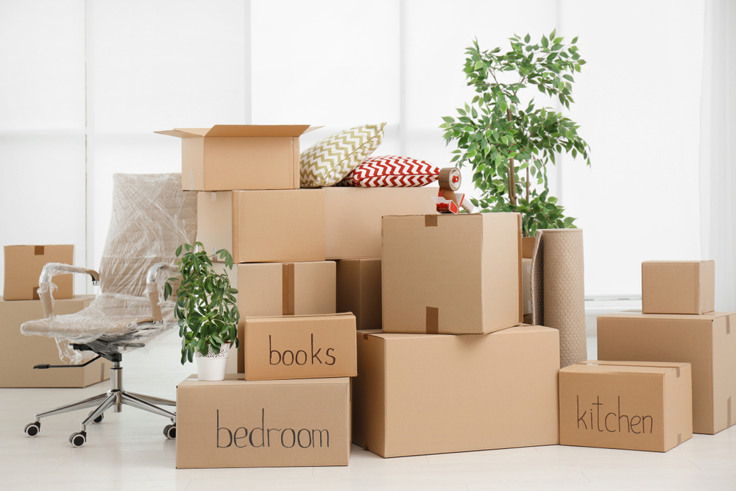 If you're bringing in outside help for moving, or even hiring movers, ensuring things are labelled as fragile, or this way up is also a must. It's easy to forget that others won't know what's in a sealed box, but to avoid the worst from happening then being liberal with your labelling is a great start. You can even go the easy method and colour-code your boxes with tape or stickers, if you're short on time or have a lot of packing ahead of you.
Opt for a storage solution
Not all moves are equal. Perhaps you're downsizing to a smaller, more manageable property. Maybe you're just moving temporarily, and you don't want to go through the whole packing and moving thing twice over. This is especially true if you have a lot of heavy but non-essential furniture or plenty of books and similar belongings to sift through. Choosing to store furniture isn't just sensible in those situations – it's a must to ensure sentimental or valuable items aren't damaged by moves that aren't required.
By moving furniture to storage before you begin your proper move, you'll be in a far better place to unpack and move in all the essentials — no need to worry about additional furniture that can be moved in at a later date. Storage solutions are also ideal for keeping particularly valuable, breakable or fragile items – such as paintings, ornaments or even jewellery – to make sure they aren't lost or damaged during a move. By having a safe space to keep the essential things, you have peace of mind that no harm will come to the items you value the most.
Take the opportunity to declutter
If you have noticed that you're moving, it's often best to pack gradually over a few weeks to ensure everything is done correctly. But with that kind of time on your hands, it's also possible to take the time out for a good declutter of things you don't want to take with you. By decluttering before your move, it's far easier to separate what you want and don't want before it's all packed to move – saving effort, time and the number of boxes in the process. There are plenty of things in the average home that we don't use from smaller kitchen appliances to old gadgets and tech.
If you're savvy and give yourself enough time, you could make some cash off the items you don't want. Old books, phones and tablets can all be sold online easily, while other items can be quickly and simply donated. Many charity shops that sell furniture can even pick up unwanted items directly from your home, reducing the amount of unwanted clutter in minutes. Why lug around a load of stuff you don't need when you can have a clean, fresh start out of your move?
Use the professionals
Nothing drives up stress faster when moving than trying to do it all yourself. There are plenty of professional services out there, so don't be afraid to reach out if you need a helping hand. While hiring a van for a straightforward move is easy for some people, for those with children or without the ability to carry heavy furniture items easily, bringing in movers is the right call. Thousands of people use movers to move homes every year, making the process easier and ensuring their items get there in one piece.
Professional moving services are designed to help get even unwieldy and heavy items, such as washing machines or fridge-freezers, where they need to go with no trouble. They also provide an easy and effective way to carry on packing while your possessions are being delivered to your new home, reducing the back-and-forth required for self-managed moving. For many people, this is a significant advantage to movers – and they certainly shouldn't be overlooked.
That's not to say that you shouldn't be actively involved in the moving process – if you prefer to be on top of it all, then taking advantage of what's out there is the best way to do so. Using storage services for furniture, decluttering, proper labelling and utilising movers are all ways to make the moving process more comfortable.
You can pick and choose which is right for you because there's no one way to move for everyone. If you want to move stress-free, these top tips are sure to help make it happen.