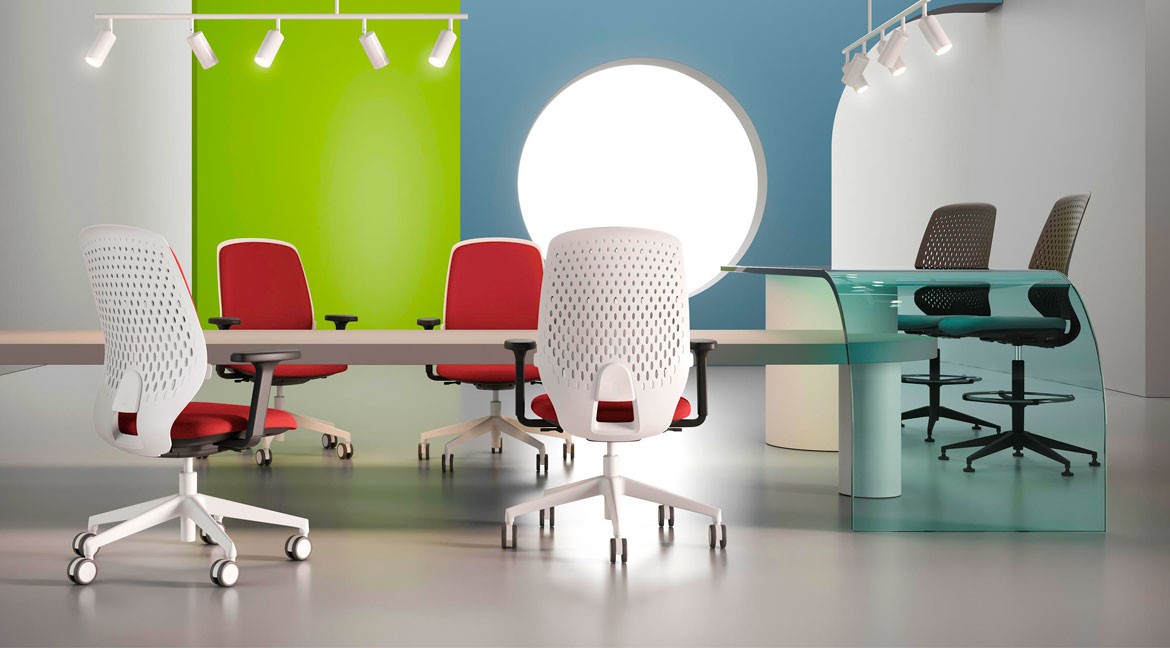 Creating an inspiring and comfortable workspace begins with choosing the right office chairs. As you embark on this transformative journey, there are several key factors to consider that will not only enhance your productivity but also elevate your overall well-being.
Comfort
Prioritizing comfort is paramount. Your office chair should be a sanctuary, enveloping you in a soothing embrace as you embark on your professional endeavors. Opt for high back chairs that support your back, neck, and shoulders. A high back office chair helps maintain a proper posture without straining your back.
Ergonomics Features
Ergonomics should be at the heart of your decision-making process. An adjustable chair that fits your unique body shape and size is a game-changer. Seek out an ergonomic chair with adjustable seat height, armrests, and lumbar support. This personalized approach ensures that your chair adapts to your body's needs, promoting proper posture and reducing the risk of discomfort or fatigue.
Adjustable Seat Height: Opting for chairs with adjustable seat height allows you to find the perfect level that suits your desk and body proportions. This feature ensures proper alignment, reducing strain on your back and promoting a healthy sitting posture.
Adjustable Armrests: Look for chairs with flexible armrests that can be raised, lowered or repositioned. This feature enables you to find the ideal arm support, reducing tension in shoulders and enhancing overall comfort during extended work hours.
Adjustable Lumbar Support: Having adjustable lumbar support in your office chair is crucial for maintaining the natural curvature of your spine. This feature provides targeted support to your lower back, helping to alleviate discomfort and prevent backaches.
Adjustable Headrest: Chairs with adjustable headrests offer extra support for your neck and head. You can customize the height and angle to find the most comfortable position, reducing strain on your neck muscles and promoting relaxation.
Tilt-Tension Control: Tilt-tension control allows you to adjust the resistance and ease of reclining in your office chair. It ensures smooth and effortless movement, enabling you to find the perfect balance between comfort and support.
Style
Style is another crucial element to consider. Your office chair should be an extension of your personality and professional image. Whether you prefer a sleek and modern design or a timeless and sophisticated look, choose a chair that resonates with your aesthetic sensibilities. By surrounding yourself with furniture that reflects your individuality, you create an environment that inspires creativity and fosters a sense of pride in your work.
Upholstery
Consider different upholstery options, such as leather, Leatherette, fabric, and mesh. Leather office chair exudes sophistication and offers durability, while Leatherette chair provides a vegan alternative for the same. Fabric office chair offers a wide range of colours and patterns, adding a touch of personality to your workspace. Mesh chairs are breathable and promotes airflow, keeping you cool during long working hours.
Durability
Durability is a factor to consider. Investing in a high-quality office chair guarantees longevity, allowing you to enjoy its benefits for years to come. Look for chairs constructed from durable materials that can withstand the demands of daily use. A sturdy and well-built chair ensures comfort and peace of mind, knowing your investment will stand the test of time.
Choosing new office chairs is a transformative process. By prioritizing comfort, ergonomics, style, durability, and ambience, you craft a workspace that reflects your unique essence and fuels your passion for success. Embrace the power of selecting the perfect chair, and watch as your productivity soars, your well-being flourishes, and your professional journey reaches new heights.