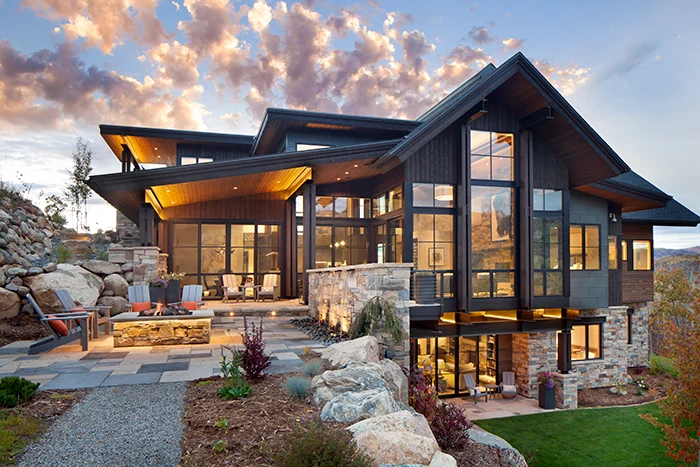 Gone are the days of compartmentalised living spaces; today, homeowners are seeking a harmonious flow that marries different areas while maintaining their distinct functionalities and aesthetics. This artful integration not only enhances the visual appeal of a living space but also nurtures an ambiance of openness and connectivity. So, how can one master the art of seamless transitions? Let's delve into the key elements that contribute to this contemporary design approach.
1. The Flowing Layout Symphony
At the heart of seamless transitions lies a well-thought-out layout that orchestrates the movement from one space to another. The layout serves as the foundation, dictating how spaces interact and blend. In modern homes, open floor plans are a popular choice. They fuse the kitchen, dining, and living areas, enabling effortless interactions among family members and guests.
When planning your layout, consider the functionality of each space and how they can naturally segue into one another. A smooth transition doesn't mean sacrificing distinct identities; rather, it's about finding the balance between unity and diversity.
2. The Palette Unison
Imagine stepping from a serene living room into a vibrant kitchen that feels like an entirely different universe. Such stark contrasts can disrupt the seamless transition you aim to achieve.
To maintain a cohesive flow, harmonise the colour palette throughout different spaces. This doesn't mean every room needs to be identical, but selecting shades that complement each other will create a more harmonious journey. Subtle shifts in hues can delineate areas without creating jarring shifts in ambiance.
3. The Flooring Continuum
One of the most tangible ways to manifest a seamless transition is through consistent flooring. The choice of flooring material can play a pivotal role in ensuring a smooth flow. Using the same material or complementary textures fosters a sense of continuity, visually connecting different spaces. Transition strips can be utilised where different types of flooring meet, providing a subtle demarcation that doesn't disrupt the overall aesthetic.
4. The Role of Interior Doors
While we marvel at open layouts, there are instances where interior doors step into the spotlight. These functional design elements contribute significantly to the flow and privacy of a space. Choosing the right interior doors is crucial – they should align with the overall design theme while serving their functional purpose. Opt for doors with clean lines and minimalistic hardware to seamlessly merge with the surroundings. A well-placed interior door can also serve as a transition point, gracefully dividing public and private areas.
5. The Lighting Connective Thread
Lighting is more than just illumination; it's a powerful tool for creating ambiance and guiding movement. Consistent lighting design throughout different spaces helps knit them together. Pendant lights or chandeliers can demarcate specific zones within an open layout, while a consistent choice of fixtures imparts a sense of uniformity. Natural light, too, plays a crucial role. Consider how it filters through spaces and how its interplay with different materials and colours affects the overall cohesion.
6. The Furniture Nexus
Furniture acts as both functional pieces and design elements that tie spaces together. When selecting furniture, consider the proportions and scale in relation to the open layout. Pieces that complement each other in style and colour can facilitate a seamless transition. Avoid placing large furniture items abruptly between spaces, as they can obstruct the visual flow. Instead, opt for furniture arrangements that guide the eye from one area to another.
7. The Power of Visual Continuity
Visual continuity is the glue that binds the different elements of a space together. Elements such as architectural details, like consistent mouldings or trim, can create a sense of unity. Similarly, repeated design motifs or materials can be strategically incorporated to maintain a cohesive narrative. This doesn't imply monotony; rather, it's about creating a visual language that resonates from room to room.
Mastering the art of seamless transitions is a nuanced yet rewarding endeavour. It's a journey that requires a delicate balance of aesthetics and functionality, where each space flows harmoniously into the next while retaining its unique identity.
Through thoughtful layout planning, colour coordination, flooring choices, strategic use of interior doors, lighting finesse, furniture curation, and a strong commitment to visual continuity, you can craft a living space that embodies the epitome of contemporary design. So go ahead, embrace the challenge, and embark on the exciting adventure of creating seamlessly flowing spaces within your modern home.