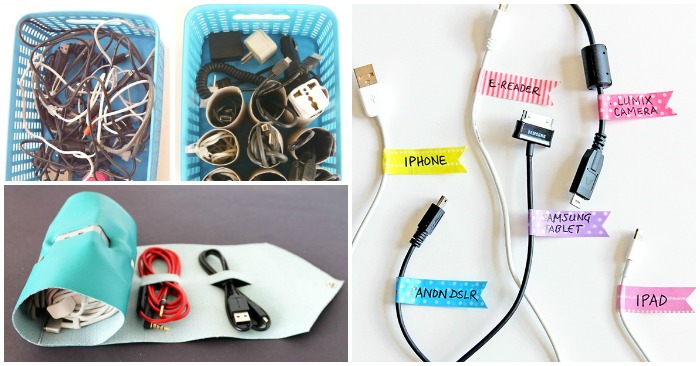 "Visible mess helps distract us from the true source of the disorder."
-Marie Kondo, Organizational Consultant.
Suppose the visible mess is keeping us away from introspection. Suppose that is what is keeping us away to our best selves. Then is the success that far? Can we not do so much for ourselves? We can, right?
We all work hard to make our houses look great, like reflecting on our style and personality. Anything that steals that look creates a little frustration, especially with having our workstations moved to our homes.
These days scattered cables and wires make it even difficult to work, and they, to be honest, also look hideous. This might reflect on our mental health as well. And soon after that, our productivity.
As we talked about decluttering and tidying up, check out other articles related to the same topic as five rules about the storage of clothes, simple tricks to fold them, and suggested home file categories.
Who knows, these articles might help you tidy up and give a trailer of the real source of disorder? May you identify the root obstacle and eradicate to unleash your best self on to the world 🙂
In this article, we will be sharing organization tips and storage ideas for cords and cables. Keeping them carelessly might look a mess. Not only that, but it also might affect the quality and longevity.
Taking care of things, keeping them properly, and giving each thing a home can help them stay a long and happy life, who knew right, hint we all did.
So, let us get to this.
Cable Cord Storage Ideas organization Tips
First things first, check all cables and cords for any damage. If there is any first let, go of them to avoid confusion and to make space. If you have not used some cord in a year, you will never let it go. Also, if you do not know what specific cords and cables do, then discard them too.
Do say thank you to them for their service and then let go; this may sound silly to many, and if you do not believe it, then do not do it. If you need to discard any working one, sell it in a garage sell, donate or give someone who might use it. And if they are not working, do not discard in the daily waste.
Cables and cords are electric waste and should be separate as they contain dangerous chemicals, like lead and mercury, and may leak or get exposed to animals. Give these out at recycling kiosks or any recycling services. Please make the effort of doing so, it is for your better future, and everyone is including your children and our planet.
Secondly, segregate. After letting go of the cables that are of no use to you. Make three boxes. Box 1- need these in my sight daily, Box 2- might need them in (semi) sight, Box 3- Rarely need this, let us put them at a safe place. Each box is self-explanatory.
But let us clear it with examples, box one might have a cord of charger and computer, box two has spare ones and the gaming pod cables that you need once a month or so, and box three has cables and cords you need when you host a Christmas party or the once a year needed long extension cable and so on. Of course, this was just an example, but you get the gist.
Thirdly, but these cables and cords cannot stay in boxes; we need to store them more efficiently, at least box one and box 2. Box one cable and cords would be in use most of the time in plain sight with the décor. But maybe we can directly find a place for box 3, somewhere we can reach and might not forget and use in time of need. So, this will depend on your house.
Also, subcategories within that box and label the bundles according to need, and you cannot also label each cable or cord-like shown in the picture. You can make these easily with any tape available at home. But if you want, you can also buy such products online.
Now let us get to unique storage ideas DIY and ones you can buy online. We have compiled the best online available online organizing products with sites and making some too with pictures you can refer to. Below are the ideas we think are most effective and can be done quickly.
Cable Name Tags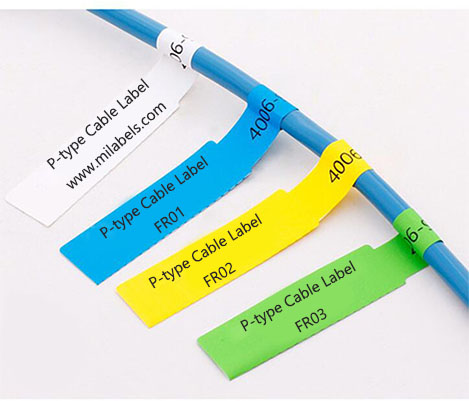 As explained above, this can be done for easy identification. It can be made at home itself or bought online. For all three categories, boxes 1, 2, and 3, this can be an excellent way to keep things organized.
To make it at home, you will require tape and marker. Leave about an inch tape the cable and stick the tape from the other side to the left one inch, in a way that the glued side is stuck to the glued side.
Now with a marker, write its use or something to identify. Keep the tag small. You can also roll it to keep it from folding or anything you can unroll and see whenever required.
Cable Storage Pouch
This can be used for cables or boxes two and 3or while traveling. This way, your cables remain safe, do not get tangled, and have all you need insight altogether—a perfect home for your cables to keep them looking pristine.
The excellent quality pouch will keep your belonging too in good shape and increase their longevity significantly. It looks stylish and elegant at home or while traveling. Alas, why let your traveling affect cables and cords? This assures their safety.
No products found.
Do it Yourself Cable Box
This is for people whose box three's list is long (but make sure you have sincerely done step one and discarded the unwanted in a safe environment if you have and you require these all). This is an excellent way to make use of some scarp. It's easy and does not require much material or time. This is how your box three can look.
The best part about DIY products is you can customize them as per need. If you require more compartments, you can add, and if you don't, you can use fewer compartments or smaller boxes to store, and there you go. You can also do this with box 2, but make sure it looks a little better and is more accessible.
Now let us find a place for frequently used ones and how we can keep them from tangling up or from spoiling the look of any space. Worst case scenario, the lying cables might hurt someone, especially small children and pets. They tent to put anything they find in their mouth.
So now, all the below solutions are for cables and cords that re frequently used and need some tending to.
Kit 1
Here is another right solution to your cable spaghetti problem. Four different sets of cable clips; in total, there are ten pieces. If these are cleverly placed around the house at dense cable traffic areas, the problem can be taken care of.
No products found.
Kit 2
This kit includes a wire box, a cable sleeve, four cable clips, and six bright colored Velcro cable ties to keep your day to day cable and cords organized and mostly out of sight. There are different colors available that you can check for yourself. This kit can be helpful in your in-house workstation.  
No products found.
Spiral wrap
This is an innovative solution to keep the cables safe and together. If you have an old spiral telephone wire, this is a piece of cake; it can also be done with mouldable wire. Or you cannot buy this online.
Too can use this in the backside of electronics. Some people use it openly for extension cables. After using pass the bundle from a safe corner or a wire box, make sure to avoid tripping incidents.
No products found.
Tabletop Organizing Idea
This is easy to do the idea for your workstation at the home of the office or children's study table. Everyone has some of these clips at their home. It is just an alternative use to address an issue at hand.
Choose the idea you are comfortable with, or use multiple of them at different places, as all the ideas are addressing a different area. And that is how it is compiled and shared to cover most spots at home that face the cable and cord mess up the issue.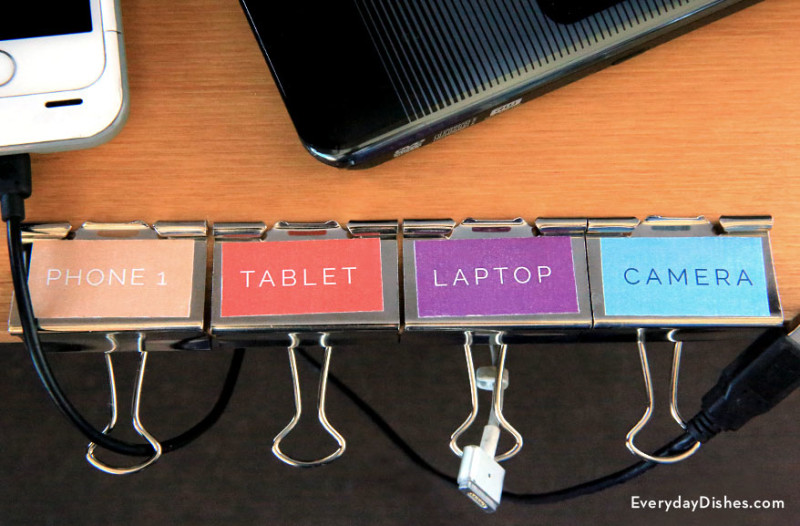 On that note, we would like to wind up this article about cable and cord storage ideas and organization tips. If we helped you learn something, please try doing this at home, and if you declutter further, check other articles.
We hope you found all this relatable and doable. The most common thing while organizing happens is the more significant the whole tiding up overwhelms most people, and they end up worrying more than organizing. Please divide your goal into milestones and take baby steps. And we assure with little persistence and chill attitude, and it can be done.
Happy sorting and organizing!