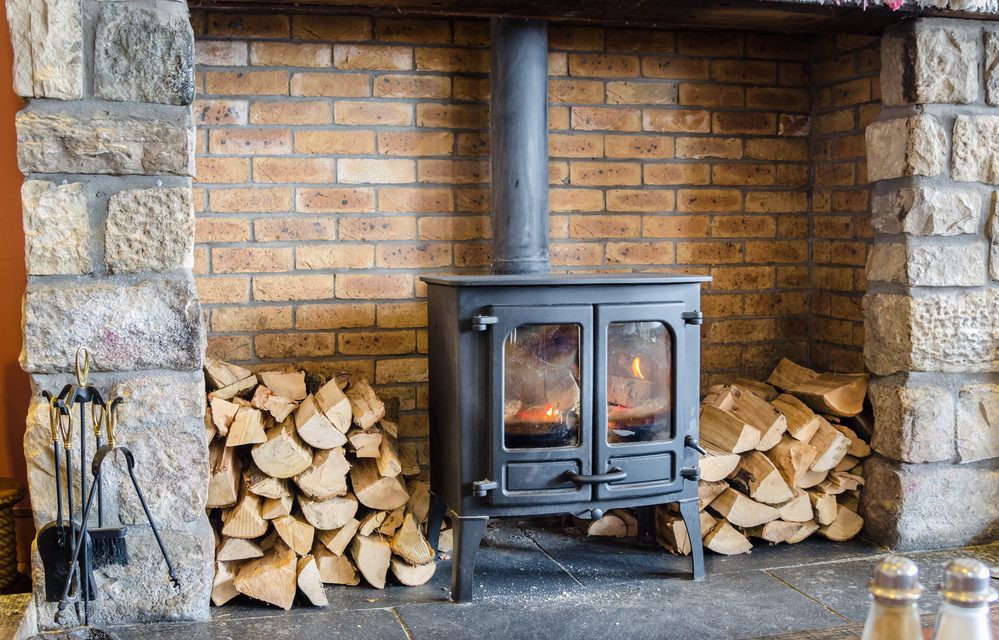 Wood stoves have been used for centuries to heat homes and provide warmth and comfort. Today, wood stoves remain a popular choice for homeowners looking for an alternative heating source. Whether you're building a new home or looking to update your existing heating system, this throwback heating source can still provide many benefits.
Why Add a Wood Stove to Your House?
According to Robert Maxwell of FamilyHandyman.com, "Wood burning stoves are self-contained heating appliances designed to produce indoor heat through wood combustion. Many sizes and styles exist, but the basic principles are always the same."
As Maxwell notes, there are more than 10 million wood burning stoves in American homes (which is far more than most people realize). And this isn't by chance. People choose wood stoves over other traditional fireplaces and even more modern heating sources for many reasons. Here are a few:
Cost-effective: Wood is a renewable resource and is often readily available and inexpensive. When compared to other heating sources, a wood stove can be a cost-effective way to heat your home.
Eco-friendly: Wood is a renewable resource, and burning wood releases carbon dioxide that was absorbed by the tree while it was growing. In comparison, burning fossil fuels like oil and natural gas releases carbon dioxide that has been locked in the earth for millions of years.
Independence: With a wood stove, you are in control of your heating source. You won't have to rely on electricity or natural gas, and you can heat your home even if the power goes out.
Coziness: A wood stove provides a warm and inviting atmosphere, making it a great addition to any living space. This "cozy factor" is especially important in more rustic homes, like cabins and mountain houses.
Helpful Tips for Choosing, Buying, and Installing a Wood Stove
Buying a wood stove isn't like buying a new coffee maker or jacket. You can't just pick one off the shelf and expect it to work for your home. There are plenty of considerations to take into account.
As eFireplaceStore mentions, "​​Not all wood heaters are suitable for every home and location. When choosing a wood stove, make sure that the models you consider meet applicable regulations and fire codes."
With that being said, here are some things to consider:
Size: When choosing a wood stove, it's important to consider the size of your home and the amount of heat you need. A stove that is too small will struggle to heat your home, while a stove that is too large will be less efficient and may heat your home unevenly.
Type: There are two main types of wood stoves: freestanding and insert. Freestanding stoves are designed to be placed in a room and typically provide more heat. Insert stoves, on the other hand, are designed to fit into an existing fireplace.
Efficiency: Look for a stove that is EPA certified and has a high efficiency rating. The higher the efficiency rating, the more heat the stove will produce with less wood.
Installation: Installing a wood stove can be a complex process, and it is important to follow all local building codes and regulations. Consider hiring a professional to install your stove to ensure it is done safely and correctly.
Ventilation: A wood stove requires proper ventilation to function safely and efficiently. Make sure to choose a stove that is compatible with your chimney and ventilation system, and that meets local building codes.
While it is possible to vent certain types of stoves directly to the outside of the home using a vent pipe, other types of wood stoves work better with a chimney. It's best to speak with an expert before deciding on the ideal option for your home.
EPA Regulations: Because of the number of wood stoves in the United States, the EPA has cracked down with strict rules and regulations to ensure pollution and emissions are minimized. As of February 2015, all "newly manufactured" wood stoves are required to meet a maximum standard of no more than 4.5 grams of pollution per hour.
More recently, a newer and even stricter standard went into effect on May 1, 2020 that reduced the maximum allowable pollution to just 2.0 grams per hour. (If you're buying a new wood stove, the manufacturer is required to meet these standards.)
Choosing the Right Wood Stove
If you're looking for a cozy solution to keep your home warm and you put a great deal of emphasis on functionality, a wood stove could be a good fit for your home. Just be sure you take all factors, including size, efficiency, ventilation, etc. into account before making a final decision.