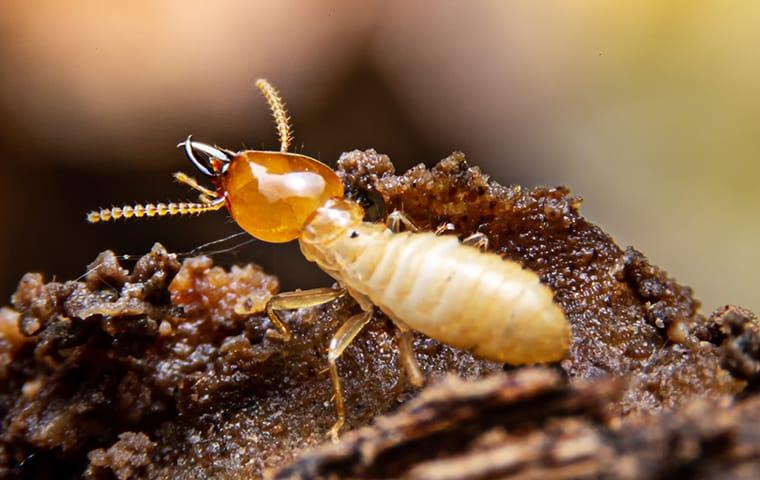 Subterranean termites love eating the cellulose in wood, and to them, our homes are no different than a fallen log in the middle of the woods. They're just doing their job as one of nature's most organized decomposers. But that doesn't mean you have to roll out a welcome mat when a colony of subterranean termites comes marching up to your residence.
Let's take a dive into how you can keep those subterranean termites from invading your home and setting up shop in your wooden structures…
Why Do Termites Want to Invade My Home?
Subterranean termite colonies are always searching for new food sources to help their colony grow. But when they encounter the foundation of a home, they'll start exploring along the edges of that home until they find a suitable food source, or a way inside. Should your home's foundation have any cracks or if there's a pipe opening that hasn't been properly sealed, the foraging termites may decide to investigate in their continuing search.
But even if there is wood inside your basement or crawlspace, it's really the moisture in your lower-level space that's encouraging them to look around. It's when they come across the wood that they will then choose to stay.
This brings us to the matter of preventing subterranean termites from invading your home: deprive them of the moisture they love!
Stopping The Termites
For subterranean termites, the best way to prevent them from entering your home is to ensure that your home is free of moisture-related problems. These termites hate dry places, and they tend to shift their foraging efforts to areas that have higher levels of moisture. Subterranean termites rely on soil moisture to stay safe and survive—if they ever need to leave the moist soil, they will even build mud tubes to maintain the right environment for their foragers. This is why it is important to keep your home foundation maintained and your lower level dry to deter any curious termites.
Should your foundation have any cracks, they can become places for outside moisture to seep into your home and create an attractive environment for subterranean termites. Foundation damage and groundwater intrusion can create the perfect combination for termites to move in—by addressing these problems, you can close the doors on any termites looking for an easy place to grow their colony.
Whether you have a basement or a crawlspace, waterproofing measures can help you control the level of moisture that's in your home, ensuring a comfortable living environment for you and not for the termites. Meanwhile, repairing your foundation of any cracks will help block potential points of entry for those termites. While the best way to deter subterranean termites is to block means of entry and to maintain a dry environment, the next question is how to go about it. That's when you should consider consulting with a professional in foundation repair and waterproofing. A home foundation repair company can offer a variety of waterproofing and foundation repair services that can defend against the multiple ways moisture can invade through your foundation.
How You Can Protect Your Foundation and Lower Level from Moisture?
When getting your basement or crawlspace waterproofed, it is important to have your foundation cracks repaired and the right waterproofing measures in place. Here are some products that are often used in waterproofing to control the levels of moisture around your foundation and to prevent groundwater intrusion:
Drainage channels
Waterproofing membranes like plastic liners
Sump pump
Dehumidifiers may also be utilized to help control the humidity within your lower level. With a professional waterproofing solution in place, the termites won't be able to find the moist feeding zones they need in your home—and that's if they can even find a way in after you've had your foundation cracks repaired and filled in.
There are some other measures that you can take to improve your control over your home's moisture levels. These measures can help reduce the amount of rainwater that ends up sitting against your foundation:
Improve the grading around your home so that rainwater slopes away from your foundation.
Extend your downspouts so that rainwater is deposited further away from your home.
Clean your gutters of debris
With these measures, you can help reduce the chance of water causing trouble for your foundation and seeping into your lower level.
Lock the Termites Out with '58 Foundations Home Foundation Repair
Every year, it is estimated that about $30 billion dollars of damage is caused in the United States by termites! Rather than having to go through the stress of repairing your home after a termite invasion, you probably want to prevent the termites from getting inside in the first place. Termites need moisture to spread and survive, and they focus on foraging in areas where they detect that moisture. '58 Foundations offers a variety of foundation repair solutions along with our patented waterproofing system! We've been protecting home foundations and lower levels from moisture problems since 1958. With our long-historied expertise, we'll be your shield against the moisture that attracts termites.