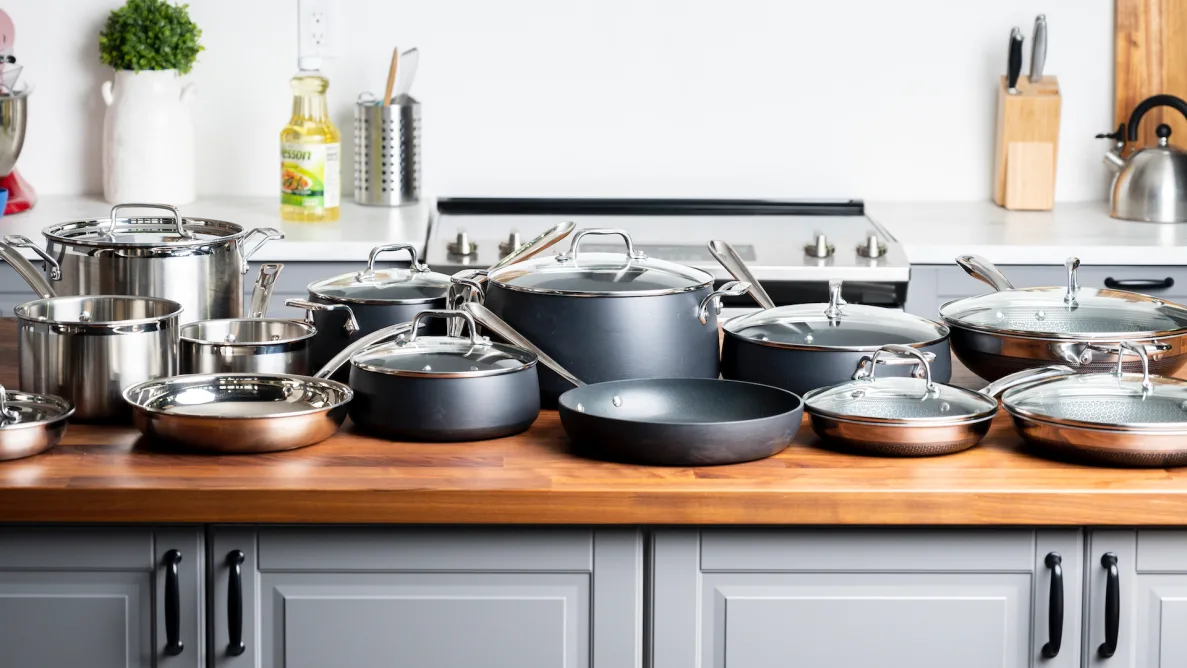 Saudi Arabian cuisine is influenced by the surrounding countries such as Turkey, India, Persia, and Africa. Some of the popular dishes are Kabsa, Mandi, and Tandoori Bread. Sides include yogurt, hummus, fruits, and dates. The country has a rich coffee culture dating back to as early as the 15th century.
The e-commerce industry in Saudi Arabia is highly sophisticated, with food and personal care items contributing about 21% of online sales. One of the most popular categories of online sales is a cookware set. If you, too, are looking to get cookware for your new kitchen, this is how you can find the perfect set.
Sets Vs. Singles
You may be wondering if purchasing a set is better than purchasing single items. A set will have an assortment of pots and pans color-coordinated, made of the same materials, and give your kitchen a uniform look.
Therefore, going for sets makes sense when setting up your new kitchen. That said, groups usually have about three pots and one pan. If you think one pan is not enough, you can purchase an additional pan that matches your chosen set.
Cast-Iron Vs. Non-Stick
The materials of your cookware depend on the cooking method you use most. If you want to sear meats and vegetables, then an iron skillet would work wonders, but delicate items such as pancakes, scrambled eggs, and fish will need a non-stick pan.
While a non-stick pan offers no-stick easy transfer from pan to plate, it can wear out quickly as the non-stick coating starts to wane with wash. Cast-iron pans take time to heat and stay hot for a long time after being away from the flame.
Therefore, you can roast, bake, and sear through meats like beef. They are also great for frying. They are also cheaper than non-stick ones.
Stainless Steel Vs. Copper
Being ovenproof makes stainless the choice for dishes that start off at the stove and end up in the oven. They are highly durable and take a lot more punishment than non-stick ones. Often used in restaurants, they are easy to clean. Also, these pans heat evenly and give you a wonderfully brown sear on your steak.
Copper pans are made for delicate cooking such as melting sugar, caramel sauce, candy, and cooking seafood and fish. Since they conduct heat very well, they heat and cool quickly. The opposite of cast-iron pans allows you to bring sauces to the right temperature and then turn off the heat to cool them immediately. Though the most expensive, they are great for delicate work such as melting chocolate or butter.
Consider Lids
You may not think of it much when purchasing pots and pans, but a glass lid allows you to monitor the dish without removing the lid. When you remove the top, you let the heat out and cool the pan. Therefore, a glass lid is excellent.
If looks matter, then you should consider tops that match the pot. Some sets come with glass lids, while others have tops of different materials such as ceramic or steel. Thus, a ceramic lid will look great on a ceramic pot and a steel one on a steel pot.
Look At Handles
Another neglected aspect when purchasing cookware is the handles. Metal handles can heat up if the pot is used for long durations. A silicon coating can handle the heat and stay cool to the touch. Wood handles also do not heat up and allow you to control the pots and pans without mitts.
Have A Budget
Prices can vary depending on the brand, materials, quality, and number of items in the set. Usually, the utensils complement the cookware, so you can expect to get nylon-coated spoons for non-stick pans and wooden spoons for ceramic ones.
You may also get great deals that include freebies like stirring spoons, ladles, spatula, and others that complement the collection when you shop online. It makes setting up your new kitchen easy, as you don't have to get spoons separately.
Check Number of Items
A seven-piece set will mean that you will have four pots/pans and three lids. Don't expect to get seven pots/pans. Therefore, check the number of pieces before you order.
Setting up your kitchen is an experience in itself. It requires excellent planning as the cookware set you use should be compatible with your cooking style, while they look great, last long, and are within your budget. These pointers should help quicken the decision-making process.