It might still be rather chilly where you live, but spring will be here before you know it and, with it, warmer weather. As the temperature rises and global pandemic issues hopefully reduce thanks to vaccines and other measures, we can start enjoying more relaxed backyard barbecues.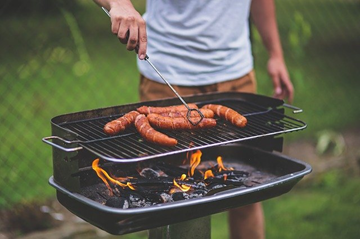 While these get-togethers for family and friends are more chilled out than a sit-down dinner, it's still wise to plan out your barbecues in advance. Follow a few straightforward steps to ensure your next outdoor shindig goes off without a hitch.
Provide Guests with Enough Notice
Even though barbecues are generally fairly casual events, it's still helpful to give attendees as much notice as possible about the date and time. Some people have to rearrange work schedules, hire a babysitter, or make other arrangements to be there, so the more notice you can give, the better.
Always follow up with guests to get their RSVP. Doing this will confirm everyone got the invite okay, and give you the information you need to plan regarding seating, food, and more. Plus, if you want to ask people to bring something to the barbecue, such as their own meat or drinks, it's best to give them advance warning.
Get Outdoor Areas Cleaned Up
When you're hosting people in your yard, you want all your property's outdoor areas to look their best. As such, spend some time getting these spaces cleared out and cleaned up before the day of the event. Make the site more appealing by decluttering. Get rid of unsightly or damaged items in your yard, such as old play or gardening equipment, broken statues and containers, forgotten sports gear, etc. This will reduce the chance of hazards for guests and give you more room to entertain.
You'll want to get your lawn looking its best, so mow and water it regularly in the lead up to your barbecue. You may want to fertilize it to help it become healthier and lusher, too. Keep in mind that if you don't have the time or inclination to do these jobs, you can hire a qualified lawn service in your local area to help you out. Also, spend time cutting back dead or overgrown branches and plants, and trim hedges to make your yard look neat and tidy.
Get Your Grill Ready to Go
A barbecue's key ingredient is the grill, so have this piece of equipment all ready to go before your party. Clean it and ensure it's in proper working order, so you don't have any issues on the day. Alternatively, if your current grill is on its last legs and will cost too much to repair, now might be a good time to invest in a new machine.
Plan and Prep
When you have guests at your home, you want to be able to socialize with them as much as possible, rather than running around in a panic trying to get everything done. Do as much planning and preparation as you can in advance, then, so you have more free time on the day.
Decide on your menu and create a detailed list of ingredients you need to buy. Double-check you have everything you require before the big day, so you don't have to rush out for a critical component as guests start arriving.
It pays to keep your menu reasonably straightforward, with dishes you've cooked many times before. Barbecues are seen as laid-back affairs, after all, so there's no need to get too complicated. Prepare as much of the food as you can before the barbecue. Some things you should be able to do the day, night, or morning before.
Handle Other Practicalities
Turn your attention to other practicalities well before your guests show up. For example, have a back-up plan for bad weather, such as a tent or other cover, blankets for if it gets cold, and even portable heaters or fans to help combat extreme temperatures. It's also helpful to have bug zappers and insect sprays on hand and sunscreen if you're hosting a day-time barbecue.
Your event will be more remarkable if you add some flair to your yard with decorations. It's nice to buy some bits and pieces to dress tables with. Also, use fairy lights and tea-light candles to set the scene for a night-time get-together.
Other practicalities to take care of include:
Creating a playlist for music and setting up a speaker
Designing some games, particularly if you'll have children in attendance
Setting up trash cans for people to put their trash
Follow the steps above to design a fun barbecue that you and your guests remember for months to come for all the right reasons.