Whether you're selling your house or want to maximize your enjoyment of time spent at home, a lush lawn is a good investment.
A green lawn adds immense curb appeal to any home and encourages outdoor activity, which in turn has many health benefits. Yet, watering and caring for a lawn can suck up to 2 hours out of your day, according to the latest American Time Use survey.
One way to reduce the work and increase the enjoyment associated with lawns is by installing a sprinkler system.
Here's how to harness the power of a sprinkler system to ensure lawn excellence in every area of your garden.
Why Install a Sprinkler System?
Apart from time savings, installing a lawn sprinkler system frees you up to enjoy your life. You needn't set aside hours a day for this time-consuming task, or worry about remembering to switch off your manual sprinkler after a certain amount of time.
Sprinklers eliminate human error when it comes to providing your lawn with just enough water for its needs. You needn't worry about one area of your grass going short of water while another becomes saturated.
In this way, sprinkler systems save water, which translates into lower utility bills as well as an eco-friendlier home.
If you decide to sell your house, prospective buyers consider these benefits, so a sprinkler system can also add appeal and value to your home.
It's important to note that you can cancel out all these benefits if you don't take the time to set up your sprinkler system correctly in the first place.
Things to Know Before Installing a Yard Irrigation System
Unless you've installed an irrigation system before, it's a good idea to get a landscape contractor to assist you with the task. These experts will ensure you get the best results as well as time and water savings for your efforts.
These are the things to consider if you want to get the most benefit out of your sprinkler system installation.
Soil Types
Conduct a soil test to find out what soil types occur in your garden and where. If you have sandy soil, any water will drain straight through it, while clay soil clings to every droplet.
Loam soil strikes the happy medium in between. So, it's best to work with an expert to improve the soil type in your yard before planting a lawn and installing irrigation.
Lawn Size and Shape
The smaller your lawn area, the less complicated your lawn system needs to be. Small lawns can get all their water needs from an above-ground irrigation system or soaker hoses.
Larger lawns need a more intensive inground sprinkler system set up according to the different zones in your garden.
The shape of your property determines the number and type of sprinkler heads you'll use in your installation.
Water Pressure
The water pressure on your property affects whether your sprinkler system will manage to irrigate the parts of your property furthest from your water point.
Your water pressure also determines the best type of sprinkler heads for each area of your property.
Choosing the correct connectors is important to ensure you save water, get the best benefit from your sprinkler system, and avoid unnecessary sprinkler repair.
Naturally, your budget also determines what type of sprinkler system you can install.
Types of Irrigation Systems
Some irrigation systems are extremely sophisticated, with hundreds of heads attached to an intricate system of pipes and wires, as well as remote control functionality.
Others operate much like your ordinary lawn sprinkler except you won't need to move the sprinkler head manually.
Regardless of the finer details, you should set up your lawn care system according to specific zones.  Different sprinkler zones require different sprinkler heads to ensure your lawn stays in prime condition.
Lawn Zones
The lawn rotor zone features both flower beds and lawn areas. Flowers and other plants have different water needs from your lawn. So, it's best to angle the sprinkler heads to avoid overspray into your flower beds in this zone.
A pop-up sprayer is best for flower bed zones. It's best to install these types of sprayers before you add plantings. In this way, the digging involved in installation won't disturb your beautiful blooms.
If you have an existing flower bed, a drip irrigation system is the least intrusive way to water your flowers.
Drier areas of lawn, such as those in direct sunlight, will also need more water than grass in shady areas. Sophisticated sprinkler systems can ensure that these areas work on a different timer to those requiring less water.
Common Sprinkler Systems
It's important to plan your irrigation system well to avoid overwatering any area of your garden. Overwatering is a wast of water and can harm your plants.
It's important to monitor and maintain your sprinkler system for maximum efficiency and install the correct type of irrigation for each zone.
These are your options when it comes to setting up your garden irrigation: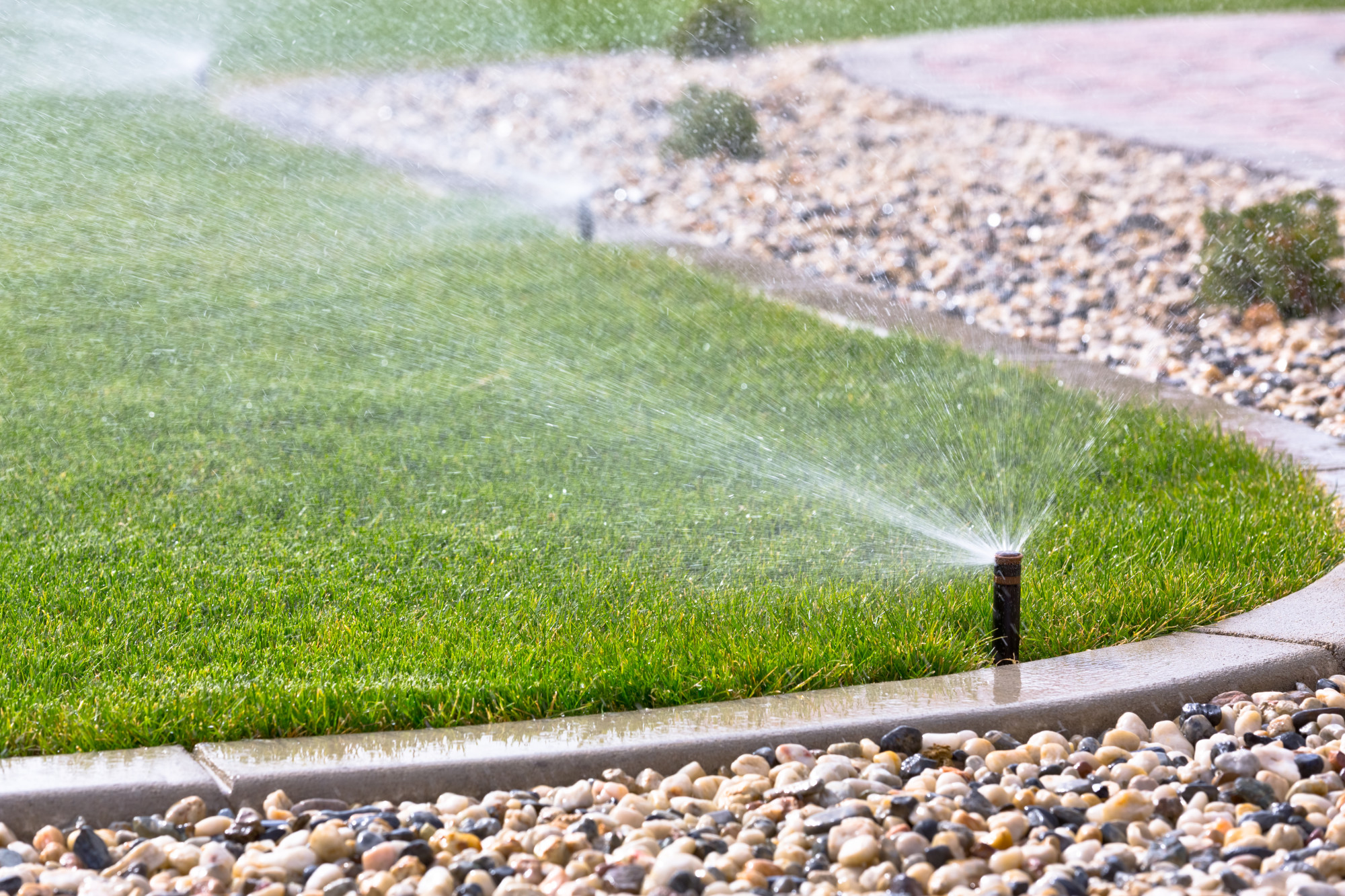 Soaker Hoses
These simple installations sweat water out of tiny holes along the length of a network of hoses. They work best for dense plantings in flower beds.
To avoid overwatering it's easy to attach non-perforated sections of hose in areas where you don't need or want to soak.
Since they rely on low levels of water pressure to operate, soaker hoses work best on level ground.
Drip Irrigation Systems
Drip systems are the best system for water-wise gardeners. They work similarly to soaker hoses, except they deliver more water at a time using bubblers, soakers, drippers, and micro-sprayers.
They're the best way to irrigate clay soils and avoid runoff since the soil has enough time to absorb this low-level irrigation.
Automatic Spray Systems
Traditional spray systems use a variety of heads to ensure waters delivered where and when you want it. You can adjust pop-up spray heads to spray in a full, half, or quarter circle.
It's important to install your sprinkler heads to that each head sprays to the next head, so every area of your lawn gets water. For maximum efficiency, it's important to ensure you install the same type of sprinkler heads on each line.
Rotor System
Rotor systems are more efficient than spray heads since they apply water at a slower rate to avoid water run-off.
Although rotor systems are most suited to large expanses of lawns, there are modern designs available for smaller patches of grass nowadays.
You can adjust the application pattern and radius of these sprayers to conform to oddly-shaped areas.
Additional Sprinkler System Features
Apart from soaker hoses, all irrigation systems need pressure regulators to ensure they function at their best.
Hose bib timers are important to shut off your sprinklers after a specified length of time.
Rain sensors, rain gauges, and soil moisture sensors are important water-saving innovations for irrigation systems. These accessories shut down your system if it starts raining and prevent it from starting up again until your soil's dried out sufficiently.
Avoid These Irrigation Installation Mistakes
It's not difficult to install a sprinkler system on your own but there are a few things that you can get wrong in the process. These mistakes result in inconvenience, extra costs, and unnecessary risk.
These are the DIY don'ts when installing a sprinkler system:
Digging Up Cables
Never undertake any excavation in your garden unless you know the location of your water, cable, and electricity lines. Always contact your utility company before you start digging. A mistake in this area could cost you your life.
Underestimating Your Trees
The root systems of trees can extend for meters beyond the base of the tree. Existing root systems can wreak havoc with your sprinkler installation ambitions. Growing roots can interfere with your waterworks down the line.
Chat with an arborist about how best to work around tree roots and which ones you can cut without harming your tree.
Not Flushing Your Irrigation Lines
Digging's a dirty business so you're bound to get some dirt and debris into your irrigation line when you install them.
Flush out all your lines and ensure the water's running clear before you attach your sprinkler heads. Even tiny particles in your line can cause blockages and malfunctions.
Poisoning Your Local Water Supply
In most states, you need to install a backflow prevention device in your sprinkler system. These innovations prevent any chemicals from your lawn and garden from seeping down your irrigation lines into the public water system.
A certified plumber can help you with this and provide the paperwork to prove you've done it.
Beyond a Lush Lawn
Most homes can do with a little TLC as trends change and your family grows, and creating a lush lawn is only one way to add enjoyment and value to your home.
There are always more ways to improve your home's appearance and functionality, both inside and out, keep browsing our blog for more great home improvement ideas to help you put your stamp on your home.