Having kids means giving them their own space eventually. That is, to give them a separate room and all the furniture that they might need. To keep it on point, one of the essential furnishings that must be in their room is a Dress-Up Clothes Storage.
Since it is about kids, having one that adults use will not work. Small children need something that gains their interest, and it is easier for them to access. This also includes the organization of the clothes storage in a manner that is easier for them to understand.
This is where this article comes to the rescue. The article will talk about various kinds of kids dress up storage ideas and organize the clothes in it.
Kids Don't Always Have Plain Clothes
Your child must have had asked for a fancy costume, for Halloween, or a fancy-dress competition. If not, he or she might have demanded a costume of some superhero they liked, or any other fictional character. If nothing else, kids are most of the time dressed in beautiful clothes with attractive colors.
Dress Up Clothes Storage Ideas
Starting with the list here is the list. Before beginning with it, there are a few things that must be kept in mind. Based on the specific requirements of each person:
Area of the room- How much space is available for the storage furniture.
Will the clothes and costumes be in an open setting (always visible) or not.
What variations of dresses are there at home, and what else may be further added in the future? This includes knowing what sort of material was used in some particular dress, whether the dress gets quickly wrinkled if it needs to be hung upright on a hanger, or which ones can be kept folded in a drawer.
Will, the kids have access to the drawer, or the storage is meant to be accessible only by the parents for the time being.
Remember, nothing is perfect, including the Dress-Up Storage that will be chosen. Each one comes with its own set of pros and cons. Balancing them and figuring out which one suits the user is the key and doing the best out of what is available.
Starting the list now: –
Classic Dress Up Storage Trunk
It is one of the most classic storage for keeping clothes, dresses, costumes, and more. It is quite simple and straightforward in its approach. No unique furnishing is required, as it can be made merely using any wooden box (DIY) or a plastic box that is big enough. Even stronger cardboard boxes can be used in some cases.
For pros, this one makes it easier for the little ones to access their clothes. They can put away or take out their clothes themselves only. While other storage options in the list below have a hanger system, it is not always suitable for kids.
That is because little children often rip off their clothes while taking them out from the hanger. Parents must help them with it most of the time. So, this one is best for those parents who want their kids to handle their chores themselves. If not that reason, this is still a classic, convenient, and best option.
No products found.
No products found.
Using Bags for Dresses
This is an additional tip that will help organize the dresses and costumes in the trunk. For this purpose, using separate bags for each costume is needed. Plastic zipper bags or plain bags are good enough for the job.
The main thing here is to always put the clothes back in the bag after use. Put in all the extra parts and accessories together with it in the bag. This way, the chances of losing parts of the costume get low. The con is that even the bags will not save the clothes from getting a little squashed inside the box. Ironing them before use is the only option.
Wall Hangers
This is just as it sounds. This one will require some extra wall space to make it look better. That does not mean it cannot be used on smaller walls. The task is simple; clothes are hung up on wall hooks. The central part is making creative hooks. A simple coat rack mounted to the wall can do them just as well. Using cardboards and stickers to make the hooks enjoyable, as in the image above, is a good option.
Free Standing Coat Rack
This Dress-Up Storage Option is like the previous one. The key difference is the use of a free-standing rack instead of the wall-mounted. The images below will show what is better.
The main thing to remember here is the height of the free-standing coat rack compared to the kids. The coat rack should be small enough so that the little ones can handle their dresses and costumes by themselves.
Otherwise, they will pull down the whole rack if it is taller. This is an optimum storage option as it always prevents the clothes from getting squashed or get creases. The racks can be made creatively beautiful by coloring them or adding props and such. Special standing racks for kids are available in the market as well.
No products found.
No products found.
Kids Dress-Up Closet DIY
If there is a requirement for enough closet space while keeping the clothes hanging and folding or keeping other accessories or kinds of stuff together, then a DIY closet is the option to go for.
This not only helps keep the costumes look nice, but gives enough closet space to keep the clothes in other ways or keep extra things or a souvenir, toys, and more- make the whole kids' dress-up storage option more creative.
To make it, using a shelving unit/ dresser will work. The drawers from the unit/ dresser will need to be removed, and then a rod for the hangers will be added, as shown in the image below.
Standalone Kids Dress-Up Storage Unit
No products found.
 While having a DIY Dress-Up storage can work just as well. There are several budget-friendly, standalone Dress-Up organizers available too. That is because not everyone can do the DIY stuff well, and messing it up means more loss. They can be placed anywhere and are easy to handle.
 Furthermore, these come with the option to hang the clothes and bins for other accessories. The accessories may include shoes, tiaras, and such. They can be bought online (links are given below) or from a store nearby.
No products found.
No products found.
No products found.
Using Tension Rod to Hang Costumes- Dress-Up Storage Option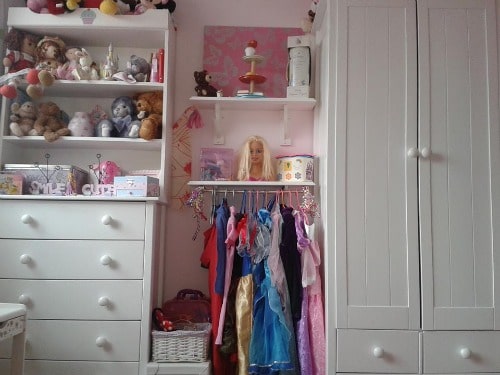 This is the method in which a tension rod can be attached, inside or outside of a closet, or anywhere in the room. The rod is then used for hanging clothes and costumes. The pictures given below will elaborate better.
Mounting Rain Gutters on Wall to Keep Shoes from Kids Costumes;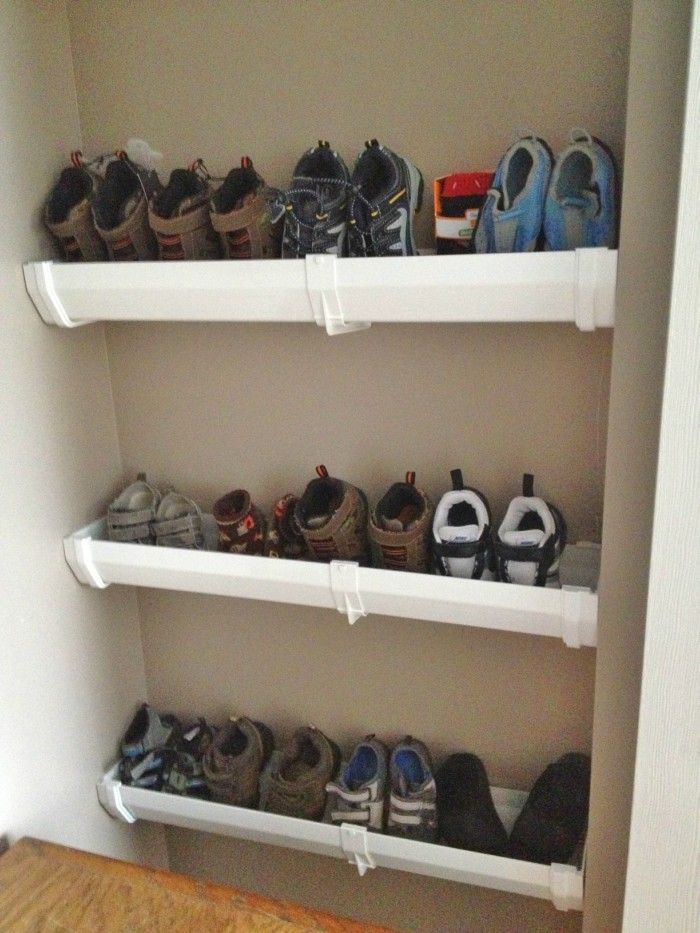 If there are lots of shoes for different costumes or dresses for the little ones, this option will help. This is because keeping the shoes or even other things like props, hats, glasses in bins is not always the right choice. Things can get mixed up amongst themselves and make it hard to find when needed. This rain gutter option is not that difficult to make.