Grilling has become a quite common fun-filled activity that people generally partake when having friends or family over for a get-together or otherwise. Though It is a serious business considering the amount of preparation and effort it takes. If you are in the market for a new grill you'll most likely come across two main options; Gas grills and propane grills. Now which one should you choose and why?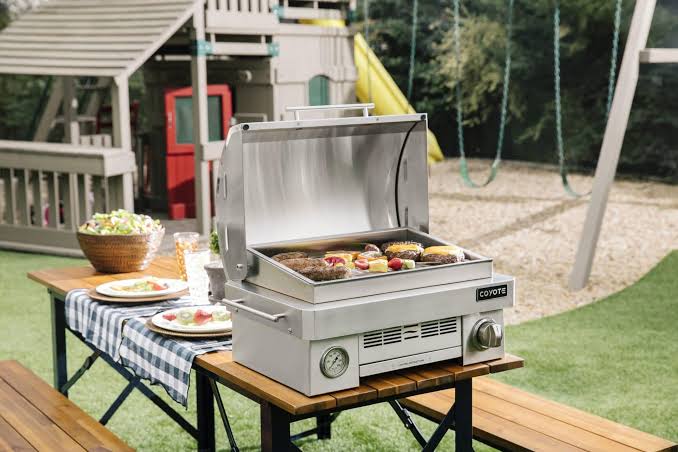 Both the grills will deliver you equally good grill flavoured food but there are certain differences that you should be aware of before choosing one over the other.
Now let's talk about both types of grills one by one and compare them against each other.
Gas Grills
Gas grills or commonly called as Natural gas grills use natural gas as their fuel. Natural gas grills need you to have a natural gas installation in your home which can cost you a good amount if you don't have one already. But once you have a natural gas installation it's pretty cheap to use the natural gas grill thereafter.
Propane Grills
Propane grills, unlike gas grills, use propane as their fuel. Propane has more energy as compared to its counterpart due to which it burns faster and produces more heat quickly. Faster healing is helpful in cooking the food more efficiently. Propane grills are much easier to operate and the majority of them are as easy as just turning a dial-up or down. Though albeit these benefits, propane costs more than natural gas in the long run and so natural gas grills are better for you if you are strict on your barbecue budget.
Gas Grills v/s Propane grills
As far as the quality of barbecue is considered, both types of grills produce more or less the same results so which grill you should go for mostly depends upon few other factors that we will be discussing below.
If you just do a search for best gas grill under 300 you'll find that most of the results compare these grills, not for their cooking abilities but rather certain other factors. This is so because the fuel of grill doesn't matter much as the other factors such as efficiency, cost and convenience do.
Convenience
Choosing the right type of grill is also dependent on how often you use it. Since propane grills use propane tanks, you'll need to regularly refill the tank which costs around $30 for a new tank and $20 for a refill. These propane tanks are easily available in local hardware stores. While in the case of natural gas grills, the gas needs to be supplied through a pre-installed gas line. If you don't have a pre-existing gas line then getting a new one installed just for a grill is not recommended and even if you do, it will not be cheap at all.
Moreover, even if you do have a pre-existing gas line and go for a natural gas grill, you'll have to hire a professional to install an extension outlet for the grill. Once the outlet is installed you will not be able to change the location of the grill. But this also has its upside as natural gas grills don't need refilling as their counterparts so you don't need to worry about the grill running out of fuel mid-cook.
If you plan to use your grill regularly and don't mind not being able to change its location then a natural gas grill is a good option for you whereas if you want to have the flexibility of taking your grill with you and don't mind filling it occasionally then a propane grill is a better choice for you.
Cost
In terms of cost, natural gas is cheaper than propane but since a natural gas grill requires an existing gas tank installation, it can be costly if you already don't have one. Even if you already have a natural gas connection at your home you'll still need to spend a slightly greater amount on a natural gas grill as compared to a propane grill. Moreover, you'll also need to install a gas connection outlet for your gas grill for which you'll need to hire a professional which will only add to your total costs.
Though the upside of owning a natural gas grill is that you'll save more money in the long run as natural gas is cheaper than propane and you will not need occasional top-up as required with a propane grill.
So if you plan to use your grill on a regular basis it's better to go for a natural gas grill. If you only need to use it occasionally then a propane grill with occasional refills will be a better option.
Efficiency
Using either of the two grills won't have a noticeable change in the taste of your food but the process might vary a little in either case. Since propane has more energy as compared to natural gas so it will heat your food more quickly and efficiently but this issue is compensated by most grills by widening the gas intake valve which increases the inflow of the gas making the heating process faster. So overall it has no or close to no difference in terms of the heating process.
So in terms of efficiency both the gases are equally good and since both gases have a low carbon footprint, they are considered eco-friendly too. So just on the basis of efficiency, you can choose either of the two types.
Conclusion
buying a new grill will always present you with two options, either a gas grill or a propane grill. You need to choose among these two given your priorities and requirements. If you already have an existing gas tank connection and plan to use the grill regularly, it is advised to go for a gas grill. Whereas if you don't have a gas connection or don't plan on using your grill that often, then its better to go for a propane grill.