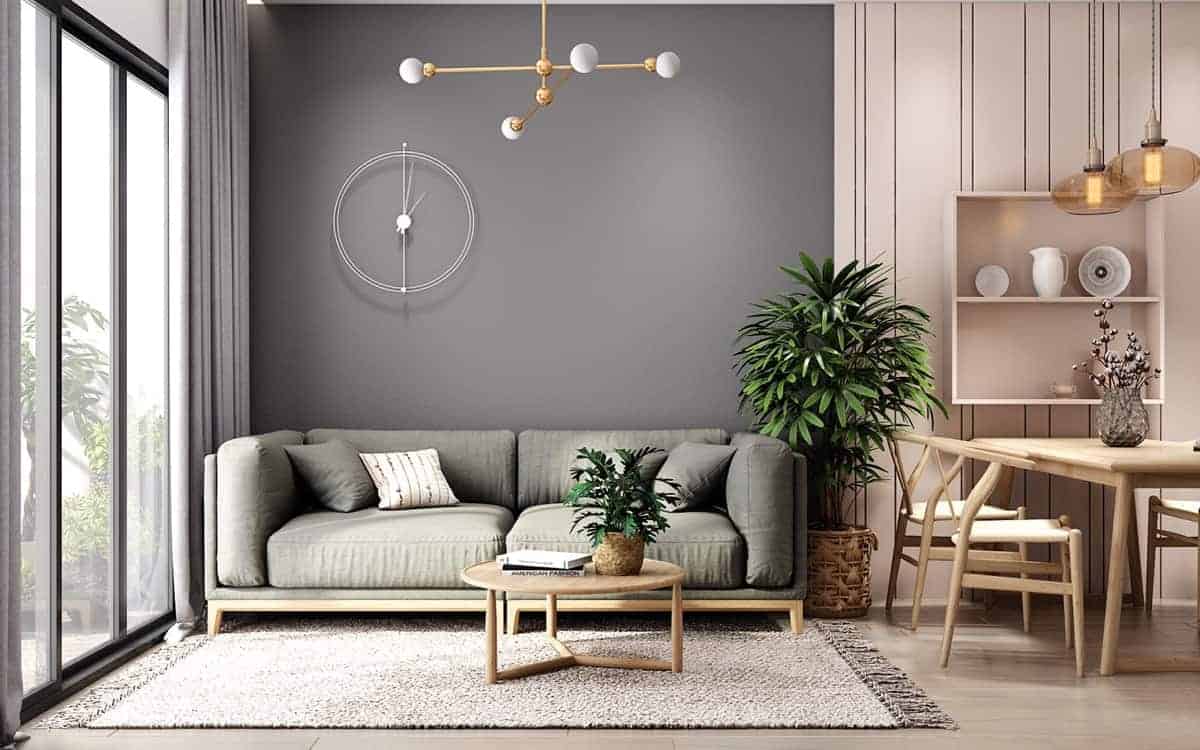 Whether you're looking for inspo to redecorate your home or simply just like to see what's hot and what's not, We Buy Any House have picked out some of the most stunning interior design trends that we're seeing this year and looked at how to replicate them at home!
1. Indoor plants
Having plants inside has been a popular trend for a while, but it's become so much more since the pandemic struck last year. At first, it was a wonderful way of bringing the outside in to feel less trapped while in lockdown, but after a while, it also became an excellent opportunity to add structure into our lives by looking after them, especially for those who weren't able to work as normal.
This trend is a personal favourite as you can make it work for you – if you're not particularly green-fingered, you can look at big, leafy monstera or a snake plant that only need watering every week or two, making them easy to maintain and very difficult to kill. For those up for more of a challenge, you can stray into succulent territory. Visit your local florist to see what they've got available and what plants you like most to bring into your home, adding pops of colour as well as helping to purify the air.
2. Archways
Arches have always been a classic feature in any home, but they're making a big comeback and getting a huge amount of attention. Archways are a great way to add space to a smaller home when used instead of a doorway, giving a more open plan feel to a property as well as making it look softer with the curves compared to the blocky rectangular shape of most doorways.
Archways are also a great way to introduce more natural light and space into a house, in place of doors that would often be closed and block it out, making the place look brighter and larger. Arches don't always have to be in place of doors, though – they also make alcoves look stunning, providing space for shelving to offer more storage in a more innovative way.
3. Handle-less units in kitchens
The desire for sleek, smooth homes is very popular across the country, and kitchens with handle-less units are the perfect way to achieve that. It makes the cabinets look larger, keeps them cleaner and gives more of a flow than kitchens with handles – all things that most homes are looking for.
It also stops the risk of slamming cupboards as they are generally magnetic or mechanical, reducing the risk of damage and unnecessary noise as well as looking incredibly streamlined. This is a perfect trend for minimalist houses and makes a huge difference compared to those with handles.
4. Bright and bold bathrooms
Before now, most bathrooms were all-white, moving away from the older trends of avocado or rose-coloured suites. Now, we're seeing a change in our bathroom goals, with white still being a popular option but with more of us branching out and welcoming in colours that we previously wouldn't have dreamed of having in the bathroom.
The biggest surprise is the appearance of black in so many bathrooms – and how beautiful it looks! The key with introducing black is to have a gentle hand and not go over the top, as this will make the room look smaller and can be off-putting. Focus instead on adding black features, such as the radiator, the shower-frame, and accessories like towels and soap holders. Black contrasts perfectly with white but isn't the right choice for everyone, which is why other colours like pink, yellow, and green are also creeping in to spruce the place up.
5. Warm tones
Before now, homes have been primarily cool toned, with lots of white walls and grey flooring being the centre of attention. While we love these classic combos, warm-toned shades are coming in and giving a whole new feel to homes, and they look absolutely incredible.
Pinks, oranges, browns, and reds are all emerging in homes and transforming rooms, making them feel more welcoming while still keeping them spacious and bright. Warm colours are the perfect choice as we approach warmer months and provide a refreshing change from more monochromatic styles that we've previously seen.
6. Textures
There are lots of textures that we're seeing crop up in homes, especially in the shape of wooden touches. This can be introduced in both furniture and accessories, allowing you to bring it into your home in a way that suits you rather than feeling like you've got to replace all of your houseware to be involved.
The wooden texture works with both cool and warm tones, making it even more versatile and welcome in every home, but our personal favourite is seeing it paired with deep colours, like black or emerald green, to really make it stand out.
With plenty of trends to choose from and personalise to your own taste, now is the perfect time for a refresh of homes, and we can't wait to see it!