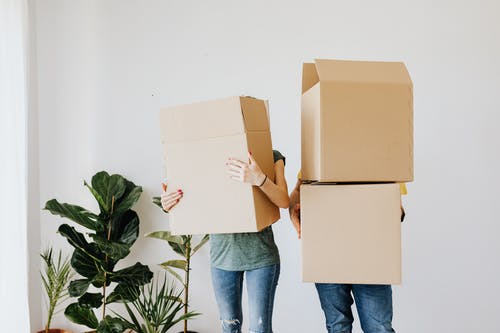 Moving to a new house is far from a piece of cake. Not only does it require you to pack all your belongings and transport them to another location, but also settling to an unfamiliar location. Regardless of what reason one is moving, the whole process can be mentally draining and physically exhausting. You have to be mentally alert and keep track of things while ensuring that you pack carefully and not leave any valuable thing behind.
Many people dread shifting to a new place as it is strenuous and can be emotionally draining. Sometimes they find themselves in place when there is no other way, and they have to make a move. Experts have given several pieces of advice on how people can care of a few aspects to complete the complicated task of shifting a breeze.
Below we are listing some Dos and Don'ts of moving to a new house that can help you in making the process a little easier:
1. Book Moving Company
Moving to a new house can be heavy on the pocket, and people try to save as much money as possible. You may feel the temptation of taking help from a friend or family member to shift your belongings. It might save you some bucks, but you must know that moving heavy things with the help of unprofessional movers can harm your valuable possessions. It would further lead to charging additional costs.
On the other hand, movers have proper tools and equipment, and they can lift heavy things. They have experienced professionals and can handle even delicate items carefully. You must do your homework and research before booking movers and reserve one who has a reputation for providing exemplary service. Inhabitants of New York City might search for a reliable or top-rated moving company NYC to benefit from their outstanding services. These companies ensure that the belongings reach the destination in their original condition.
2. Inspect the House
Before you zero down a new house, you must inspect it thoroughly to pinpoint the areas and things that need repairing. Moreover, some areas might be underlying and hidden, and you can uncover them while carefully inspecting the place. It is better to pay attention to scan the house before bringing your stuff to your new home. A vacant place is easy to check out, and you can do a thorough scan without bumping into things here and there.
3. Bring a First-Day Essential Box
Packing the first-day box can save you from the hurdle of going through and unpacking different cartons on day one. Keep a bag and have some granola bars, toiletries, some medicines, wipes, and tissue papers in it as they are the necessities. Perhaps, you may need them as soon as you arrive in your new home. Another tip is to keep the box handy and not give it to movers as the need may arise without any warning and when you least expect it.
4. Check Utility
Electricity, internet supply, and water are basic needs, and even a day without them is impossible. It is a better way to get the utilities a day or two before you plan to shift and recheck them when you finally shift. Once you have set the basic things up, now you can call a waste management facility and arrange garbage pickup for your new home.
5. Get Familiar with the Area
Settling into a new place and making an unfamiliar place home is difficult and may take a toll on people's emotional health. It is better to take rounds in the new locality and visit the local stores, nearby educational institutes, healthcare facility centers to get familiar with the area.
6. Don't Leave Valuable Things Lying Around
Most people mistake taking out all their possessions from the cupboards, lockers, and wardrobes while they go about their packing. When you shift to a new house, many people come into your house, and leaving your precious possessions exposed to others is never a good idea. You might find these people reliable, but it is better not to a chance and make your bid by keeping valuable stuff secure.
7. Don't Pack Fragile things without Bubble wrap
We all possess several delicate pieces, such as antique art pieces, fragile crockery items, fancy decoration pieces, or paintings. Packing them up can be a hurdle, but you need to be innovative and provide them an excellent packing of bubble wrap. A good amount of bubble wrap acts as a shield and keeps the fragile things secure.
8. Don't Pack Without Planning
Perhaps, the most challenging aspect of moving to a new place is packing. Putting up all the things you accumulated in years in cartons is, of course, difficult. People think that since they have to transport all of their stuff, they can throw everything in boxes and move them to a new destination. It would be best if you remember that another unpacking task awaits you in your new home. However, packing without a proper plan may land you in some difficult situations.
9. Don't Forget to Label Boxes
Shifting to a new place keeps your mind busy here and there, and you may feel exhausted keeping track of innumerable things. Some people overestimate their memory and think they can remember the boxes' contents and consider labeling cartons as added work. It is a huge mistake, and you may end up opening all boxes only to locate a pair of scissors.
10. Don't Miss Out Clearing the Outstanding Payments
Nobody would want to have someone chasing around in the new locality for a few bucks. Before you leave your previous house to settle in a new one, ensure that you have paid all the outstanding bills and do not have any delinquent dues. Clearing out pending payments is your responsibility, and associated people will not have any bitter memories about you.
Conclusion
Shifting to a new house is a milestone in life, and you can make it the beginning of productive things. Developing a checklist helps you keep track of your belongings. Besides, packing clothes in trash bags saves you from the hassle of folding and hanging, and doing a deep clean before settling in a new place ensures that your house is germ-free. Similarly, you need to take care of several aspects of your new home before bringing your things in to avoid future troubles. Thorough planning and preparation can make several complex tasks easy and make the arduous process a breezy one.