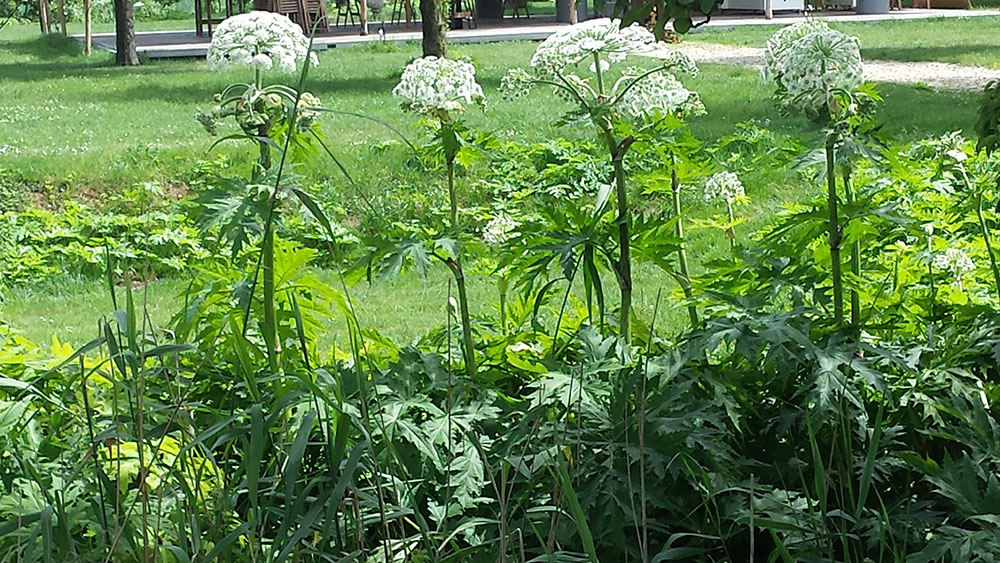 While most of the weeds we encounter on our lawn are not dangerous, that's not the case with Giant Hogweeds. Giant Hogweeds are perennial plants that can grow up to 5 meters when mature and produces umbrella-like giant flowers that are hard to ignore. They are not only problematic because they take up space of desirable plants and vegetation, suck up the nutrients, but they are extremely dangerous to human health as well. Thus, the question arises, how to remove Giant Hogweed?
Giant Hogweed is an extremely persistent and invasive plant, thus it is not easy to get rid of. Using a combination of manual, mechanical, and chemical treatments works best if management is carried out routinely.
In this article, we have prepared a complete guide on how to get rid of Giant Hogweed so you can tackle this problem on all fronts. Let's get started!
What are Giant Hogweeds?
Before we move on to Giant Hogweed removal, let's learn a little more about it. Giant Hogweeds are biennial or perennial plants that are highly invasive and battle out other native plants for their space and nutrients easily. They grow in cool and moist environments such as in meadows, in river banks, ditches, roadsides, etc.
Their mode of spreading is through seeds, and once released, they are difficult to control. Thus to remove Giant Hogweed plants, we need to tackle them before their germination period.
How to Identify It?
As Giant Hogweeds are poisonous in nature, it is your responsibility to avoid them as much as possible. Although they are very distinct in their appearance, we are still going to guide you on how to identify them.
In terms of height, a Giant Hogweed can grow up to 2-5 meters, even after being mowed down, it measures up to 30 cm. They produce abundant white flowers that form rounded clusters called umbels. Lastly, the stem is hollow and strong and covered with purple/red blotches.
Health Hazards regarding Giant Hogweeds
The main reason for Giant Hogweed removal is because they are poisonous plants. The stem and leaves of the Giant Hogweed consist of a toxic substance called furanocoumarins. When this substance comes in contact with the skin and sunlight, it is activated and causes burns and lesions to form on your skin. Within 24 hours, the skin reddens and excessive fluid is accumulated forming an edema, resulting in an inflammatory reaction by the next 3 days. These blisters can last for a few months up to years due to reactivation by exposure to sunlight.
Thus it is advised to consult a doctor as soon as possible when someone comes in contact with the sap. For immediate action, clean the area exposed to sap with a tissue, don't spread it. Then thoroughly clean your hands with soap and water and cover them to not expose them to sunlight or any artificial light. Immediate medical assistance is important as the skin damage if left untreated could be permanent.
How to Get Rid of Giant Hogweed
There are two ways you can get rid of Giant Hogweeds, either through manual labor or spraying the field with herbicides. Using a combination of these methods has also proven effective in tackling the poisonous weeds for the long term.
Using herbicides is the most effective means to control the spread of this weed but it is also time-consuming. The results are not immediate if the plants are mature. Thus, it is advised to spray your lawn at the beginning of their cycle, before the production and spread of seeds.
The other method involves disrupting the surface of the lawn and getting rid of any seeds or roots that are left behind. Both of these techniques together can completely eradicate Giant Hogweed from your lawn in a few years. Let's look at these methods in a little detail below.
How to Remove Giant Hogweed
Mechanical Control
Below we have mentioned some of the common mechanical methods involved in removing weeds from your lawn, these are all applicable for any type of weeds you encounter.
Seed/Root Removal
For root removal, if your plants are growing in a small manageable area, use a sharp rounded shovel to dig the roots and cut them. It is beneficial to cut the leaves of the plants before root removal if they have gotten huge to handle. Remove the cut parts from the soil and carefully place them in a disposal bag to avoid seed dispersal. Repeat the process for a few years if the weeds regrow.
To stop the spread of seeds, simply cut off the flower heads before they have matured. This will help you reduce the population of Giant Hogweeds, eventually killing them off completely. A pruner or knife is used for this purpose. Store the flower heads in a transparent trash bag and lay them under direct sunlight to kill off the seeds and then dispose of them.
Mowing
Another common method of taking care of weeds and for Giant Hogweed removal is mowing. Since grazing is out of the option, as animals are similarly affected by the sap as humans, and the health risk is too great. Furthermore, even with mowing, serious safety precautions need to be taken.
It is advised to not mow your lawn when the hogweeds are bigger than your mower or when they have flowerheads. Mowing should only be considered when the plants are small. It is also crucial that the mowed material should be removed from the lawn to avoid invasion. It is also important to remove the flowers before mowing your lawn and disposing of them as mentioned above.
Use Mulch
If an area is highly infested by Giant Hogweeds, the best and most effective method is to cut the plants and cover the area with newspaper, black plastic, landscape fabric, or any material that doesn't let sunlight pass through. Additionally, you can also add mulch on top. Keep an eye on it for a few years to see if seedlings are produced or not. If not, remove the covering and re-vegetate the area.
Chemical Control
As a last resort, using herbicides to treat and remove Giant Hogweeds is also an effective measure. By using a Glyphosate-based herbicide, you can kill the weeds off from the roots. This component sticks to the leaves and travel down to the roots, thus eradicating them. Make sure to apply spot applications, as the weed killer can be harmful to other plants.
All of these methods are effective, but as we mentioned above, for best results it is important to use a combination of them rather than a single method. These are persistent weeds and thus not easy to get rid of and will take a few years.
Precautions
Below we are going to share some tips and tricks which can be useful when dealing with Giant Hogweed removal.
After handling Giant Hogweed, make sure to dispose of the gloves or any safety equipment you used. Wash your clothes properly to avoid contamination.
It is recommended to spray on dry and warm weather.
Avoid spraying in rainy weather.
Seek medical assistance immediately if in contact with Giant Hogweed sap.
Conclusion
Giant Hogweeds can stay up to 15 years, thus a single treatment or method is not enough to remove them. They are highly poisonous weeds that can cause long-term damage to your skin, thus if your area is infested by it, it is important to remove them. The course of action to remove any type of weed involves identification, solution, removal, and then treatment.