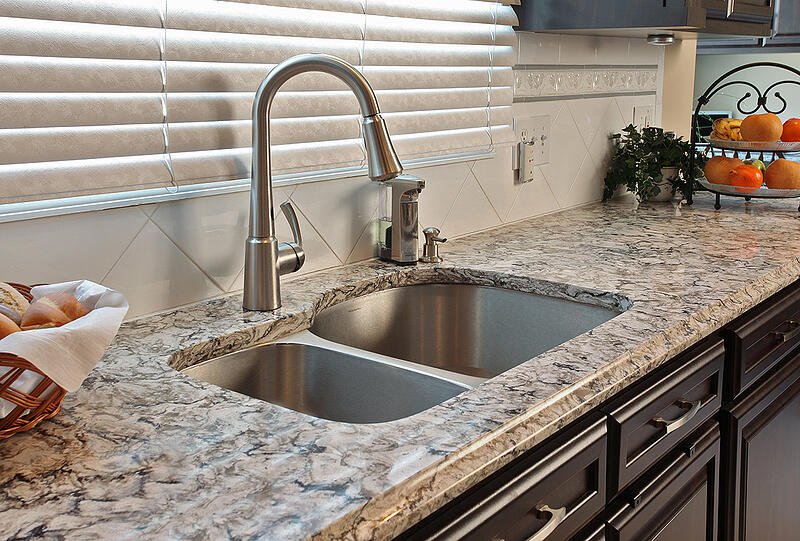 Your kitchen is subject to extreme heat pressure, moisture, and accidental spills every day. And that's why kitchen countertops have a higher probability of wear and tear and lose their original beauty. You cannot avoid the heat or stains in your kitchen, but you can certainly protect your countertops from turning old and worn out. After all, your kitchen is an integral part of the house, and you certainly do not want it to blot your otherwise perfect house.
However, getting new countertops installed at regular intervals is a costly affair. Hence the cheaper and smarter alternative is to renovate them and make them look brand new. When it comes to refurbishing your countertops, there are several ways to do so. In case you are running out of ideas, here is a list of the top five ways to redo your countertop and give your kitchen a stunning makeover.
Also, if you want to know about resurfacing countertops, Click here to see more.
6 Ways To Give Your Countertops a Makeover
Refurbishing your countertops is not as complicated as it sounds. Here are six ways in which you can renovate your kitchen countertops.
Apply a Fresh Coat of Paint And Seal
If you are looking for a quick and cheapest way to repair countertops, paint and seal are all you need. This method is apt for covering up minor stains and scratches. The fresh layer of paint will hide the blemishes, and the seal will restore its natural shine, reducing the chances of absorbing future stains.
It's also pretty affordable, and you can expect to get it all done within $2 to $4 per square foot. However, if you are looking to cover a bigger spot, you might need to consider other options.
Add a Layer of Laminate
This works exceptionally well for laminate kitchen countertops. If the blemishes and marks are too big to be hidden by paint and seal, getting an entirely new laminate layer is a wise choice. For this process, you will need to remove the topmost layer of the old laminate and place the new laminate on top of the existing structure.
You can either use cement or an equally strong adhesive to get it installed. This is a pretty affordable option, and you can expect to get it all done within $5 to $8 per square foot.
Add a Layer of Tiles
It is true that tiles are pretty common and bring in a generic look to your kitchen, but it is also relatively easy to install. Hence, if you have a little experience with these repairs and installation, you can do it yourself and save a lot on professional installation charges.
Tiles, being resistant to stain and scratches, are a good choice for kitchen countertop material. The only downside to having a tiled countertop is that it might crack under extreme heat or pressure.
Use a Concrete Skim-Coat.
If you do not want to go through the hassle of getting tiles installed, then another great option is to opt for a concrete skim- coat. It's an effective solution to get a silky smooth texture and hide all the scratches and blemishes.
Apart from being an effective solution, it is also one of the cheapest options to redo your countertops. Although the exact rate will vary depending upon your region, you can expect to get it all done within $1 to $2 per square foot.
Epoxy Coating
Another great option that will come in handy in renovating your countertop is epoxy coating. The most significant advantage of using epoxy coating is that it adds strength and durability to your counters, making them more resistant to abrasion and heat.
The epoxy coating can also be used to imitate and recreate granite looks. So if you want a granite countertop for your kitchen but do not have the financial means to afford it, you can opt for epoxy coating. However, if you go for resurfacing, only opt for reputable brands.
Make Your Own DIY Countertop
DIY hacks have gained substantial traction in each industry, even in the kitchen surfacing industry. If you want an out-of-the-box look, then create your own signature style. For this, you can get a concrete skim-coat and then grab some paint to create your own design.
Once you are done with that, apply a layer of seal to finish off the design. The best part about DIY countertops is that they look super fancy and yet are unbelievably affordable if done correctly.
Refurbishing Vs. Replacing: What Are The Benefits of Renovating Countertops
Deciding if you should opt for a replacement or renovation can be a tricky question for some people. Hence to help you decide, here are 4 reasons why you should consider renovating your countertop.
It's way more affordable. If you are on a budget, then renovating is an intelligent choice that makes your countertops look as good as new without burning a hole in your pocket.
It takes much less time to renovate than install new counters. After all, renovating requires you to add a new layer on top of an existing structure. However, replacement requires you to remove the entire structure and get a new one installed.
Depending on the kind of renovation technique you choose, you can even try to do it yourself. For example, with the paint and seal technique, you do not need to hire an expert. Just get new paint and polish and brush it all over the countertop. DIY techniques help you save a lot on installation charges.
Renovations add to the life of your kitchen counters and reduce the chances of sudden accidents.
Endnote
Running a household alone brings along a great deal of responsibility, and the only way to nail it is by effective financial planning. Homeowners are always on the lookout for cost-effective solutions to their home's requirements. And replacing countertops requires a considerable investment. That's why opting for renovation is always a smart choice. It gives your counter a brand new makeover and almost half the price.