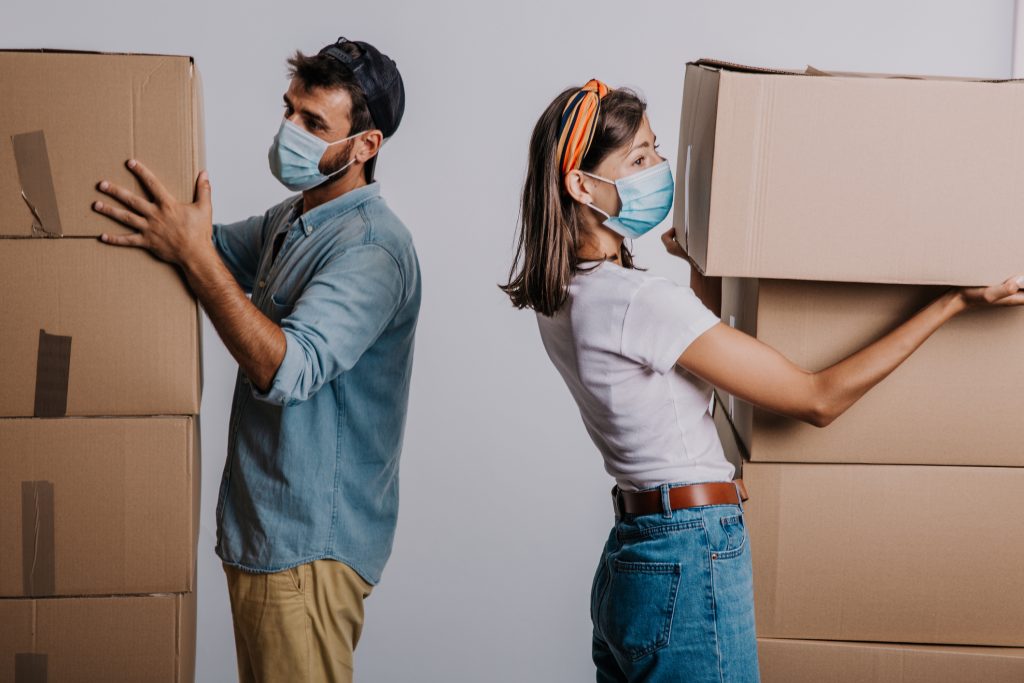 While states, cities, and countries are beginning to reopen while the pandemic and vaccinations are being distributed, there is still a risk of infection with the coronavirus.
Best practices — like washing hands for twenty seconds, wearing masks, and social distancing — should still be implemented, and doing so when moving is no different.
Whether you're moving on your own, renting a moving truck, or hiring a moving company, you must take the proper precautions to increase your safety.
Want to learn how to keep safe while moving during a pandemic? We've got you covered.
Are Moving Services Open?
While many companies have been affected by the pandemic, moving services are still available with new safety protocols in place.
According to these movers in Plano, safety measures that many moving companies are taking during the pandemic are virtual walkthroughs, social distancing, masks and gloves, smaller crews, and daily temperature checks to ensure staff members are healthy before arriving at your home.
Moving companies were deemed essential businesses when the pandemic began, so they've had plenty of time to adjust.
Keep in mind that not all moving companies offer their typical services, so ensure they offer what you need before you hire them.
Get a Head Start
It's no secret the pandemic has brought many uncertainties.
Life-changing events like weddings and cross-country moves have been put on hold or continuously rescheduled.
Because there are so many unknowns, there is no true way to piece together a foolproof plan.
The best option in prepping for a move during a pandemic is to give yourself plenty of time to make arrangements and have backup plans.
If you plan to hire a moving company, interview as many companies as possible to try to find the one that best fits your needs. Ask them what precautions they are taking and what restrictions to expect when working with them.
Your move may take longer than average due to the new safety protocols in place. Some moving companies are also functioning with lower staff, so moving dates may be more limited than usual.
Getting a head start on planning will give you the chance to make adjustments if anything goes wrong.
Making a DIY Move
Choosing to carry out your move without the help of a moving company will reduce your chances of catching or spreading the coronavirus but increase your workload; do what works best for you and what you feel most comfortable with.
If you need additional help, try asking close friends and family to help with your move.
Even around friends and family, it's important to practice social distancing and require your helpers to wear masks during the moving process.
If you're conducting a long-distance move, plan your route ahead of time; book hotels and eating arrangements as early as possible.
Renting a Moving Truck
Utilizing a moving truck will cost more than a DIY move, but it'll be cheaper than hiring a moving company.
Renting a moving truck will also decrease the number of trips you'll need to make for your move.
Many moving truck rental companies enforce cleaning protocols and limit customer interactions, like booking a truck and making payments online.
Ask the rental companies if entirely virtual transactions are possible to protect both parties.
Van or truck availability may be limited, so make sure to book your moving date and time in advance to avoid having to reschedule.
Also, make a note of any steps you may have to take before returning the moving truck.
Have a Safe Move
Moving is stressful enough, but tack on a global pandemic and it can become an even more daunting task.
Taking the proper safety precautions will make your move safer and less stressful.
Following the steps above will increase your chances of having a healthy move without hitting any setbacks along the way.