Did you know that your environment makes a big impact on your mood? Imagine sitting on a grassy hill in the sunshine – do you feel happy? What about if you were walking through a dingy and stuffy cave? No matter where you are, your environment is impacting how you feel in that moment, and your home environment is no exception. Since many of us have been spending a lot of time at home recently, it is important to realize that your home's decor and rooms have implications for your long term well being.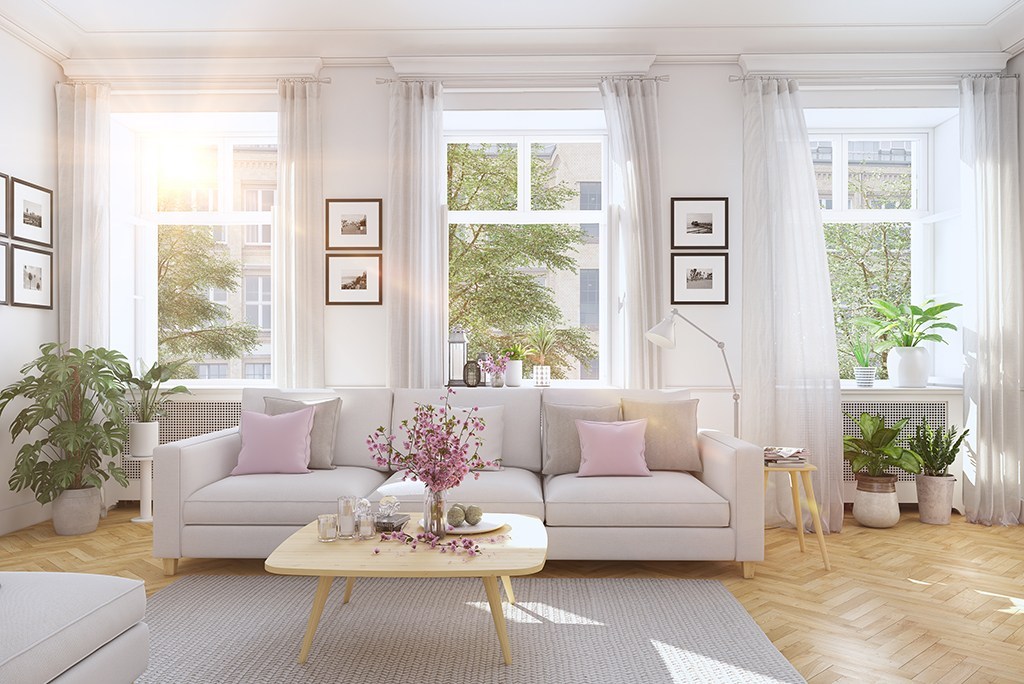 Interior design has always placed a large focus on how people feel when they enter a space. Through design elements such as colour, layout, focal points, decor, and furniture, a wide variety of atmospheres can be created. The psychological impacts of interior design are no secret, and this can be especially important for those who suffer from mental illness. The best part? You don't necessarily need to spend thousands of dollars or call in expert designers to change your home environment – a few simple changes can make a difference when it comes to bringing in the happy and sending out the sorrows.
So, what are the best ways to make a happy and healthy home through interior design? Below are seven tips to get you started.
Say Hello to Sunshine

Did you know that exposure to natural light can reduce stress and boost your mood? Your body produces more serotonin and endorphins (feel good chemicals) when exposed to light, and even just a small amount of time can make a big difference. Think about spaces in your home where you might like to have more natural light, and places where you want to control the light. The kitchen and living room are great places to let in as much light as possible, and the bedroom might be somewhere where you want to block out the morning sun. If the sun is not your thing, invest in some paper shades or blinds that block the sun's rays but still allow for natural light to filter in.

Colour is Important

When choosing the colour of your walls, furniture and decor, it is all about the mood that you want to set. Different colours are known to bring out different moods, so think about the feeling that you want your room to evoke while choosing your colours. Here's some colours that you can bring into your space for a relaxing and happy atmosphere:

-Blue: Light blue to create a soothing or relaxing atmosphere, vibrant blue for a more stimulating room.
-Brown and Tan: These neutral colours are great to warm up a room and bring a grounded feeling.

-Green: Light greens are comforting and soothing as they bring a natural calming feeling to a room. Green can also be paired with browns to feel more grounded.
-White: This is one of the best colours to make spaced feel more open, bright, and airy. Don't be afraid to use different shades of white, or a pop of colour.

While these colours are all great options, don't forget to include some of your favourite colours in there too. Having at least 20% of the room covered in a person's favourite colours is a great mood booster, especially for those suffering from depression.

Declutter

A cluttered home can reflect a cluttered or scattered mind, and this is not how you want to be feeling while you try and relax. Take some time to declutter your home, especially in the foyer or around your entryway. You want to reduce the chances that you feel crowded or overstimulated in your home, so explore some storage options or simply rearrange things to look neater and more organized.

Add Some Greenery

Having indoor plants is a great way to bring nature indoors, especially if you do not have a large outdoor space to enjoy. Indoor plants remove carbon dioxide and produce oxygen in your home, which helps increase the air quality and lower fatigue. They also work to remove toxins, lower stress, and create a generally happy ambience in a room. If you aren't someone that has a green thumb, don't worry! There are plenty of plants (such as succulents) which are easy to care for, and these make a wonderful addition to any space.

Think About Mirror Placement
It's no secret that a mirror can make a room look bigger, but it is all in the placement. If you find that your space feels cramped, invest in a mirror to help your room feel more bright and airy. Mirrors come in all different shapes and sizes which means you should be able to find one that fits your space perfectly. Remember not to place too many mirrors in one area as this can be stress inducing, especially for those who struggle with their self esteem.
Choose the Right Wall Decor

The right wall art can change the entire feeling of any room in your home, but this is especially true for your living room. Your living room is likely where you welcome guests and spend time with family, so you'll want the art in there to reflect your style and personality while also setting the right mood. There are a few things that you should remember when choosing wall art:-Keep the size of your room in mind.
-If you find small pieces of wall art or photo frames that you love, think about creating a gallery wall to showcase them all in one place.
-Be sure to match the colours of the art to the colours of the wall or furniture. Contrasting colours are fine, as long as they work together!
-If you are looking for a focal point, go for a larger piece of wall art.
-When hanging your wall decor, keep it at eye level and visually connect it with the rest of your space

If you still aren't sure what to pick, go for simple, neutral, minimalistic pieces as a starting point, and build your decor from there.

Make the Bedroom a No-Tech Zone

Technology is a major cause of restlessness and lack of sleep, so it is important to remove its influence in your bedroom. This is a space where you should relax and wind down after your day, so try your best to keep computers, television, cell phones, tablets, and other mobile devices out of your bed. If this is a challenge, try not looking at any screens for half an hour before bed, and see if you notice any changes in your sleep.
The next time you are shopping for your home, think about what will make you happy to see in your home rather than just going for items that are trending. You might be surprised at the difference a happy room can make on your mood.
Looking for more ideas on how to use interior design to make a healthy home? Pairing a custom home builder with the right interior design may be just what you need.