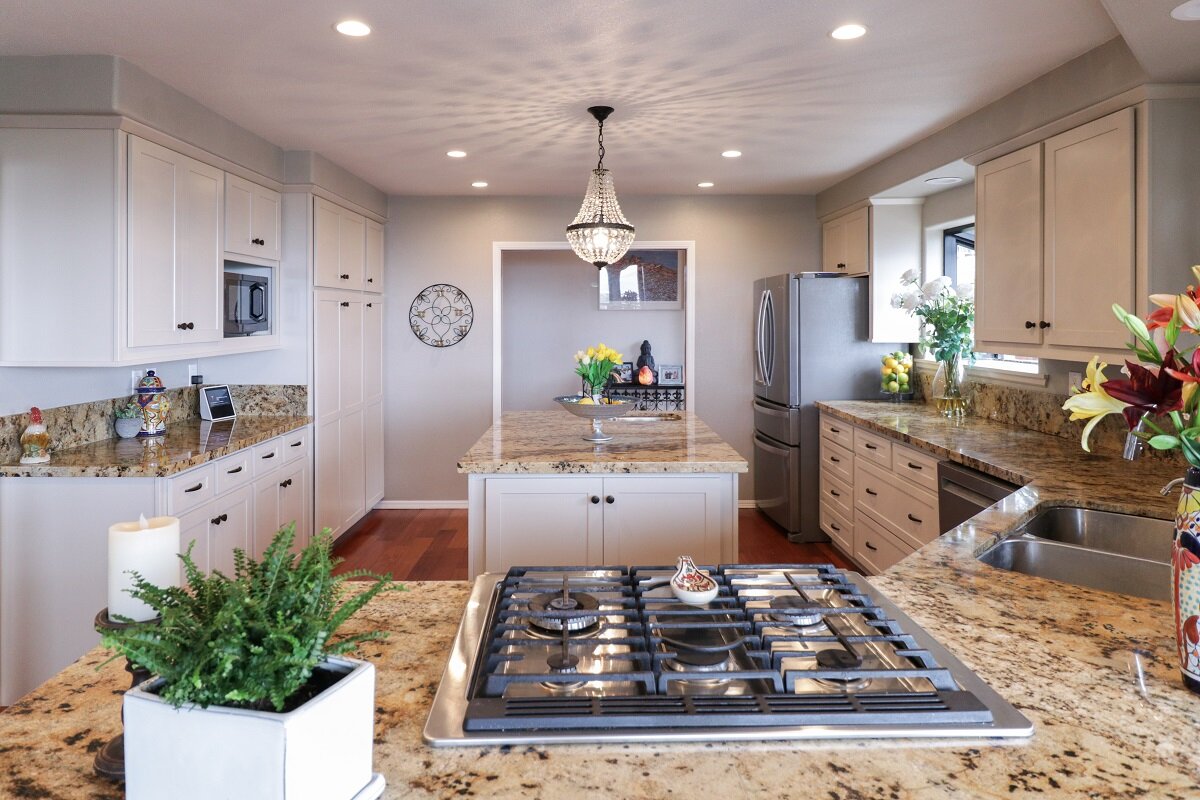 Your kitchen is often the hub of the home and most likely enjoys lots of attention, wear, and tear. There is not much better than having family and friends all sat around the kitchen table catching up, telling stories, or eating a delicious meal, and the design, space, and style of your kitchen contributes to that experience.
If you feel like your kitchen needs a bit of a makeover, then this piece is here to help you choose what is best for your kitchen to turn it into the most beautiful room in the house!
Create An Accent Wall
There is something so stylish about an accent wall, and it can really change the whole appearance of a room for something so simple. To create an accent wall, simply choose the wall you would like to stand out and then think about the colors and patterns you would like to use and make sure they match or complement the tone of the kitchen. For those who do not want to paint a wall but still want a splash of color, consider installing a vibrant backsplash instead, which will both freshen up your look and offer practical benefits all at the same time!
Upgrade Your Tabletops
Tabletops are one of the first things we see when we walk into the kitchen. Not only are they where all the magic happens, such as the coffee being brewed, the cakes being cooled, or the fresh vegetables and herbs being chopped, but they also set the aesthetic for the whole kitchen. If they look worn or run down, there is a good chance that it will bring your whole kitchen's appearance down to that level, even if you do have the most up-to-date appliances and gadgets. So, if you want to improve the appearance of your entire kitchen, upgrade your tabletops. Browse some stunning designs on Legacy Countertops to find your perfect match.
The Light of Your Kitchen's Life
Lights make a huge impact on the look and feel of any room, and can really change the mood and vibe too, which is definitely something to consider if you find it is the room everyone gravitates to the most. If your kitchen still has a harsh strip light that makes you feel like you are in an interrogation room, it is time to swap that energy drainer out for something far more fancy and soft. The different types and styles of lights is vast, so take your time when trying to find the perfect one for your kitchen. That being said, do not be afraid to mix things up with some well-placed lamps either, which can change the setting in an instant without any permanent alterations!
Clear Out the Clutter
There are many of us that have that one cupboard filled with a bunch of spices we don't use, Tupperware boxes that appear to have no lids that fit, but then also somehow more lids than we have boxes. Not to forget the out-of-date Pop Tarts somewhere near the back. Transforming your kitchen is not just about what it looks like, but also about what is lurking in your cupboards and how functional it is too!